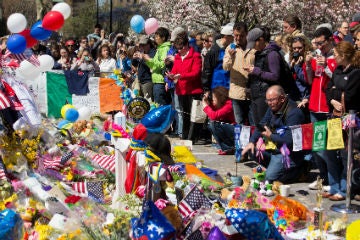 For many, the recent trial of Boston bombing suspect Dzhokhar Tsarnaev has relit the inevitable question: "How could they?"
One answer lies within something called familial ties, and they're more powerful and prevalent than most people realize.
Although the trial and sentencing may bring some closure, we should also not forget the overwhelmingly spontaneous humanity displayed by so many Americans in the immediate aftermath of the bombings on April 15, 2013.
From the first responders in Boston to patriots across the country, the generosity of Americans following the tragedy was nothing short of extraordinary. What motivates such selfless giving?
As psychology researchers, we conducted a study recently that found consistent support for one key predictor of giving — whether one considered Americans to be "family." That is, some people extend the boundaries of psychological family beyond biological kin to larger groups such as America.
Our studies showed that Americans who perceived victims of the attack as if they were their kin were most likely to provide financial and social support as well as endorse making extreme sacrifices for the victims.
Of course, not everyone is inclined to see other Americans as kin. Those who feel that who they are as individuals (i.e., the qualities that make you, you) are "fused with" America are much more inclined to think of other Americans as family.
Identity fusion turns out to be a powerful predictor of pro-group behavior. Across dozens of studies, we have found that people who are strongly fused to a group, whether their nation, religion or military unit, report an especially strong willingness to go beyond the call of duty and make personal sacrifices that benefit their group.
In some instances, one's bond to a certain group may be stronger than even one's familial ties. For instance, a survey of almost 200 rebel combatants during the Libyan revolution in 2011 found that nearly half of those who fought on the front lines felt a stronger connection to their brothers in arms than to their own families.
Yet if identity fusion and a deep sense of kinship underlie self-sacrifice for a positive outcome in some cases (e.g., helping victims, fighting against oppressive regimes), these same forces may also lead to horrific consequences in other cases. After all, Dzhokhar and Tamerlan Tsarnaev were brothers, and Dzhokhar's lawyer claimed that he was merely doing the bidding of his older brother.
Perhaps even more troubling are stories of close friends and families moving into ISIS-controlled areas based on false promises of a "family-friendly" environment.
At the end of the day, identity fusion and a sense of familial ties are, of themselves, neither panacea nor toxin. Rather, they are potent psychological motivators that can promote good or evil.
In the past, persuasion attempts have often turned on offering people material, economic or practical incentives to behave in the desired fashion. We believe that the emotional force associated with family ties often trumps all of these incentives.
And in fact, many people seem to have some awareness of this. In the wake of the Boston bombings, the nation watched President Barack Obama empathize with the specific families suffering from the attacks. Jon Stewart, host of "The Daily Show," reflected on the kin-like bonds of New Yorkers and Bostonians, and other spokespersons for the victims spontaneously turned to the language of family ties to rally support for the victims.
Although we abhor the actions of terrorists, the instinct to automatically question their humanity (or the humanity of their religious faith) may be off the mark.
Although there are surely psychopaths in the world who perpetrate heinous crimes, we should not overlook the possibility that at least some of these individuals may be prioritizing the same familial ties that we ourselves value so dearly.
Perhaps rather than psychologically distancing ourselves from the inhumanity of others, we should lean in more closely to find out what in their all-too-human lives brought about such tragedy. In doing so, we might prevent the unthinkable in the future.
William B. Swann Jr. is a professor of social and personality psychology at the University of Texas at Austin. Michael D. Buhrmester is a postdoctoral researcher at the University of Oxford.
A version of this op-ed appeared in the Huffington Post and the Corpus Christi Caller Times.
To view more op-eds from Texas Perspectives, click here.
Like us on Facebook.
Share this story on Twitter:
How could the Boston bombers do it? One possible answer explained in new op-ed…http://t.co/WtixbjUp53 @LiberalArtsUT #BostonBombing

— Texas Perspectives (@TexPerspectives) April 14, 2015
---