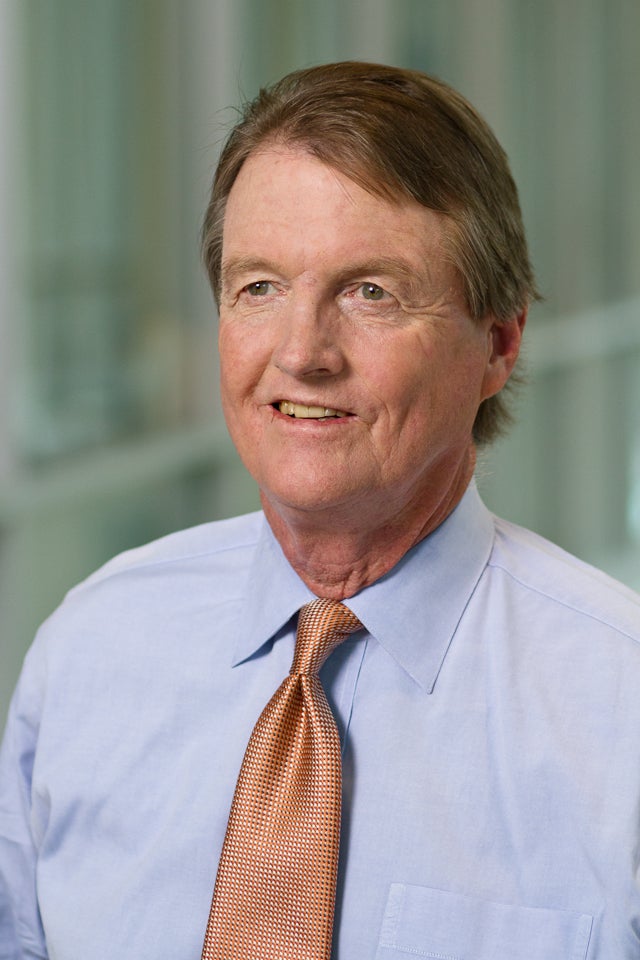 AUSTIN, Texas — University of Texas at Austin President Bill Powers will recognize six esteemed leaders from law, business and public service with Presidential Citations this week, marking his final tribute as president to some of the university's biggest supporters.
"The six individuals we honor this year have given of themselves to The University of Texas like very few others," Powers said. "They are among the true elite of UT supporters, and it is my privilege to honor them with this award."
Award winners are Linda L. Addison, a prominent lawyer and corporate adviser; Ricardo H. Hinojosa, chief judge of the Southern District of Texas; James C. Langdon Jr., international legal expert; Michael W. Perrin, attorney and civic leader; Martha E. Smiley, attorney and former member of the University of Texas System Board of Regents; Robert L. "Bobby" Stillwell, immediate past UT System regent and former director of Mesa Petroleum.
Powers will present the Presidential Citations along with other major university awards in a ceremony Thursday, April 16, as one of his final acts as president before leaving in June after serving a nine-year tenure.
The university created the citations in 1979 to recognize the extraordinary contributions of individuals who personify the university's commitment to transforming lives. The citations salute those whose service exemplifies the values shared by the university community and who have helped the institution to achieve its mission.
About the 2015 Presidential Citation recipients:
Addison, working from Houston and New York, is managing partner of the Norton Rose Fulbright law firm's U.S. practice and chair of the U.S. Management Committee. Addison advises CEOs, corporate boards and general counsel on risk assessment, litigation avoidance and resolution, corporate governance and ethics. She has been named among the "50 Most Powerful Women in New York" and the "50 Most Influential Women Lawyers in America." A UT Distinguished Alumna, Addison earned degrees in Plan II and law. She was the first female managing editor of the Texas Law Review, is a trustee of the UT Law School Foundation, and is co-founder and president of the Center for Women in Law.
Chief Judge Hinojosa in McAllen was appointed in 1983 to the U.S. District Court for the Southern District of Texas and has served since 2009 as the chief judge of the district. A native of Rio Grande City, he earned a bachelor's degree in government at UT Austin and a law degree from Harvard University. A past president of the Texas Exes, Hinojosa also received the group's Distinguished Alumnus Award. He served on the university's presidential search committees in 1997 and 2005 and, more recently, served on the search committees for athletics director and head football coach.
Langdon splits his time between Washington, Texas and Moscow as a senior executive partner at the law firm Akin Gump Strauss Hauer & Feld, with a bachelor of business administration and law degree from UT Austin. He has spent most of his career working on energy law around the world and has held federal positions with organizations such as the Department of Energy, the Department of the Treasury, the Cost of Living Council, the President's Foreign Intelligence Advisory Board and the President's Intelligence Oversight Board. He has served on the Governing Committee of UT Austin's Strauss Center for International Security and Law.
Houston's Perrin earned a bachelor of arts in mathematics and a law degree from UT Austin, where he was a Longhorn football letterman during the late 1960s. He is owner of Michael W. Perrin PLLC and is a member of numerous professional organizations including the American College of Trial Lawyers, the International Academy of Trial Lawyers, the International Society of Barristers and the American Board of Trial Advocates. Perrin was appointed by the UT System Board of Regents to the Council for Intercollegiate Athletics for Women and also led fundraising campaigns at the law school for the Charles Alan Wright Chair in Federal Courts and "The Texas Campaign: An Investment in Students."
In Austin, Smiley is a counsel to the law firm Enoch Kever and has extensive experience in public utility law, having earned her bachelor's from Baylor University and her law degree from UT Austin. Founder of Grande Communications, Smiley also has a long history of community service that includes membership on the UT Board of Regents and on the boards of SafePlace Foundation, the Greater Austin Chamber of Commerce and the Austin Area Research Organization. At UT Austin, she is a founding member of the Center for Women in Law, serves on the Advisory Board of the Lozano Long Institute for Latin American Studies and was a recent president of the Longhorn Foundation.
Bobby Stillwell is a retired partner of the Houston law firm Baker Botts and an immediate past UT System regent who chaired four committees and served on the board of the University of Texas Investment Management Company during his tenure. With an undergraduate and law degree from UT Austin, he joined with T. Boone Pickens as an original director of Mesa Petroleum in 1964, continuing his directorship until 2001. As a trustee of the T. Boone Pickens Foundation, Stillwell helped direct $700 million in educational, scientific and health care gifts to nonprofit organizations.