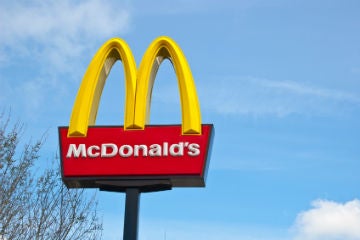 McDonald's was never meant to be a place to stay. Although the company celebrates its 75th birthday on April 15 — the date the first franchise opened — the first genuine McDonald's restaurant opened in San Bernardino, California, 15 years earlier.
And it had with no indoor seating. A few stools leaned against a steel counter outside an octagonal building. The McDonald brothers, Richard and Maurice — Dick and Mac to all who knew them — had a vision of teenagers driving in, eating in their cars, and then driving off into the California sunset.
The clientele had different ideas. They loitered. Twenty carhops brought food to customers' automobiles. More than 120 cars fit in the lot during the weekends. Customers flirted, lingered and caused long backups of waiting cars down the street.
"Our whole concept was based on speed, lower prices and volume" said Dick McDonald in John Love's unauthorized history of the company. So in the fall of 1948, they closed their first restaurant, ditched their initial barbecue-heavy concept, trimmed the menu, fired the 20 carhops and slashed the price of burgers from 30 cents to 15 cents.
Business dropped 20 percent. Prospective diners might have been intimidated by the jeers of recently unemployed carhops. But then came the recovery. Instead of car-bound middle class teenagers came families looking for a budget meal. The first sale in the rebranded store was to a 9-year-old girl. She bought a bag of burgers at a self-service window, and then she left. As she was supposed to.
The McDonalds applied themselves to the store's operation with equal ruthlessness. The arts of short-order cooking had no place in a kitchen reinvented, with custom-built machinery, to behave like a factory. Workers could be paid less. At the time, the U.S. minimum wage was 40 cents — equivalent to $3.90 today.
The swiftness of entry and exit for customers has also been, at least in theory, mirrored in its attitudes toward its workforce. Eric Schlosser's "Fast Food Nation" quoted the company's own estimates: 1 out of every 8 working Americans has clocked-in there.
But even in the 1970s, there were workers who didn't conform to the idealized version, who huddled under the golden arches, waiting for work shifts to be able to feed their families. McDonald's busted more than 400 attempts by employees to unionize during those years.
We know this because McDonald's admitted as much in the famed McLibel trial, the longest-running court case in British legal history. It ran from 1994 to 1996 and involved a mail carrier and gardener sued by the Fortune 500 company over claims that McDonald's posed a health risk to regular customers, "exploited children" and campaigned against unions — claims the judge found meritorious. (Other claims about environmental destruction were not substantiated in the leaflet handed out by the campaigners, the judge said.)
Today, McDonald's is facing a variety of threats. With people increasingly concerned about the health effects of regular junk food consumption, the numbers are down. The past year has seen falling sales and the departure of its CEO. Ronald McDonald and happy meals are coming under attack (from parents like me) for making sensible eating choices for children harder.
Perhaps the greatest threat to the way McDonald's operates is the demand for dignity from its workers, prompting a recent announcement of a wage increase to $9.90 an hour for the 90,000 restaurant workers directly employed by the company.
The 750,000 franchisee employees won't get the raise, though. Many in the "Fight for 15" campaign are still pointing out how far short of a living wage they'll earn, even after getting a whole dollar more per hour.
But with higher wages, something else also becomes possible: better food. Cheap food is only necessary because workers are paid so little. Pay more and it becomes possible for everyone to enjoy sustainable, worker-, environment- and family-friendly food. Richer consumers may see to it that McDonald's doesn't celebrate its 100th birthday.
And that's OK. McDonald's was never meant to be a place to stay.
Rajeev Patel is a research professor in the LBJ School of Public Affairs at The University of Texas at Austin who studies the global food system and alternatives to it.
A version of this op-ed appeared in the Corpus Christi Caller Times.
To view more op-eds from Texas Perspectives, click here.
Like us on Facebook.
---