AUSTIN, Texas — Exactly who will nominate the next Supreme Court justice is proving to be a leading factor for Texas voters as they make their choices  in the upcoming presidential election, according to the latest University of Texas/Texas Tribune statewide poll.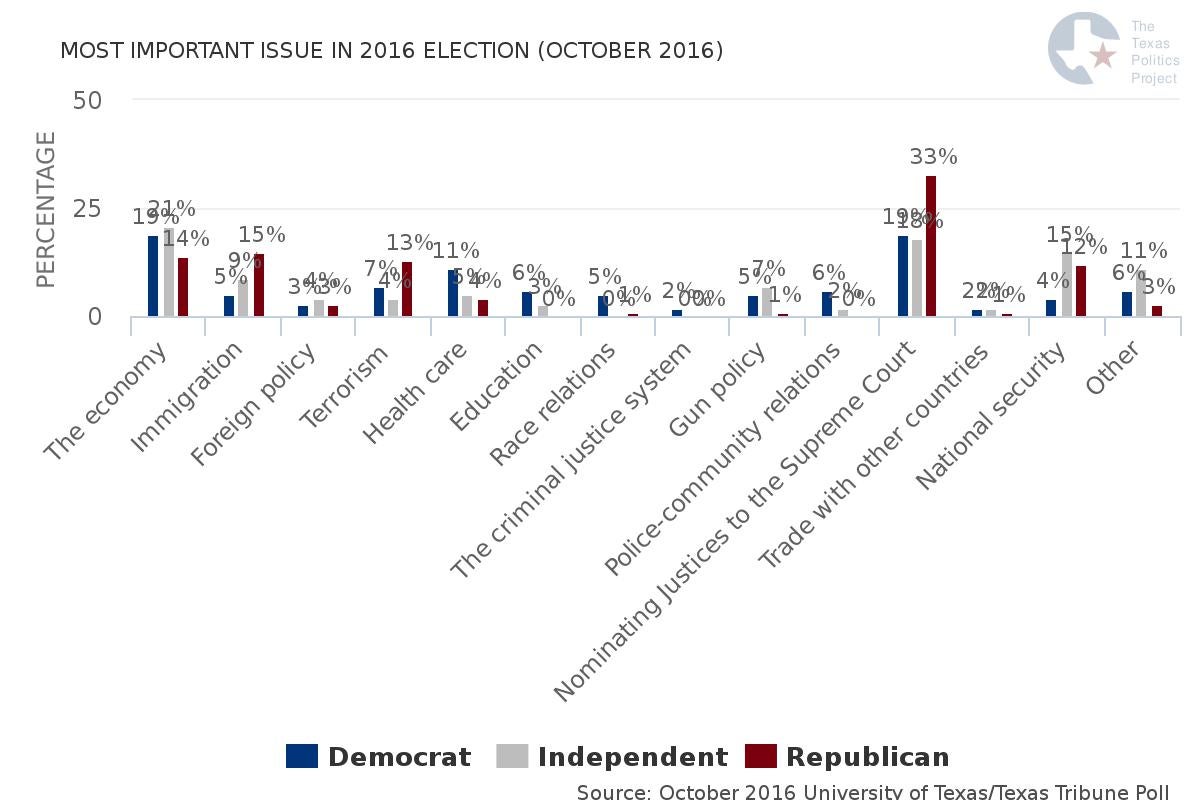 As a result, Texas voters continue to favor real estate mogul Donald Trump marginally over former Secretary of State Hillary Clinton, despite a recent surge for her in the state.
The poll finds Trump the choice of 45 percent of likely voters, with 42 percent choosing Clinton. Seven percent chose Libertarian candidate Gary Johnson, and Jill Stein earned 2 percent. Five percent chose someone else.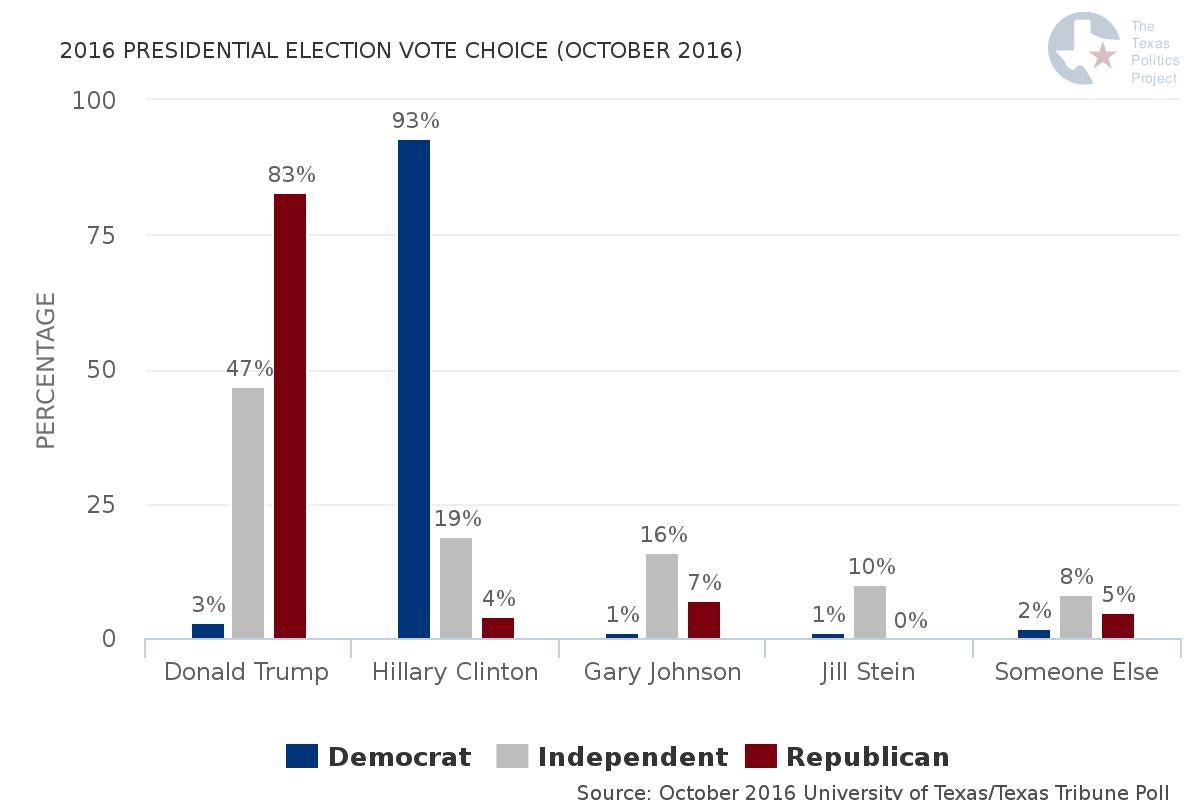 "These results affirm that the presidential race in Texas remains closer than anyone expected even a few months ago," said James Henson, director of the Texas Politics Project at UT Austin and co-director of the poll. "Donald Trump has held a consistent lead in virtually all of the polls conducted in Texas, but that lead has dwindled and is historically low for a Republican presidential candidate in an era of GOP dominance of the state."
Nominating Supreme Court justices was the top issue pertaining to vote choice for 25 percent of Texans polled, with 35 percent of Trump supporters and 18 percent of Clinton supporters citing it as the issue most important to their vote. Other top issues for Trump supporters were immigration (17 percent) and the economy (14 percent). Clinton supporters were concerned primarily with the economy (19 percent) and health care (11 percent).
The internet-based statewide poll was conducted Oct. 13-24 by the public opinion research firm YouGov. The overall sample included 1,200 self-declared registered voters, with a margin of error of +/- 2.83 percentage points. The likely voter subsample included 959 respondents, with a margin of error of +/- 3.16 percentage points.
When asked to describe their choice as a vote for their candidate or against the opposing candidate, Clinton voters were more affirmative in their support for their candidate than Trump voters were: 66 percent of Clinton supporters wanted Clinton to be president; 47 percent of Trump supporters wanted the GOP candidate to be president.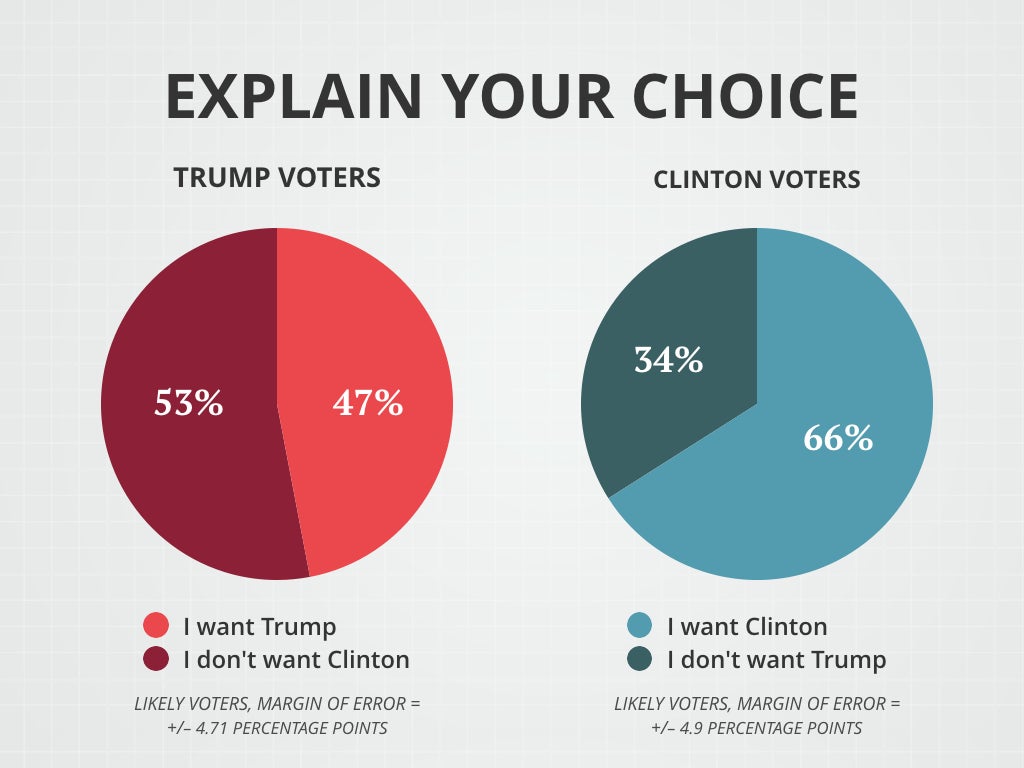 Conversely, 53 percent of Trump voters said their vote reflected their desire to vote against Clinton, and 34 percent of Clinton voters said their vote was against Trump. Polling for vote reasoning included 432 likely Trump voters and 400 likely Clinton voters, with margins of error of +/-4.71 and 4.9 percentage points respectively.
"While Republican ambivalence towards their nominee is unsurprising given the turn that Trump's campaign has taken in recent weeks, the degree to which Texas Democrats have rallied around Clinton is really striking given her rejection by Sanders' supporters in previous polling in addition to the ever-present meme of this campaign that she, like Trump, is an 'unlikable' candidate," said Josh Blank, polling and research manager at the Texas Politics Project.
Both Trump and Clinton were projected to be a "poor" or "terrible" president by 54 percent of Texans polled. However, favorable projections of Clinton increased by 8 percent since the university's June poll. In the latest poll, 34 percent of voters indicated she would be a "good" or "great" president, compared with 31 percent who said the same of Trump.
Democrats expressed more positive assessments of their candidate than did Republicans. Among Republicans, 52 percent predicted Trump would be a good or great president. Among Democrats, 73 percent predicted Clinton would be a good or great president.
This is the latest in a series of polls conducted by UT Austin's Texas Politics Project and The Texas Tribune. Comprehensive poll results and information about methodology will be released initially by The Texas Tribune during the next four business days. Graphics, a summary, crosstabs and a data file will be publicly available for research and teaching at the Texas Politics Project website next week.