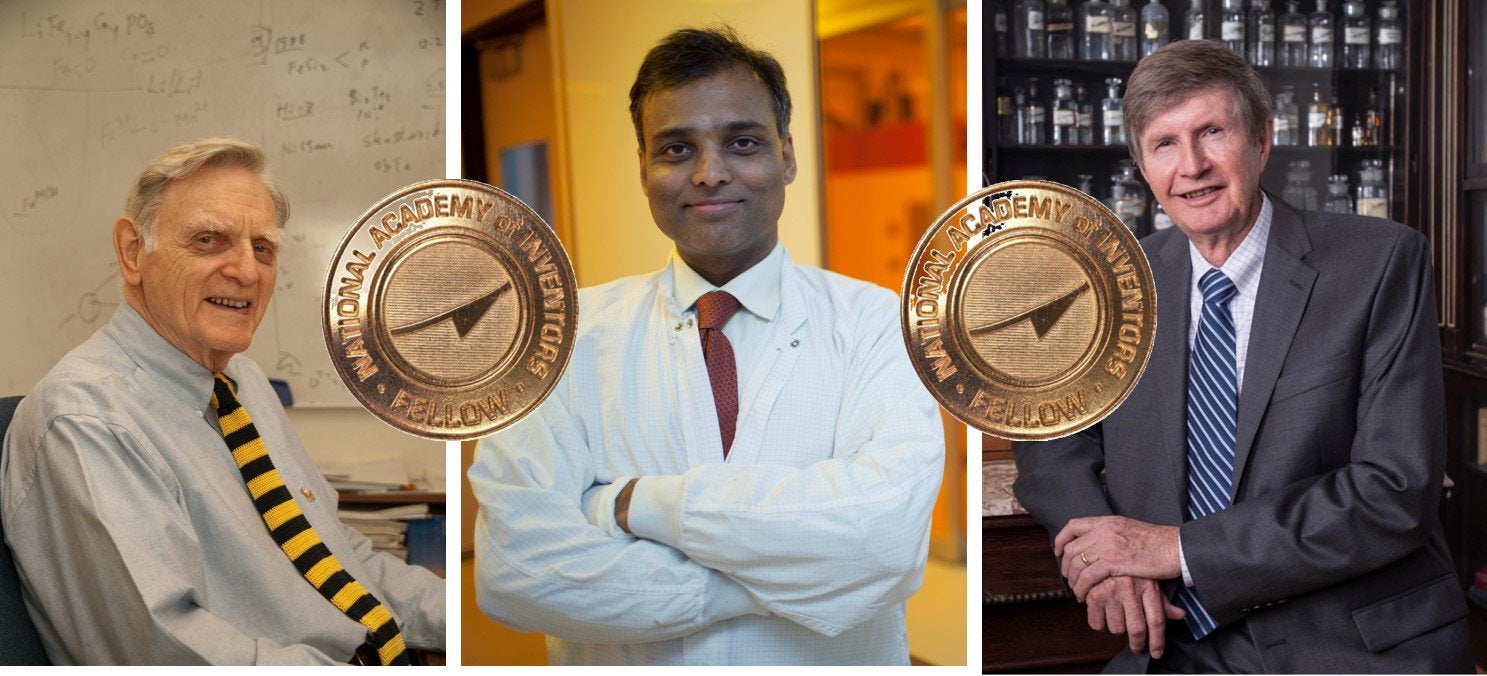 AUSTIN, Texas — John B. Goodenough, James W. McGinity and Sidigata V. (S.V.) Sreenivasan of The University of Texas at Austin have been named fellows of the National Academy of Inventors (NAI).
They join Joseph J. Beaman Jr., George Georgiou, Bob Metcalfe, Thomas Milner, Nicholas Peppas and Jonathan L. Sessler as NAI fellows from UT Austin.
Election to NAI Fellow status is a high professional distinction accorded to academic inventors who have demonstrated a prolific spirit of innovation in creating or facilitating outstanding inventions that have made a tangible impact on quality of life, economic development and the welfare of society.
With the election of the 2016 class, there are now 757 NAI fellows representing 229 research universities and governmental and nonprofit research institutes. The 2016 fellows are named inventors on 5,437 issued U.S. patents, bringing the collective patents held by all NAI fellows to more than 26,000.
The 2016 fellows will be inducted April 6, 2017, as part of the Sixth Annual Conference of the National Academy of Inventors at the John F. Kennedy Presidential Library & Museum in Boston, Massachusetts. In honor of their outstanding accomplishments, they each will be presented with a special trophy, medal and rosette pin.
2016 NAI fellows from UT Austin:
John B. Goodenough is a professor in the Department of Mechanical Engineering and Department of Electrical and Computer Engineering in the Cockrell School of Engineering. He holds the Virginia H. Cockrell Centennial Chair in Engineering. Goodenough identified and developed the critical materials that provided the high-energy density needed to power portable electronics, initiating the wireless revolution. Today, lithium-ion batteries incorporating Goodenough's cathode materials are used worldwide for mobile phones, power tools, laptops, tablets and other wireless devices, as well as electric and hybrid vehicles. He is the author of eight books and more than 800 journal articles, and he has 21 active patents in the U.S. and abroad. He is the recipient of numerous national and international honors, including the Japan Prize (2001), the Enrico Fermi Award (2009), the National Medal of Science (2011) and the Charles Stark Draper Prize (2014).
Sidigata V. (S.V.) Sreenivasan is a professor in the Department of Mechanical Engineering in the Cockrell School of Engineering, and he is co-director of the NASCENT Center, a National Science Foundation Engineering Research Center. His research is in the area of high throughput nanomanufacturing as applied to electronics, photonics, flexible and wearable devices, and emerging biomedical and clean energy applications. Sreenivasan and professor C. Grant Willson developed a nanolithography process used for manufacturing computer chips, hard drives and other electronic components. They co-founded Molecular Imprints Inc. (MII), a spin-out from UT Austin in 2001 that was acquired by Canon Corporation in 2014. Sreenivasan has published more than 100 technical articles and holds more than 100 U.S. patents in the area of nanomanufacturing. He has received several awards for his work including the Technology Pioneer Award by the World Economic Forum (2005), the American Society of Mechanical Engineers Leonardo da Vinci Award (2009), the American Society of Mechanical Engineers William T. Ennor Manufacturing Technology Award (2011) and the UT Austin Inventor of the Year Award (2012).
James W. McGinity is a professor emeritus in the College of Pharmacy and holds the Johnson & Johnson Centennial Chair Emeritus in Pharmacy. He is focused primarily on materials science, pharmaceutical processing and controlled and targeted drug delivery systems. He is best known for his work in developing technology that deters the abuse of orally delivered opioid medications. The popular and highly effective pain reliever Oxycontin was reintroduced into the market around 2010 with a newly formulated abuse-deterrent composition based on a patent by McGinity and Dr. Feng Zhang. The former Oxycontin drug product was pulled and replaced with a new product composition protected by the McGinity/Zhang patent. This abuse-deterrent technology has been endorsed by the U.S. Food and Drug Administration. McGinity has been issued 27 patents by the U.S. Patent Office and has another patent pending. In addition, he has multiple foreign patents. Many of his former graduate students from the College of Pharmacy are listed as co-inventors on these patents. McGinity was honored in 2015 with the UT Austin Inventor of the Year Award.
The 2016 NAI fellows will be recognized with a full-page announcement in The Chronicle of Higher Education Jan. 20 issue and in upcoming issues of Inventors Digest and Technology and Innovation.