Darrell K Royal's 2005 BCS National Championship ring has a new home on the Forty Acres. Thanks to the generosity of University of Texas at Austin alumnus Sorush "Shawn" Abboud and wife Christina Cole Abboud, the ring will be added to the Darrell K Royal Collection in the H.J. Lutcher Stark Center for Physical Culture and Sports, part of the College of Education.
"It has been an honor and a privilege to ensure this valuable collectible is housed in its rightful home at The University of Texas at Austin," Abboud said.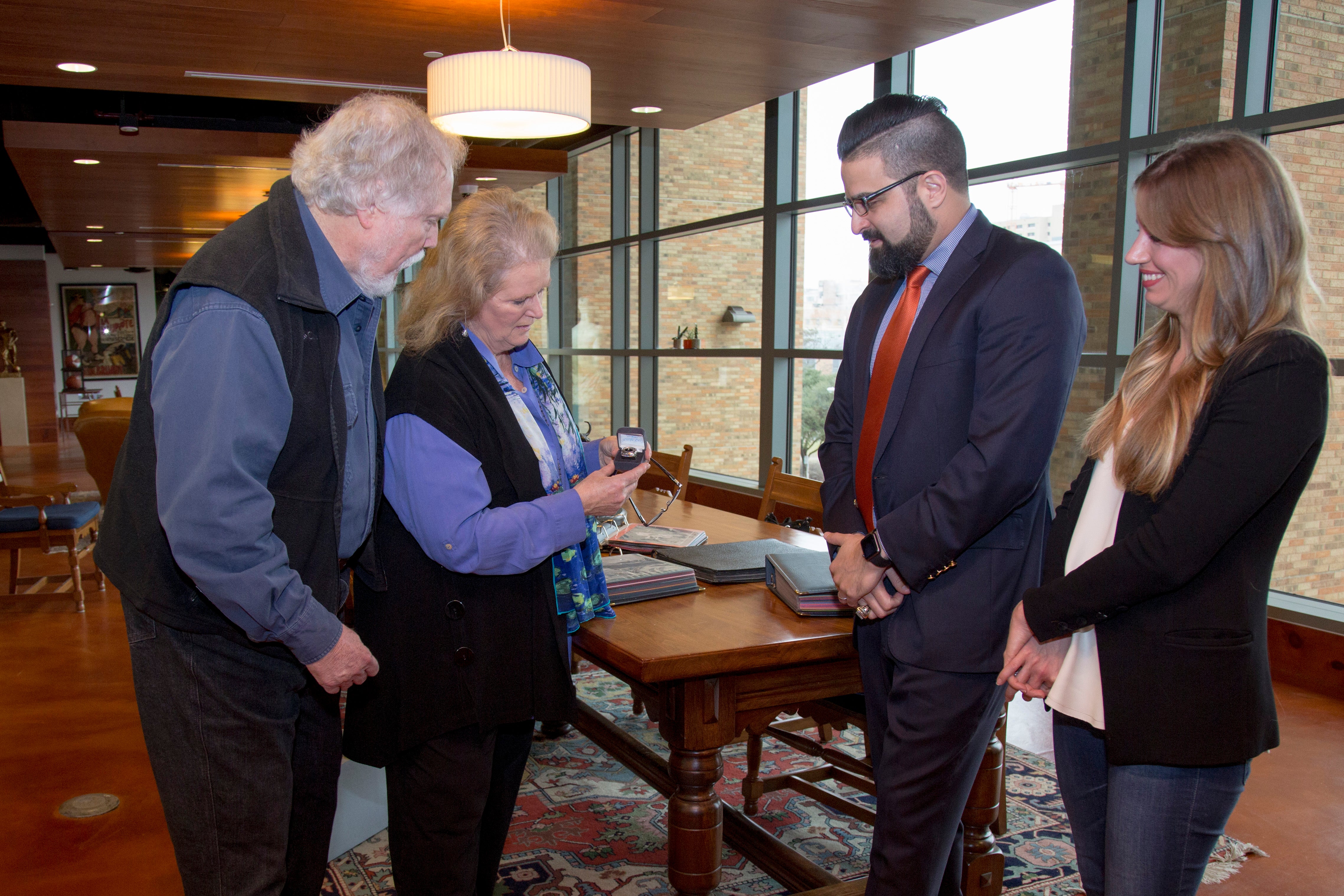 Holding a BBA from UT Austin's McCombs School of Business and an MBA from New York University's Stern School of Business, Abboud currently works as a portfolio manager at Morgan Stanley. Abboud acquired the ring in 2012 at an auction benefiting the Darrell K Royal Research Fund for Alzheimer's Disease, with the intention of giving it back to the university for display among other Royal memorabilia.
During Royal's 20 years as UT's head football coach, he never had a losing season. He began coaching at UT in 1957 and led the Texas Longhorns to national championships in 1963, 1969 and 1970. After retiring from coaching in 1976, Royal stayed on as athletic director until 1980. When Mack Brown became head football coach at UT in 1998, he brought Coach Royal's talent and expertise back to the field to motivate and inspire a new generation of Longhorn football. After bringing home the 2005 BCS National Championship trophy, the team presented the ring to Royal as a symbol of their deep admiration and respect and to acknowledge his important role in helping them win the BCS National Championship Game in the 2006 Rose Bowl. Royal was celebrated for his wisdom, his wit and his relentless drive to win. He died Nov. 7, 2012, of complications from Alzheimer's disease.
"We are, obviously, enormously grateful to Mr. Abboud for making it possible for the Stark Center to help preserve Coach Royal's legacy," said Jan Todd, the Stark Center's co-director. "Edith Royal has already placed in our care their photo albums and other memorabilia, and Coach Brown also gave the Stark Center many personal items at the end of his tenure here on campus. The 2005 ring binds these two collections together and serves as an important reminder of how coaches educate and inspire as well as call plays. I expect Darrell would be happy to know it was back home in the football stadium."
"We are excited that Mr. Abboud's generosity will bring Coach Royal's ring to the Stark Center. Coach Royal is a legend among generations of our alumni and students. It's only fitting that something so special to him will now be part of the Stark Center's pre-eminent collection," said Manuel J. Justiz, dean of the College of Education.
The H.J. Lutcher Stark Center for Physical Culture and Sports contains archival collections as well as galleries and is located in the north end zone of Darrell K Royal-Texas Memorial Stadium. The center's collections include the Media Relations Archive of UT Sports and golf memorabilia from Harvey Penick, Ben Crenshaw and Tom Kite. It is also recognized by the International Olympic Committee as an Official Olympic Studies Center, and its collection of material in the field of physical culture is considered to be the world's largest. The Stark Center is dedicated to scholarship and preservation and provides access to permanent collections as well as visiting exhibitions.
More photos available here:  DKR Flickr Album