AUSTIN, Texas — Texans gave Gov. Greg Abbott top ratings among the major statewide elected officials in results from the latest University of Texas/Texas Tribune Poll released today.
Among the registered voters surveyed in the latest of a series of polls designed by a team at UT Austin, 45 percent approved of the job Abbott is doing as governor and 33 percent disapproved, with 20 percent expressing a neutral opinion and 5 percent saying they didn't know. Fewer Texans had an opinion of Lt. Gov. Dan Patrick – 32 percent approved of his job performance and 31 percent disapproved, with 24 percent neutral and 14 percent saying they didn't know.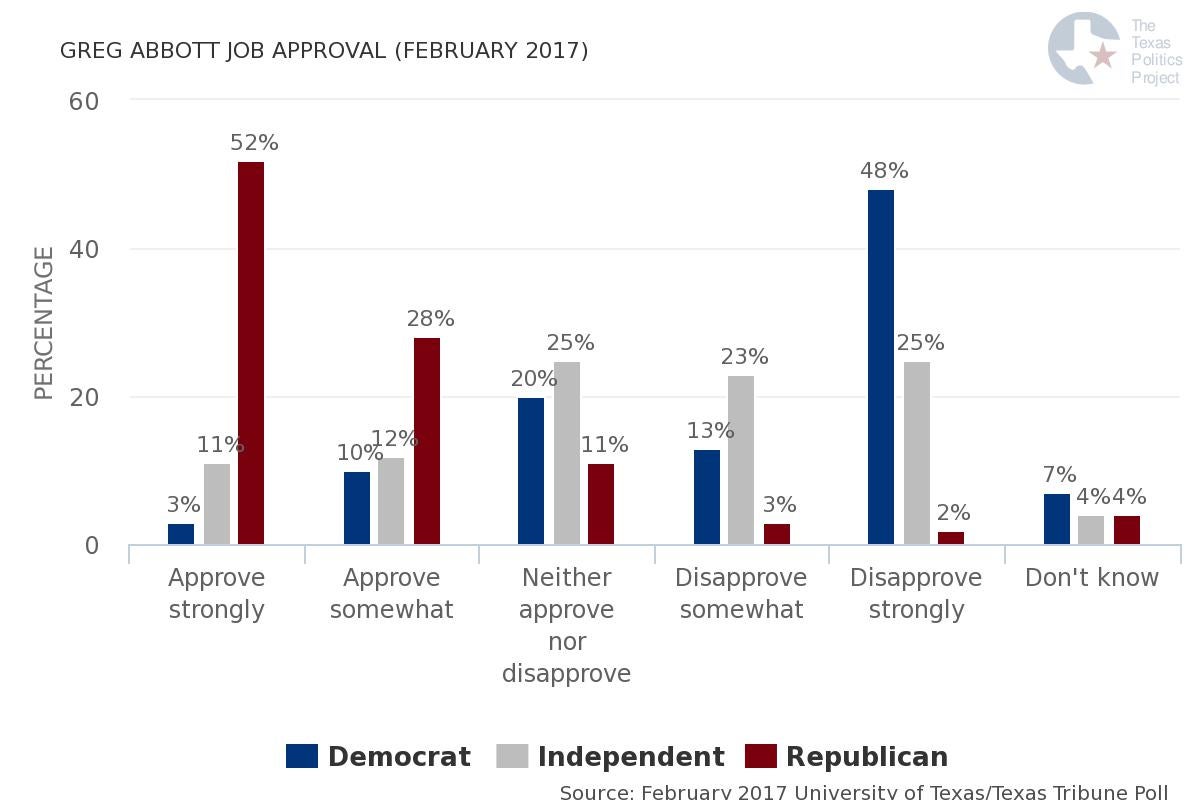 "The results in this poll continue a trend in which Gov. Abbott has relatively quietly maintained a very strong base of support among the partisans who matter most in Texas politics right now," said James Henson, director of the Texas Politics Project and co-director of the poll. "His approval numbers among both mainline Republicans and self-identified tea party Republicans are higher than those of all of the comparable statewide elected officials."
Eighty percent of Republicans approved of Abbott's job performance, while only 5 percent disapproved. Patrick's job approval among Republicans was 59 percent, in part a reflection of the fact that 36 percent of Republicans polled didn't offer a judgment.
The job approval ratings of the two U.S. senators from Texas, John Cornyn and Ted Cruz, both improved compared with the previous UT/Texas Tribune Poll in October, though they were well below Abbott's approval numbers. The poll found 30 percent of Texans approving of the job Cornyn is doing in Washington and 33 percent disapproving, a three-point improvement since the previous poll. Cruz's approval ratings improved similarly and remained somewhat higher than Cornyn's – 38 approved of Cruz's job performance and 40 percent disapproved.
Speaker of the House Joe Straus, who is elected by voters in his San Antonio house district but is elected to preside over the lower house of the Texas Legislature by its members, remains much less well known statewide than other leaders, which has been typical of past speakers. Twenty-three percent of those polled approved of the job Straus is doing and 24 percent disapproved, leaving more than half of those polled expressing no judgment of Straus as he presides over the Texas House for his fifth term as speaker.
The internet-based statewide poll was conducted Feb. 3-10 by the public opinion research firm YouGov. The overall sample included 1,200 self-declared registered voters, with a margin of error of +/- 2.83 percentage points.
This is the latest in a series of polls conducted by UT Austin's Texas Politics Project and The Texas Tribune. Comprehensive poll results and information about methodology have been released initially by The Texas Tribune. Graphics, a summary, crosstabs and a data file will be publicly available for research and teaching at the Texas Politics Project website on Friday, Feb. 24.