It is clear the coast is his muse when you step into the office of Coleman Coker, the Ruth Carter Stevenson Regents Chair in the Art of Architecture at The University of Texas at Austin.
His space on campus is warm with wood-planked walls. Artifacts such as driftwood and feathers are displayed as prominently as his books.
"More than 50 percent of the world's population lives on coastal edges," Coker said. "The needs of these communities are something that's important for architecture students to think about right now."
From Mumbai to Galveston, coastal communities are dealing with challenges including sea level rise and climate change, Coker said, and architecture can play a role in educating people about these issues.
That is why he created the Gulf Coast DesignLab, an advanced architecture studio at UT Austin. For 10 to 15 weeks, undergraduate and graduate students travel to and from the Gulf Coast. They get the opportunity to work closely with Texas costal community partners, such as the Texas Parks and Wildlife Department, to create environmental educational spaces that encourage people to learn about the Gulf Coast region.
When the design-build studio began in 2012, it was the first of its kind at UT Austin. Other universities, such as Auburn and Yale, had similar programs offering students a chance to create something for a client from sketch to construction.
"However, there is no other program that I know where architecture students build public facilities specifically for environmental stewardship," Coker said. "Architecture has a duty to serve. As a teacher, I know it's important to instill in the students that community outreach is really important."
The Gulf Coast DesignLab has two goals:
Give UT architecture students hands-on experience in a real-world environment.
Use architecture as a community outreach tool to increase the public's sense of connection to their environment.
"I wanted to participate in the studio because as architecture students, we have very few opportunities to work with real clients," said Rebecca Kennedy, a master's student in the School of Architecture at UT Austin. "We also never get the physical experience of walking around in something you designed yourself, so you always doubt if your designs would actually work in the real world."
DesignLab pushes students beyond the conceptual side of architecture by requiring students to get their hands dirty. They camp, hike and wade through marshes where their structures live. They are encouraged to connect with the landscape. It's a relationship that is reflected in the care and detail of their work.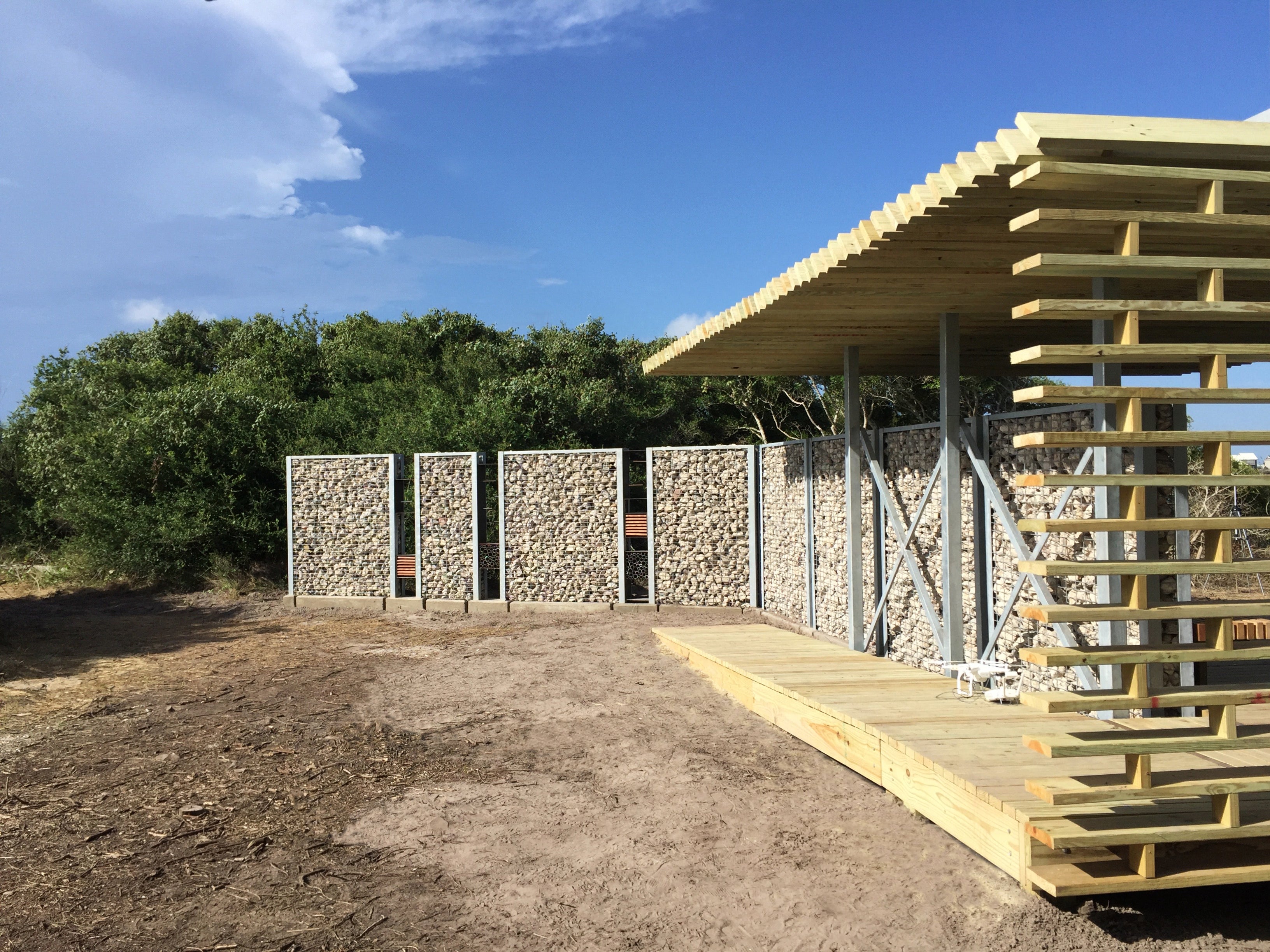 This summer, students completed "Habitat," a project for Galveston Island State Park sponsored by The Harris and Eliza Kempner Fund. The park's administrators wanted to provide shade for walking tours of the park located on the sunny and humid Gulf Coast, and they reached out to the DesignLab for help. When they started working together, the students wanted to push the idea beyond the utilitarian goals.
What they created provides shade, but it is also a teaching tool for park rangers.
"Our idea to use the pavilion as an educational tool stemmed directly from experiencing how the park staff use the natural environment to illustrate ideas about nature and ecology," said Hugo Reynolds, who is pursuing a Master of Architecture-First Professional degree.
"Our pavilion intended to elevate this process. We wanted to give the park interpretive staff additional tools, allowing them to do their jobs more effectively."
The small pavilion overlooks a sensitive wetland area of the park. It features an original habitat rock wall designed to let observers see reptiles and birds as they also get some shade. The modern design uses renewable materials and native plants that stand out but do not distract from the beautiful surroundings.
Coker said this is a great example of poetic design. "A poetic project causes people to look at things a little differently. It reveals what's already there, and through that they gain a deeper sense of where they are," he said. All of the projects created by the lab are meant to engage the public in this way. They are open to anyone who wants to explore the land.
Last year, the lab created "Float" — a floating campsite at Sea Rim State Park, south of Port Arthur near the Texas/Louisiana border. The site chosen for Float, is not for the average camper. You have to kayak five miles from the beach to the platform.
The students designed the eye-catching structure to draw visitors back by offering a unique camping experience that also provides environmentalists, biologists and ornithologists a base from which to conduct ecological research.
Float recently won the 2017 Texas American Institute of Architects Design Awards — the only student project recognized.
Arch Daily recognized another Gulf Coast DesignLab project, "Rise", as one of the 2017 Best Student Design-build Projects Worldwide. Rise is a bird observation platform built by the fall 2016 DesignLab. It is located in Goose Island Park, one of the 10 most-visited in the state. The park is known for its winter bird watching, especially the endangered whooping crane.
Coker said the central question is: "How can we, as architects, transform a place to create a richer reality while respecting its essential character?" Many of the designs produced by the lab walk a tight line — contrasting while also complementing the beauty of the region's water, sky and grasses.
"We are not biologists or ecologists, but we can provide spaces and places where people can teach and learn," he said.
Their designs offer visitors and Texans an opportunity to better understand the spirit of this particular place. Coker hopes the unique character will inspire them to care for the coast as it has inspired him.
---
POST-HARVEY UPDATE: Coleman Coker's Gulf Coast DesignLab studio is heading to Camp Aranzazu in Rockport this Friday, September 15th, and will be there to assist with cleanup efforts through Monday, September 18th. Some other UTSOA students are going along as volunteers. They will be removing tree limbs and metal roofing. The Gulf Coast DesignLab plans to participate in other cleanup and reconstruction efforts along the Gulf Coast throughout the semester.