Before they reach high school, Texas students must make important choices about their future. Decisions they make in middle school can affect their college and career options and lives for decades to come. Yet students and their families often don't know where to turn for trustworthy, current and accurate information.
Texas OnCourse, a new statewide initiative developed by The University of Texas at Austin in partnership with the Governor's Tri-Agency Workforce Initiative, ensures that students, families and educators have the resources they need to help every student chart a course to success after high school. With the launch of Texas OnCourse, UT Austin is modeling how public research universities can foster upward mobility for students across the state, not only the students they enroll.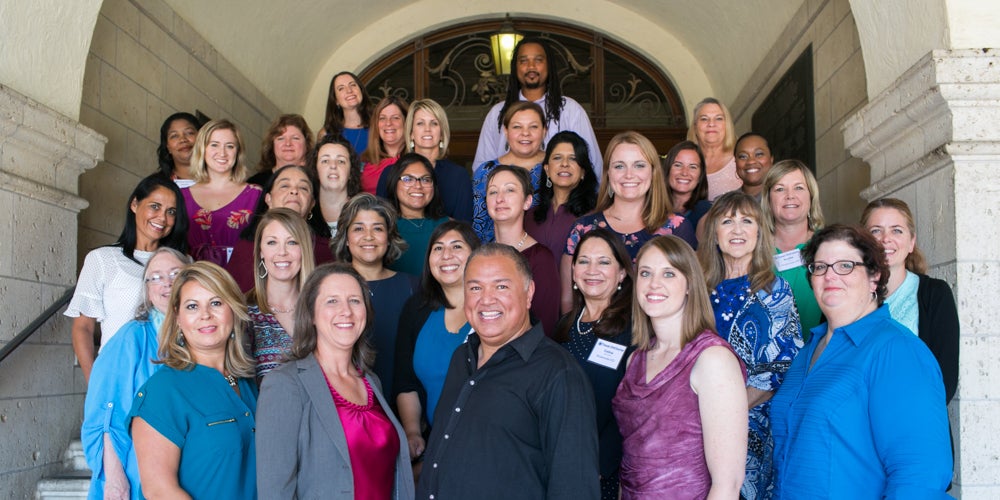 It is widely recognized that individuals with a bachelor's degree earn more money throughout their lives than their peers who only receive a high school diploma. Depending on the academic and career path a student chooses, the effect on earnings can be $1 million or more over a lifetime, according to the Georgetown University Center for Education and the Workforce.
"Access to quality information about the economic benefits of higher education and informed advising about potential career opportunities are crucial for helping students and their families make these decisions," said Harrison Keller, deputy to the president for strategy and policy and founder of Texas OnCourse.
According to a 2011 study by Public Agenda, students who are poorly counseled in high school are more likely to delay college and less likely to receive financial aid. If they do go to college, they are more likely to be disappointed in their college choice.
A large part of the problem: Counselors, advisers and teachers often have unmanageable caseloads of 450 students or more. They also lack access to training and need reliable sources of information about preparing students early for success in college and career. Texas OnCourse is designed to help solve these problems.
Recognizing the growing burdens on middle and high school counselors and advisers, the 84th Texas Legislature asked UT Austin to create online resources to support high school students' college and career readiness. The university partnered with state agencies, national educational organizations, employers and thousands of educators across the state in planning and development. The result is a comprehensive suite of free, easy-to-use and inclusive resources for students, families and educators.
"The mission of Texas OnCourse is to ensure that all middle and high school students, regardless of where they came from, have equitable access to information about higher education, financial aid and career opportunities," said Keller.
Last month UT Austin launched the Texas OnCourse (TXOC) Academy, the nation's most comprehensive digital learning initiative, to improve college and career advising. The TXOC Academy is a free online curriculum covering 28 topics such as choosing high school courses, comparing the SAT and ACT, and tips and tricks for researching options after high school.
More than 2,500 educators across Texas provided feedback to improve the TXOC Academy. Texas employers also advised on the content, ensuring that counselors and advisers can provide students with accurate information about the types of jobs and careers that will be in high demand across our state.
Currently, the three fastest growing jobs in Texas are wind turbine technicians, statisticians and occupational therapists. The TXOC Academy provides information on these and many other jobs, along with the associated wages, skills required to succeed and common career preparation paths.
The TXOC Academy is just one of the services Texas OnCourse provides. The initiative also offers a career exploration game for middle school students, MiddleGalaxy, and a graduation planning tool called MapMyGrad, launching in late fall. Texas OnCourse is also fueling a statewide roadtrip with Roadtrip Nation for 12 students, who will interview current college students and professionals in fields that they aspire to. Students across the state will have access to video and online resources produced through the Roadtrip Nation partnership in spring 2018.
Through these kinds of resources and services, and ongoing associated research and evaluation, Texas OnCourse will empower millions of Texas students and families to make more informed choices about the educational and career paths that support success and satisfaction for students and their families. This is another example of how UT Austin's initiatives and partnerships expand educational and economic opportunities across Texas.