AUSTIN, Texas — The Harry Ransom Center at The University of Texas at Austin presents the exhibition "Ed Ruscha: Archaeology and Romance" from Aug. 11, 2018, through Jan. 6, 2019. One of today's most influential artists, Ruscha (b. 1937) is renowned for his category-defying synthesis of words and images, and for his deadpan renderings of the roadside landscapes, commercial signs and vernacular architecture of Los Angeles and the American West. Featuring more than 150 objects, this exhibition presents Ruscha's celebrated books, photographs, drawings and prints alongside unpublished archival production materials, layout sketches and studio notebooks, providing visitors an unprecedented look into Ruscha's creative process.
At the core of "Ed Ruscha: Archaeology and Romance" are Ruscha's groundbreaking artist's books, first appearing with the publication of "Twentysix Gasoline Stations" (1963) and quickly following with books such as "Various Small Fires and Milk" (1964), "Thirtyfour Parking Lots in Los Angeles" (1967), and "Nine Swimming Pools and a Broken Glass" (1968). The exhibition gathers the 16 books Ruscha produced between 1963 and 1978, including scarce copies of "Business Cards" (1968), "Babycakes with Weights" (1970), "Dutch Details" (1971) and "Hard Light" (1978). In a special presentation of Ruscha's elaborate 1966 publication "Every Building on the Sunset Strip," the accordion-fold book is displayed completely extended in a viewing case more than 20 feet long.
The exhibition draws extensively from archival materials to examine eight of Ruscha's books in depth. Opening with a group of vintage snapshots of gasoline stations taken by Ruscha in 1962, the exhibition features notes and sketches, handwritten lists of ideas for potential book titles, preliminary printing and binding specifications, paste-up layout materials and business records tracing the growth of Ruscha's spirited, independent publishing enterprise. A section of the exhibition featuring Ruscha's 1971 book "A Few Palm Trees" tracks the development of that project over four years, starting with a page of notes testing the title "Seventeen Hollywood Palm Trees and Their Locations" in 1968.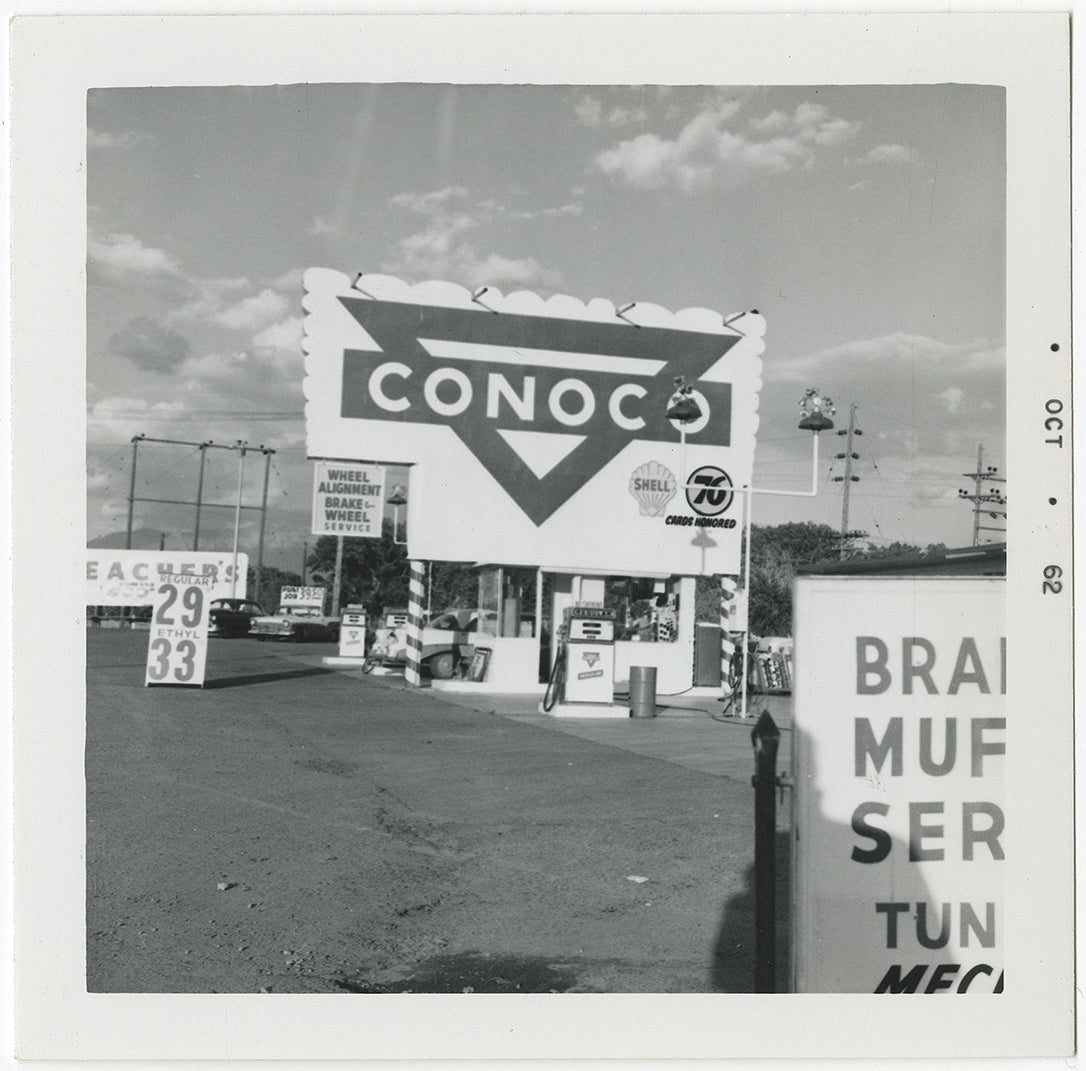 "Ed Ruscha: Archaeology and Romance" is the first major exhibition drawn from the Edward Ruscha Papers and Art Collection, a body of archival materials—selected by the artist and acquired by the Ransom Center in 2013—that pertain especially to his artist's books. "These materials open up entirely new paths to understanding the conception, design and production of Ed Ruscha's books," says Jessica S. McDonald, the Nancy Inman and Marlene Nathan Meyerson Curator of Photography and curator of the exhibition. "A single page of jotted notes can reveal the initial flow and immediate refinement of ideas for several of these projects coming together at once."
In addition to examining the process leading up to Ruscha's landmark publications, the exhibition explores the ways in which the motifs introduced in those books—motifs such as the gasoline station, the apartment building, the palm tree and the swimming pool—have inspired later works in other media. Early examples include sketches and screenprints based on Ruscha's photograph "Standard Station, Amarillo, Texas" (1962), as well as rare drawings after his photographs for "Some Los Angeles Apartments" (1965). Evident throughout the exhibition is Ruscha's persistent engagement with the artifacts of American popular culture, the iconography of the road and the manufactured romance of Hollywood.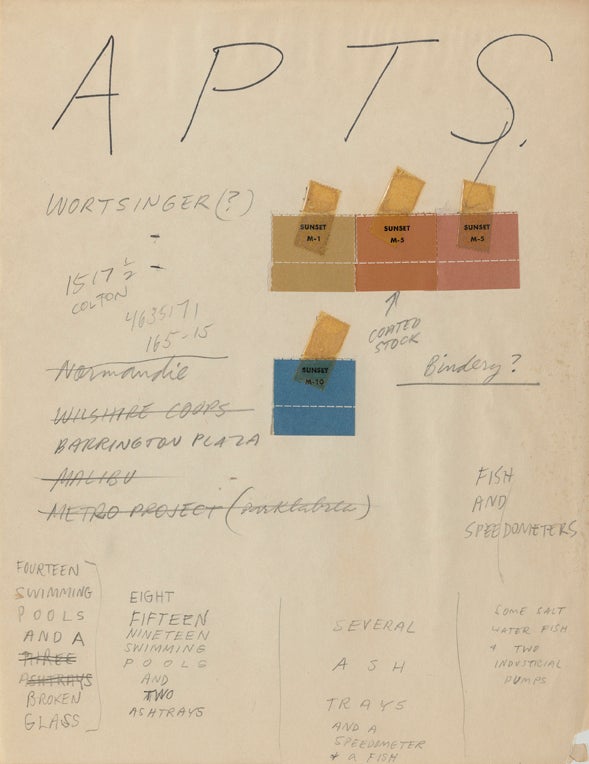 "Ed Ruscha: Archaeology and Romance" also explores the ways in which Ruscha has returned to the photographs initially made to populate the pages of his early books to produce new print portfolios. Some, such as "Gasoline Stations 1962" (1989), bring well-known photographs into new viewing contexts, while others offer surprising new images. The exhibition presents "Vacant Lots" (2003), a portfolio of four "outtakes" originally photographed for the book "Real Estate Opportunities" (1970); and "Three Palm Trees" (2009), a portfolio of three photographs printed without the masking that eliminated the sidewalks and buildings surrounding each of the palm trees pictured in the book "A Few Palm Trees" (1971).
Principally drawn from the Ransom Center's Edward Ruscha Papers and Art Collection, "Ed Ruscha: Archaeology and Romance" includes additional loans from the artist's collection, the Whitney Museum of American Art, Gagosian Gallery and private collections. In conjunction with the exhibition, the Ransom Center will host Ed Ruscha in conversation with curator Jessica S. McDonald on Thursday, Sept. 6 in Jessen Auditorium at UT Austin. This event and the exhibition are free and open to the public.
"Ed Ruscha: Archaeology and Romance" will be on view in the Ransom Center Galleries on Mondays through Fridays from 10 a.m. to 5 p.m., with extended Thursday hours until 7 p.m. On Saturdays and Sundays the galleries are open from noon to 5 p.m. Daily free docent-led tours are offered at noon, Thursdays at 6 p.m., and Saturdays and Sundays at 2 p.m.
High-resolution press images are available.