In the latest edition of the University of Texas/Texas Tribune Poll, Texas voters weigh in on some of the nation's most contentious issues — border detention centers, school shootings, NAFTA — and offer insight into the upcoming November elections.
The University of Texas/Texas Tribune survey of 1,200 registered voters was conducted from June 8 to June 17 and has an overall margin of error of +/- 2.83 percentage points. An overview of the latest findings and how they compare with prior polls is detailed below. 
Trade and the Border
A slim plurality of Texans say that the North American Free Trade Agreement (NAFTA) has been good for the Texas economy, while a larger majority disapproves of separating children and parents apprehended while crossing the U.S.-Mexico border.
Results showed that 34 percent believe NAFTA has been good for the Texas economy, while 28 percent said it has been bad. The poll revealed increasingly wide partisan differences between Republicans and Democrats.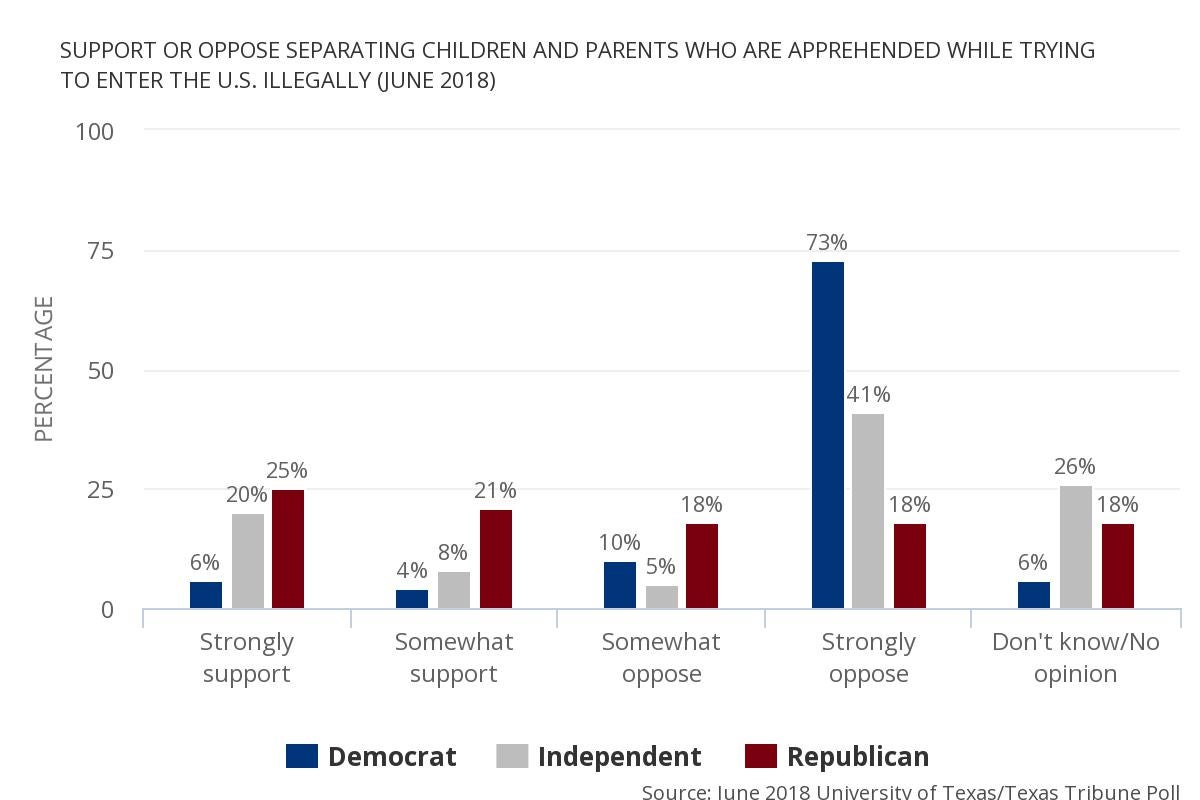 "More than half of the Democrats we surveyed (54 percent) said that NAFTA has been good for the Texas economy, compared to only 17 percent of Texas Republicans," said James Henson, co-director of the poll and director of UT Austin's Texas Politics Project. "This illustrates that even in Texas, which has extensive business and trade ties to Mexico, skepticism of trade deals like NAFTA is on its way to becoming the default position among Republican voters."
The poll also found a clear majority of Texans, 57 percent, opposed to the policy of separating children from their parents if they are apprehended while attempting to enter the U.S. illegally. Conversely, 28 percent supported the practice, with 15 percent saying they didn't have an opinion. The poll was conducted as the situation on the border received national attention, but data collection was completed before President Donald Trump signed an executive order to end that aspect of his "zero tolerance" policy on the border with Mexico.
"Taking a hard line on border security has generally helped Trump with his supporters, but separating children from their parents is massively unpopular with all but the most conservative Texans," said Daron Shaw, co-director of the poll and a professor of government at UT Austin. "Given the alacrity of the president's executive order ending the practice, the White House must have been looking at similar numbers nationally."
Guns, School Shootings and the Death Penalty
Despite the recent school shooting in Santa Fe, Texas, attitudes toward guns and gun-related laws remained largely unchanged from the results of a UT/TT poll in November 2017. Asked about the strictness of Texas gun laws, 51 percent said they should be made stricter, 13 percent said they should be less strict, and 31 percent said they should be left alone.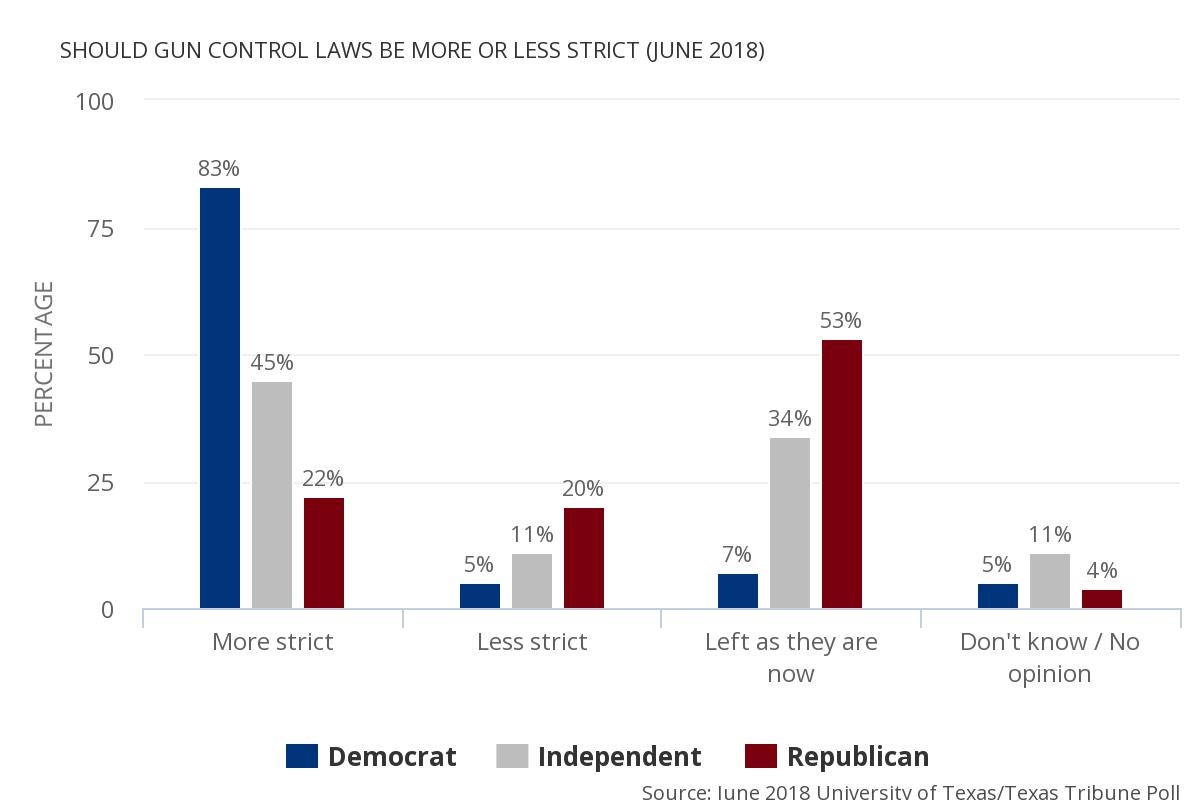 Similarly, Texans were divided in their beliefs about the causes of school shootings, with stark differences between Democrats and Republicans. Asked which factor is most to blame, the top response among Democrats was "insufficient restrictions on gun ownership" (34 percent). Among Republicans, the top responses were "poor parenting" (26 percent) and "bullying" (14 percent).
Sixty-five percent of Texans continue to support the death penalty, while 25 percent oppose it. This represents a 10 percent decrease in support from the last time the UT/TT poll asked about the subject in February 2015. Most of the declining support in that period can be attributed to Democrats.
"While there has been a lot of attention paid to the issues of school shootings by the public and elected officials such as the governor and the Legislature since the tragic shootings in Santa Fe, public attitudes don't seem to have moved much in terms of how Texans view policy," Henson said. "Hard evidence of the lack of change underlines how the body of data we've accumulated over more than 30 statewide polls since 2008 provides a valuable resource for researchers and the public to understand change and continuity in public attitudes towards issues such as gun control policy."
The 2018 Texas Elections
Although early voting for the fall elections remains four months away, the poll provides an early reading of preferences in the top statewide races.
Many Texans have yet to turn their attention to the upcoming fall elections — between 20 percent and 30 percent of respondents declined to choose a candidate in the various election matchups — but the poll offered an instructive glance at many of the most important matchups:
Sen. Ted Cruz (R) holds a 5-point advantage over Rep. Beto O'Rourke (D), despite O'Rourke's fundraising and earned media prowess.
Gov. Greg Abbott (R) maintains a 12-point lead over former Dallas County Sheriff Lupe Valdez (D).
Lt. Gov. Dan Patrick (R) holds a 6-point lead over Mike Collier (D).
Attorney General Ken Paxton (R) finds himself in the tightest race among those tested at this early stage, with a slim 1-point lead over Justin Nelson (D).
"Texans haven't homed in on these races, but even so, it looks like an uphill climb for the Democrats," said Shaw. "Still, there are some contests that could be competitive if everything breaks right."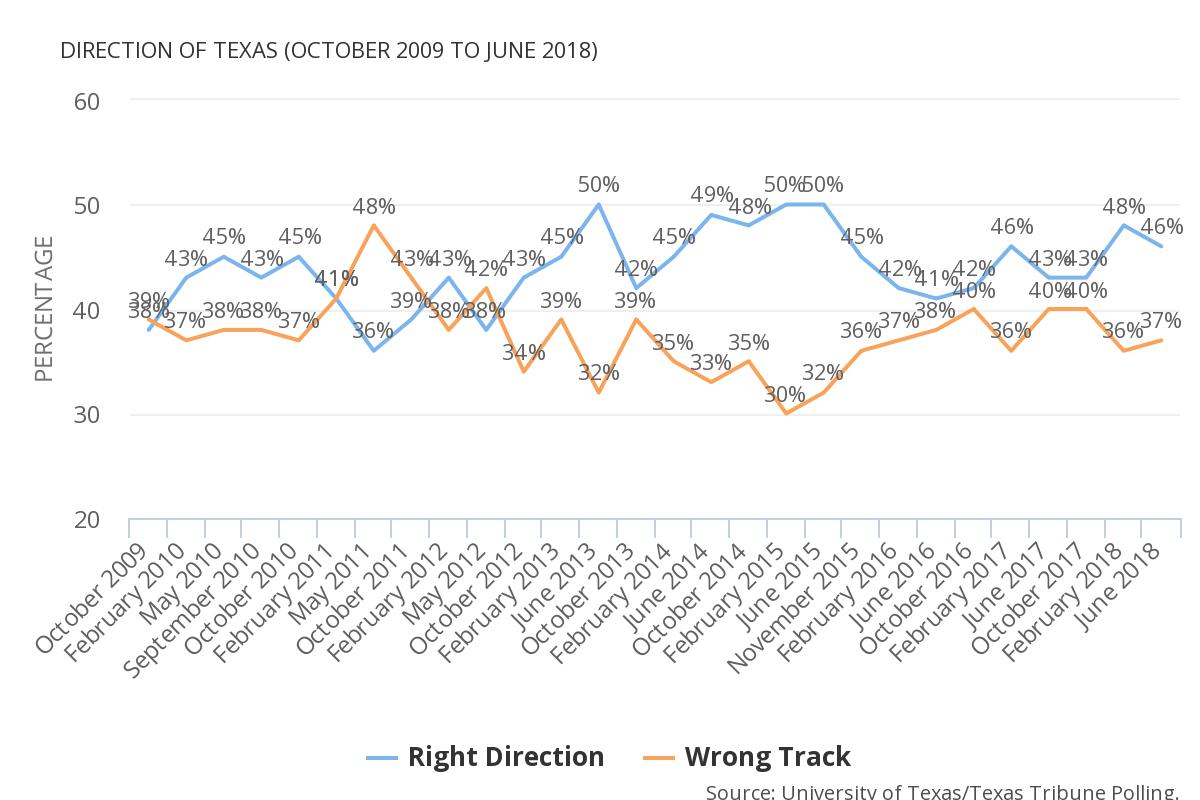 This is the latest in a series of polls conducted by UT Austin's Texas Politics Project and The Texas Tribune. Comprehensive poll results and information about methodology were released initially by The Texas Tribune. Graphics, a summary document, crosstabs and a data file are publicly available for research and teaching at the Texas Politics Project website