AUSTIN, Texas — Research teams looking into air pollution in India, housing conditions in Mexico and perceptions of skin color in Ghana are among the inaugural seven recipients of the President's Award for Global Learning at The University of Texas at Austin.
After a highly competitive process, the interdisciplinary teams were chosen to receive up to $25,000 and fully funded travel to implement research, social impact and entrepreneurship projects in seven regions across the world during summer 2019.
"All of the UT students and faculty members who submitted proposals should be proud of their work — their innovative approaches to addressing critical problems are outstanding," said UT President Gregory L. Fenves. "This award program combines experiential learning with interdisciplinary engagement to give our students the opportunity to learn, practice and discover in international settings. I am thankful to the International Board of Advisors for providing the funding to make the President's Award for Global Learning possible."
A total of 28 proposals were submitted from teams consisting of 98 students representing 10 colleges and 64 faculty members representing 14 colleges. The program, a signature effort of the International Board of Advisors, included a comprehensive review process that drew on expertise from deans, associate deans and faculty members across 10 colleges and schools.
Fourteen finalist teams, two per region, were ultimately chosen to advance and pitch their projects to a distinguished panel of judges who recommended projects to President Fenves for the award.
Projects were judged on several criteria, including the expertise of the students and faculty members on each team, the interdisciplinary mix, commitment of the international partner and history of collaboration with UT, feasibility, sustainability, and contribution/applicability to the university and Texas. The judges panel included Dean Randy Diehl (College of Liberal Arts); Dean Sharon Wood (Cockrell School of Engineering); Dean Mark Smith (Graduate School); Teri Albrecht, interim executive director of the International Office; and Maria Arrellaga, executive director of global engagement.
"It is inspiring to see the dedication and commitment of these student and faculty teams," said Diehl. "The proposal topics speak to the diversity of our campus, the potential of our students and the breadth of our faculty expertise. The President's Award for Global Learning is already contributing greatly to internationalization at UT."
The awardees, by region and topic:
Africa – The Color Complex: Unraveling the Stigma of Colorism in Global Communities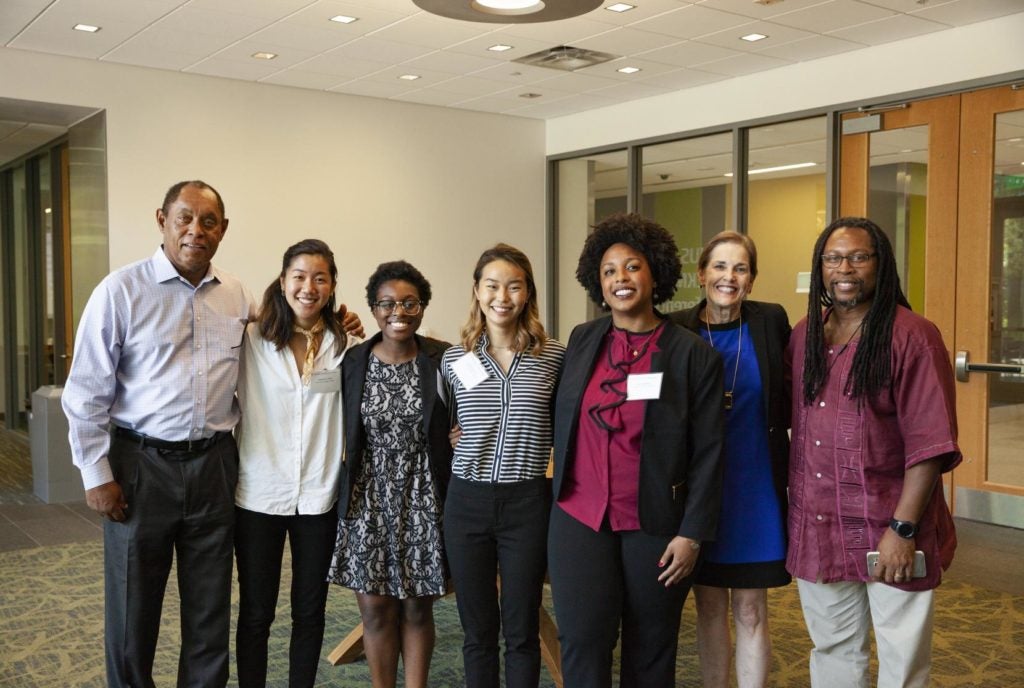 Explore the influences of colorism in Ghana through the lenses of media and businesses; identity and sense of self-worth; the cyclical nature of skin bleaching in families; and social mobility
Student team members: Timia Bethea, Rebecca Chen, Christina Cho, Vida Nwadiei
Faculty team members: Prof. John Doggett, Dr. Kevin Cokley, Dr. Minette Drumwright
East Asia – A New State of Mind: Mental Health in South Korea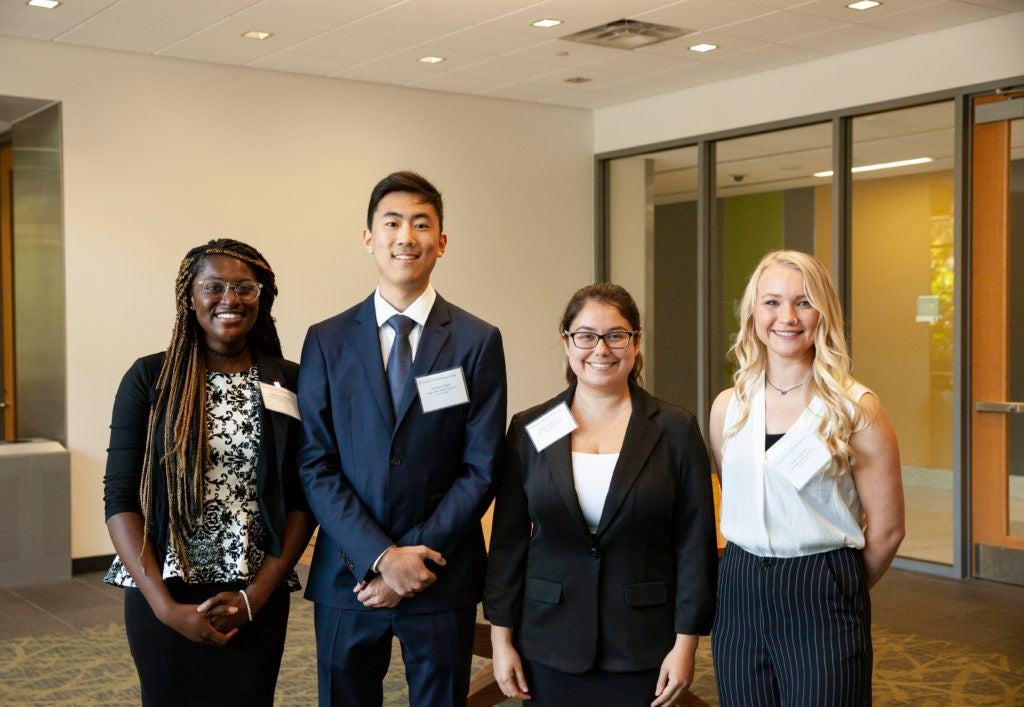 Explore whether culturally grounded intervention programs, through the use of a mobile app and in-person workshops, can have an impact on people's opinions on mental illness and suicide in South Korea
Student team members: Andrew Chen, Patience Ojionuka, Elena Ordonez, Shaina Owens
Faculty team members: Prof. Jiwon Park, Dr. Soyoung Park, Prof. Michael Baker
Europe, Russia, and the Caucasus – Lowering Maternal Mortality Rates: What Texas Can Learn from the Republic of Georgia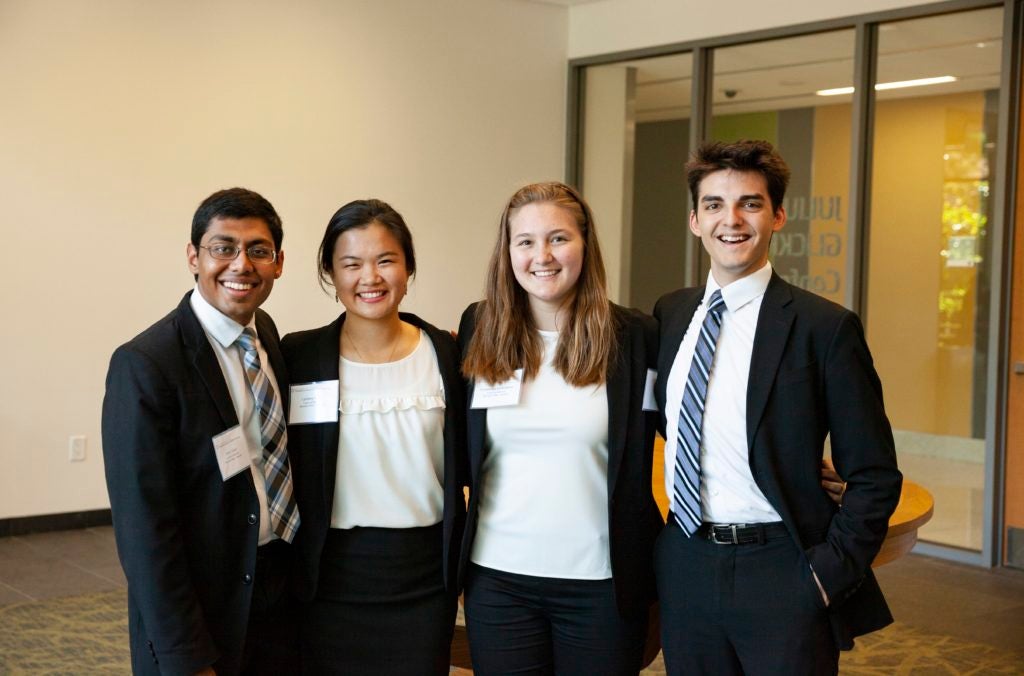 Helping Texas reduce its maternal mortality rate by examining successful methods in Georgia
Student team members: Anastasiya Byelousova, Parth Gupta, Michael Sanchez, Lyndsey Wang
Faculty team members: Dr. Amy Liu, Dr. Sharmila Rudrappa
Latin America – Health and Housing: A Comprehensive Needs Assessment of Low-Income Communities in Puebla, Mexico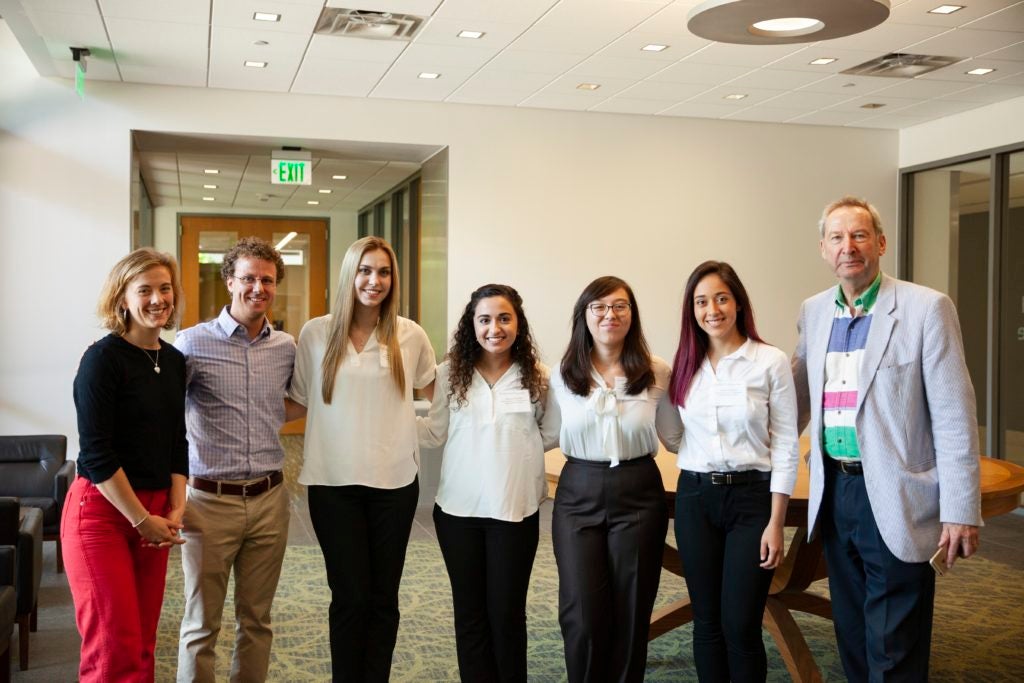 Comprehensive assessment of health needs, determinants, and resources in underserved regions of Puebla, Mexico, focusing on aspects of the built environment (housing, water, air)
Student team members: Christina Ciaburri, Veronica Remmert, Claire Stephenson, Andrea Sandoval Flores
Faculty team members: Dr. Ricardo Ainslie, Dr. Tim Mercer, Dr. Peter Ward
Middle East and Central Asia – Women's Hygiene, Empowerment and Research for Social Impact (HERS)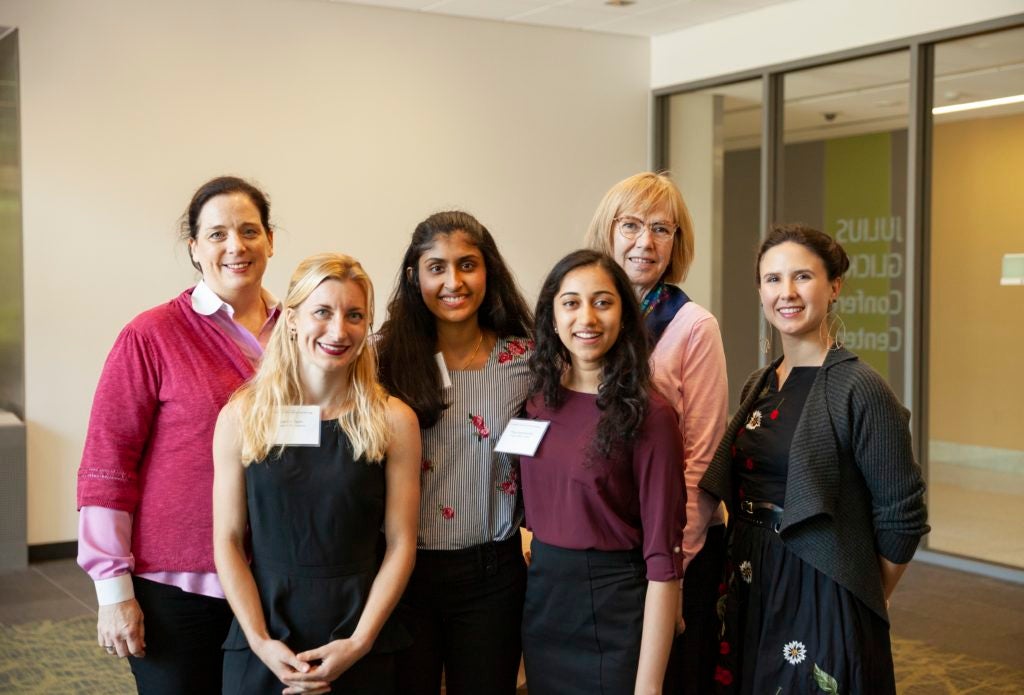 Student team members: Ishani Chakravarty, Edith Muleiro, Priya Ramamoorthy, Kathryn TaylorAnalyze and address empowerment through the creation and study of appropriate, sustainable menstrual hygiene products for women in refugee camps in Lebanon
Faculty team members: Dr. Janet Ellzey, Dr. Noël Busch-Armendariz, Dr. Katherine Polston
South Asia – Clearing the Air: Using Scalable, Low-Cost Sensors to Address India's Air Quality Knowledge Gaps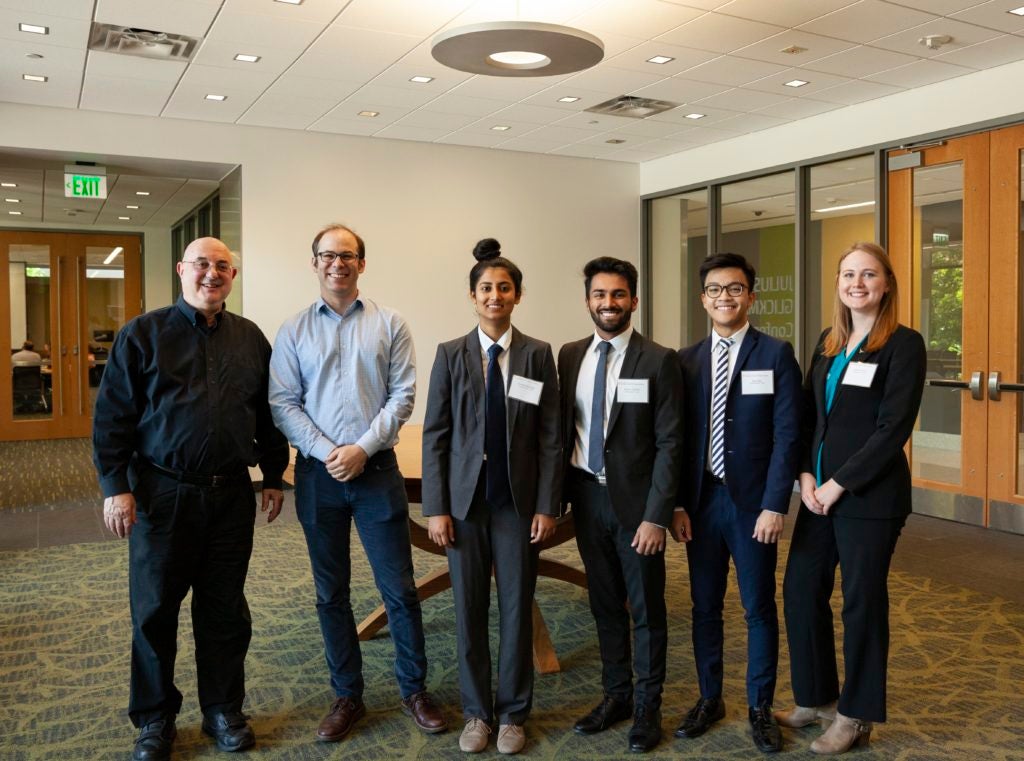 Distribute low-cost sensors to measure air pollution in India
Student team members: Shayan Charolia, Heather Howton, Brian Mai, Advaitha Reddy
Faculty team members: Dr. Joshua Apte, Dr. David Eaton
Southeast Asia – Addressing Cambodia's Waste Management Challenges: A Proposal for Co-Generating Entrepreneurial Solutions with Local Communities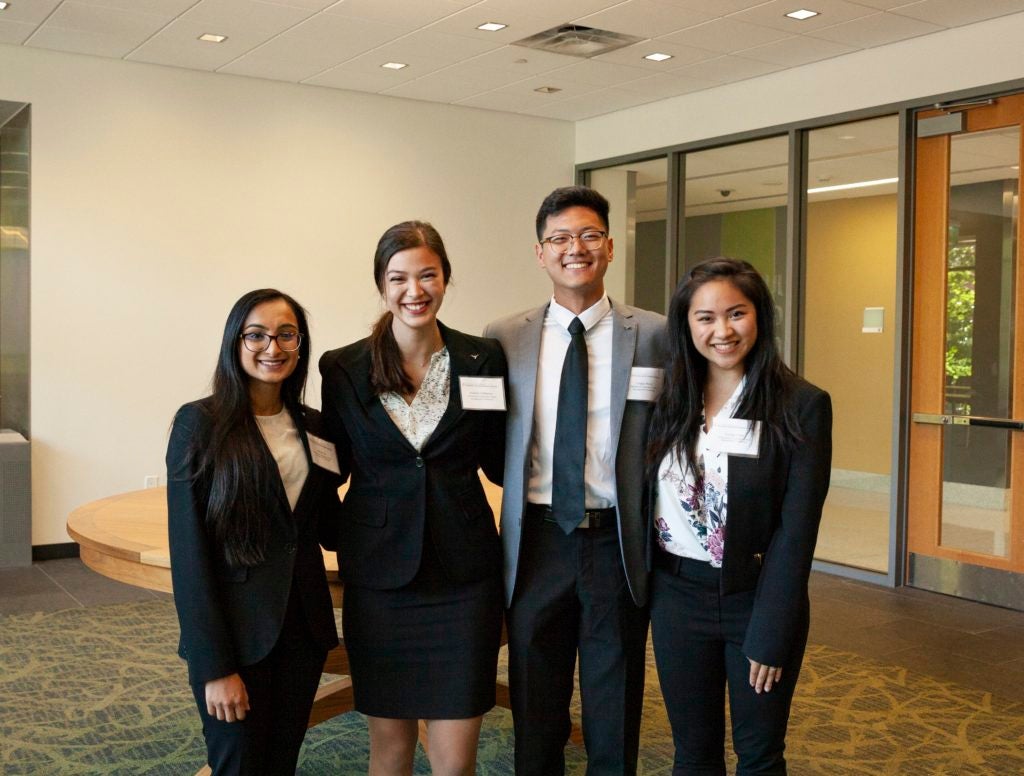 Test a pilot educational model in communities and encourage shifts in cultural views on waste while teaching the tools needed to generate solutions
Student team members: Simran Ali, Eunise Chen, Katelyn DeBacker, Lingyu Kong
Faculty team members: Dr. Jenny Knowles Morrison, Dr. Lucy Atkinson, Dr. Kasey Mariko Faust
Each of the seven teams will work with international partners during an intensive spring course to plan and prepare their projects. After completing their projects, the students will return to UT to share their experience and bring learning back to campus.
The final President's Award teams represent the highest caliber of students and faculty members and demonstrate UT's leadership in innovation, entrepreneurship and global impact.