Following the Arab Spring in 2011, social media was hailed as a boon for democracy. Now, less than a decade later, the headlines are taking a different tone – concern that social media is threatening democracy.
You're probably going to see more headlines about social media and its effect on government on Election Day, since it has become clear that this is a serious issue we need to examine. But it can be hard to understand, because there are many different things going on – user privacy breaches, influence campaigns, bots, foreign governments, fake news, etc.
How did we get here?
To gain a better understanding of how social media intersects with politics, we spoke to Talia Stroud, director of the Center for Media Engagement at the Moody College of Communication. Stroud is the North American Chair of Social Science One, an organization providing academic researchers with privacy-preserving access to Facebook in order to study the effects of social media on democracy and elections.
"Right now, social media platforms have immense data sets that could be used in the service of democracy," Stroud said. "And many academic researchers have the skills to analyze these data and provide insight."
Stroud believes academic researchers can help dissect the data to better understand what's going on and how it could be turned around to help social media work better for democracy.
We asked Stroud to walk us through the issue – how we got here and how social media might play a more positive role.
Q. Social media 10 years ago was just a place to post selfies and pictures of our food. Now, it's a big thing the government is grappling with. Why is that?
Talia Stroud: Overall, social media platforms offer new ways for people to interact with the news, government and each other. Not only can people share information and political opinions with their online networks, but political leaders have a more direct way to reach the public, bypassing traditional media. Right now, I would say that the research is clear: Social media can influence democratically important outcomes like polarization and participation.
Right now, I would say that the research is clear: Social media can influence democratically important outcomes like polarization and participation.
Q. So, where do we go from here?
TS: We need more research to understand exactly when social media has an effect. And, even more, we need people thinking about how social media can be beneficial. There is a certain urgency because we know that there are bad actors attempting to use the platforms in ways that derail our democratic process, and it is imperative that we understand how best to thwart these attempts.
Q. How can people be part of the solution on social media?
TS: By being mindful of what we're doing on social media, we all have a role to play in creating social media environments that further the cause of democracy. The news and political opinions you share, the people you follow and the tools that are available all have political effects. Even the ability to avoid politics on social media has potential repercussions on who turns out to vote and who stays home, who knows what is happening and who does not, and whether we develop charity for different viewpoints or do not.
Q. So, where does your research come in to this equation?
TS: Our work at the Center for Media Engagement focuses on how to improve what is taking place on social media by coming up with best practices. We work closely with news organizations because the news media is a very important institution in our democratic system and is significantly affected by what happens in social media. We want to promote productive discourse, provide the public with accurate information, and help people to understand and appreciate diverse views.
By being mindful of what we're doing on social media, we all have a role to play in creating social media environments that further the cause of democracy.
Q: What are some best practices to make social media better for democracy?
TS: We look at everything from sharing behavior to the success of different headlines, image, and status updates on platforms like Facebook. For example, we have one line of research looking at how news organizations can engage their audiences on social media. By answering relevant questions from their audiences and providing information beyond their reporting, journalists can reduce the level of incivility and raise the level of productive conversation on a newsroom's Facebook page.
We also conducted a study surveying Snapchat users in the weeks leading up to the 2016 election to better understand how they used the app to stay informed about news and politics.
Q. How did you get into this field?
TS: Two pivotal experiences informed my current work. The first was writing my book "Niche News." I found lots of evidence that people were choosing media outlets based on their partisanship. Republicans turned to Fox News while Democrats went to MSNBC. These choices are politically consequential, increasing political polarization. This work convinced me that we need to devote more attention to how to bring people together.
The second experience was playing a small role in the Federal Communications Commission's Information Needs of Communities report. The data gathered and presented by the interdisciplinary team underscored the financial challenges facing the news media.
Both experiences made me want to think about how social science research could help. Part of the mission of the Center for Media Engagement is to work with media organizations on how to provide the public with engaging information that builds an appreciation for diverse points of view. Social media organizations have great potential to contribute to these ideas.
---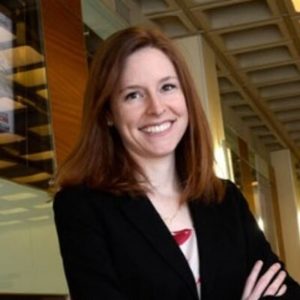 Natalie (Talia) Jomini Stroud
 is an Associate Professor of Communication Studies and Assistant Director of Research at the Annette Strauss Institute for Civic Life at the University of Texas at Austin. Since 2012, Stroud has directed the grant-funded
Center for Media Engagement
, which examines commercially-viable and democratically-beneficial ways of improving online news coverage.
Stroud studies the media's role in shaping people's political attitudes and behaviors. Her book, Niche News (Oxford University Press, 2011), explores the causes, consequences and prevalence of seeking out like-minded political information. She teaches courses in public opinion, media effects and political communication.
Stroud twice received the Outstanding Faculty Member Award from the Communication Studies Graduate Community and was invited to the Society for Teaching Excellence at the University of Texas.