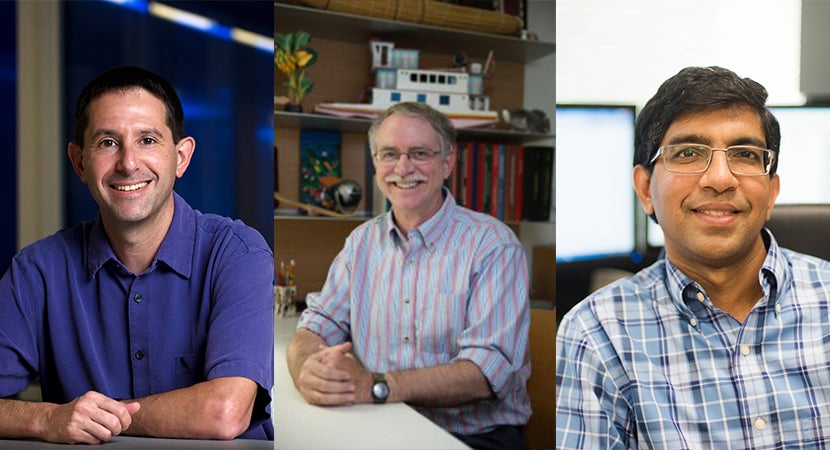 AUSTIN, Texas — Three University of Texas at Austin faculty members have been named fellows of the American Association for the Advancement of Science (AAAS), the world's largest general scientific society. This year's AAAS fellows – members of the College of Natural Sciences, the Cockrell School of Engineering and the College of Liberal Arts – will be inducted at a February ceremony during the AAAS Annual Meeting in Washington, D.C.
Fellows of the AAAS are elected by peers in recognition of their scientifically or socially distinguished work to advance science or its applications. This year, 416 members have been selected for this honor by AAAS, an organization known for its publication of Science and other journals that reach nearly 10 million scientists worldwide.
The three UT fellows have been elected from areas ranging from artificial intelligence to environmental conservation:
Venkat Ganesan, the Kenneth A. Kobe Professor in Chemical Engineering, studies innovative computer simulation methods for addressing equilibrium and dynamical properties of multicomponent polymeric materials, block copolymers, polymer blends and polymer nanocomposites.
Kenneth Young, UT Austin geography and the environment professor, researches tropical landscapes in Latin America to inform biodiversity conservation and sustainable development, particularly in developing countries. He studies the human influence on both natural and utilized landscapes, linking biogeography and landscape ecology to questions of ecosystem dynamics, as well as environmental and socioeconomic change.
Peter Stone, the David Bruton, Jr. Centennial Professor and associate chair of the Department of Computer Science who oversees UT Austin's Robotics Portfolio Program, researches artificial intelligence, including machine learning (especially reinforcement learning), multiagent systems, robotics and e-commerce.
The association's annual tradition of recognizing leading scientists as fellows dates to 1874. Since then, AAAS has honored distinguished scientists such as inventor Thomas Edison (1878) and computer scientist Grace Hopper (1963). Four of the 2018 Nobel Prize laureates – James Allison, Arthur Ashkin, Frances Arnold and George Smith – are AAAS elected fellows.
The full list of 2018 AAAS fellows is available here.