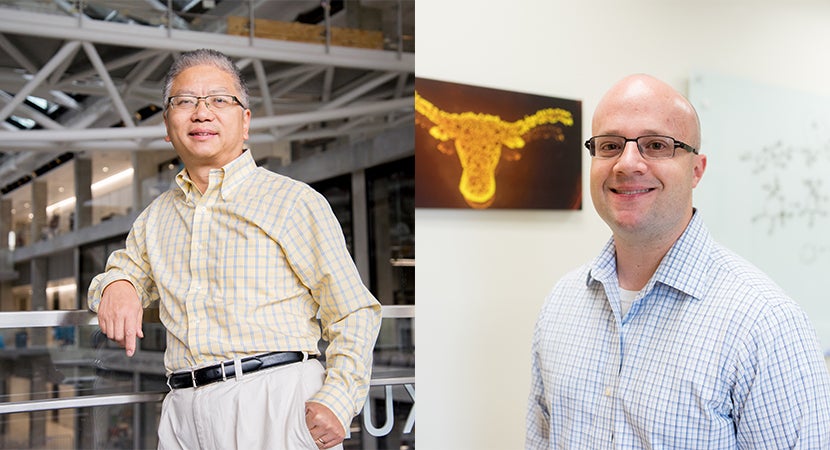 AUSTIN, Texas — Hal Alper, professor in the McKetta Department of Chemical Engineering, and Alex Huang, professor in the Department of Electrical and Computer Engineering, have been selected as fellows in the prestigious National Academy of Inventors (NAI) for 2018. They are the latest faculty members from The University of Texas at Austin to receive this honor, joining 11 previous inductees from the university.
Both researchers were chosen by the NAI Fellows Selection Committee for demonstrating "a highly prolific spirit of innovation in creating or facilitating outstanding inventions that have made a tangible impact on the quality of life, economic development and welfare of society." They will be officially inducted in a ceremony in Houston on April 11, 2019.
Being inducted into the NAI and joining its community of 4,000 accomplished inventors takes more than just innovative thinking. Founded in 2010, the NAI aims to recognize and encourage inventors with patents issued from the U.S. Patent and Trademark Office with an overall emphasis on innovation that clearly benefits society.
Alper's research focuses on biochemical engineering in the fields of metabolic engineering and synthetic biology. His pioneering work, which aims to harness the chemistry within cells to create new bio-friendly molecules and materials that replace harmful alternatives currently used for fuels and pharmaceuticals, has been internationally recognized during the past decade.
His work in the production of chemicals using microbial systems is not only sustainable and renewable but also scalable, and it is a competitive alternative to the existing petrochemicals widely used in manufacturing. Alper's inventions have already enabled new technologies, leading to seven U.S.-issued patents to date, with six additional patents pending as well as technologies licensed to several companies. In 2016, he was recognized for these accomplishments by being named UT's Emerging Inventor of the Year.
Huang, a world-renowned expert in power semiconductor device technology, power electronics, smart grids and renewable energy systems, recently developed a way to integrate solar power generation and storage into one single system, effectively reducing the cost by 50 percent. He is widely recognized for his contributions to the development of the Energy Internet concept and solid-state, transformer-based energy router technology.
Huang has published more than 500 papers in journals and conferences and holds more than 20 U.S. patents for his inventions, including several based on the Emitter-Turn-Off Thyristor (ETO) technology. During an academic career spanning two decades, Huang has generated more than $200 million in R&D funding.
What Makes an Inventor?
While the majority of us see problems as annoyances that we wish someone else would fix, the inventor sees problems as opportunities. We asked Huang and Alper about this sense of opportunity and what drives them to affect real change in the world.
"Since I was a child, I always enjoyed tinkering with things," Alper said. "I think the first step toward inventorship is trying to find new ways of thinking about efficiency — that is the essence of invention. Often, innovation is about thinking through a commonly studied problem in a new way and with a fresh perspective."
For Huang, it is a culture of innovation that has helped foster his creativity.
"There isn't any single lightbulb moment I could point to as the reason I decided to become an inventor," he said. "It is a process of thinking propelled by a research setting where innovation is encouraged. I am fortunate to be doing my research at UT Austin. I am surrounded by some of the most inventive minds in the world."
Both engineers also cite failure — and how one copes with it — as a crucial element to the success of any inventor.
"As a scientist or engineer, it is quite natural to be an inventor," Huang said. "But most of the time your initial ideas have either already been invented or they are flawed in some way. That's why inventors must have tenacity. You have to keep trying until you get it right."
Alper goes even further, placing one's approach to failure directly at the heart of being a successful inventor.
"I'd say the most important characteristic of the inventor is being unaffected by failure," he said. "Ironically, failure is an integral part of success. And having that ambition and a desire to explore the unknown is crucial to gaining the perspective required to think about solving problems in new ways."