Earnest F. Gloyna, former dean of The University of Texas at Austin's College of Engineering (now the Cockrell School of Engineering), died on Jan. 9 at the age of 97, leaving behind a legacy marked by exceptional leadership and vision.
Born in Vernon, Texas, Gloyna began his engineering career in 1942 as a second lieutenant in the U.S. Army Corps of Engineers during World War II. He served in the 820th Engineering Aviation Battalion in the European Theater and participated in the D-Day invasion, landing on Omaha Beach. He left Europe in 1945 as a major. He received a Bachelor of Science in civil engineering from Texas Technological College in 1946, a Master of Science in civil engineering from UT in 1949 and a Ph.D. in environmental and water resources engineering from Johns Hopkins University in 1953. He joined the UT Austin faculty as an assistant professor in 1949, where he remained until his retirement in 2001.
"Earnest Gloyna was a WWII hero who went on to lead the Cockrell School of Engineering as it became one of the finest schools in the nation," said UT President Gregory L. Fenves. "When I first joined the UT faculty in 1984, Dr. Gloyna was the dean of engineering, and I remember his guidance and mentorship. Twenty years later when I returned to UT and took on the role he had set the standard for, Earnie was eminently kind, supportive and inspiring. I, and so many others in the Cockrell School and at the university, will miss him greatly."
Throughout his distinguished career, Gloyna maintained a high standard of excellence in engineering education and research. Stemming from his initial interest in water resources and public health, his research focused on the evaluation and improvement of water quality, providing invaluable solutions to some of society's most complicated environmental issues regarding the management of water resources. Gloyna served as the director of the Environmental Health Engineering Laboratories from 1954 to 1970 and as the director of the Center for Research in Water Resources from 1963 to 1973. He was appointed dean of the College of Engineering in 1970 and served in that role until 1987.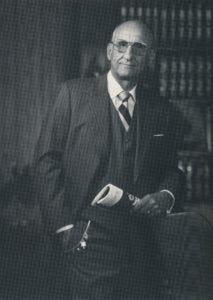 Gloyna's time as dean was marked by visionary leadership and the advancement of a more diverse and inclusive engineering student body. With a dream for UT's engineering school to serve as a model for the development of other engineering institutions in the United States, Gloyna spearheaded the construction of Ernest Cockrell Jr. Hall, the Engineering Teaching Center II and the Chemical and Petroleum Engineering Building; dramatically expanded research initiatives within engineering; encouraged a focus on developing student leaders; and launched the school's Equal Opportunity in Engineering Program — an initiative that championed diversity and that still thrives today — thus setting the precedent for engineering schools nationwide.
"As both a faculty member and dean, Earnest Gloyna was a visionary leader at an important time in our school's history," said Sharon L. Wood, dean of the Cockrell School of Engineering. "He modernized our facilities on campus, he understood the importance of increasing diversity in the engineering profession, he recruited world-renowned faculty members that strengthened our departments, and he was dedicated to advancing excellence in the College of Engineering. His extraordinary contributions will never be forgotten."
Celebrated among his professional colleagues across the engineering field, Gloyna was an internationally known author and active consultant. He was elected to the National Academy of Engineering in 1970, was named a Distinguished Member of the American Society of Civil Engineers in 1986 and honored with the OPAL Award in Education from the American Society of Civil Engineers in 2003. He was also honored as a Distinguished Alumnus of Texas Tech University in 1973, a Distinguished Engineering Graduate of UT Austin in 1982, a Distinguished Alumnus of UT Austin in 1992 and a Distinguished Alumnus of Johns Hopkins University in 1993. Gloyna was a licensed professional engineer in the State of Texas and a Diplomate of the American Academy of Environmental Engineers.
Gloyna's teaching, research and professional leadership have impacted countless students, educators and leaders. His dedication to changing the world through engineering will continue to resound within the Texas Engineering community for decades to come.