WHAT: To improve the longevity and well-being of aging individuals across all demographics, The University of Texas at Austin will launch the Texas Aging & Longevity Center.
WHEN: Noon to 1 p.m. Friday, Jan. 25
WHERE: The Sherri and Robert L. Patton, Jr. Hall (RLP 1.302E), 305 E. 23rd St., Austin, TX
WHO MAY ATTEND: The event is free and open to the public.
BACKGROUND: Nearly 15 percent of Texans — 4 million people — are 65 or older, and by 2040, older adults will make up more than a fifth of the population. This growing population is likely to present new challenges that researchers within the university's Texas Aging & Longevity Center (TALC) are prepared to take on.
Although UT Austin has much ongoing research on aging and longevity, that work is spread across 12 colleges. The TALC will serve as a hub for research and education on this subject.
Through campus events, speaker series, training workshops and monthly journal clubs, the center hopes to bring together scholars from different fields to take a closer look at:
Social isolation and aging in the community
Health disparities and early life predictors of aging
Brain aging
Technology and aging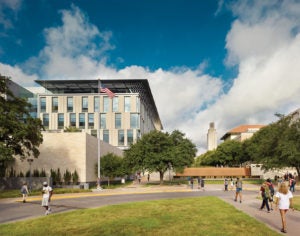 Housed in the university's Population Research Center (PRC), TALC will be led by co-directors Karen Fingerman, human development and family sciences professor and PRC faculty researcher; and Debra Umberson, sociology professor and PRC director.
"Older adults today are breaking barriers by working longer and staying fit and involved in their communities," Fingerman said. "But addressing optimal aging requires an adaptive society."
Texas' 50-and-older population is made up of growing proportions of ethnic minorities with unique wellness challenges, and sizeable health disparities exist between urban and rural aging populations. Additionally, aging presents increased risk of dementia, and caregiving for dementia currently costs the Texas economy billions of dollars. Understanding and addressing the best ways to age and the drivers of such disparities will be essential to improving the lives of aging Americans, UT Austin researchers said.
NOTE TO EDITORS: To receive up-to-date information on happenings and research at the Texas Aging & Longevity Center, contact aging@austin.utexas.edu to be added to the listserv.