While a statue of George Washington stands in front of the university's iconic Tower, UT's connections to presidents run deeper than what visitors to the Forty Acres will see at first glance.
In celebration of Presidents Day, take a look at some of the ways burnt orange pride has been connected to the White House:
LBJ and GWB have the perfect game day attire…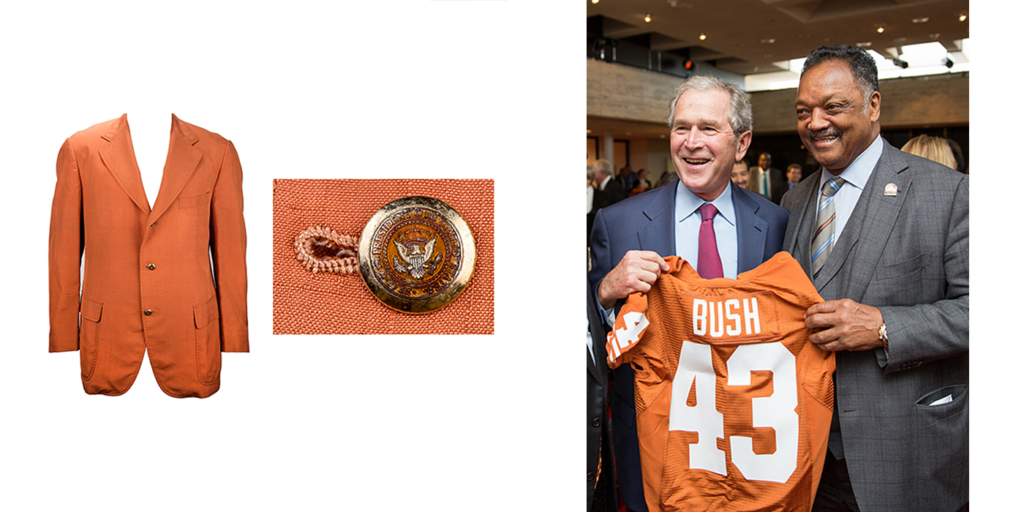 President Lyndon B. Johnson once showed up at a Texas Football game wearing this burnt orange jacket fit for a president. The 43rd president of the United States, George W. Bush, picked up a personalized Texas Football jersey when he came to campus in 2014 for the Civil Rights Summit, which Presidents Jimmy Carter, Bill Clinton and Barack Obama also attended.
…and Presidents Clinton and Obama have perfect pairs of boots.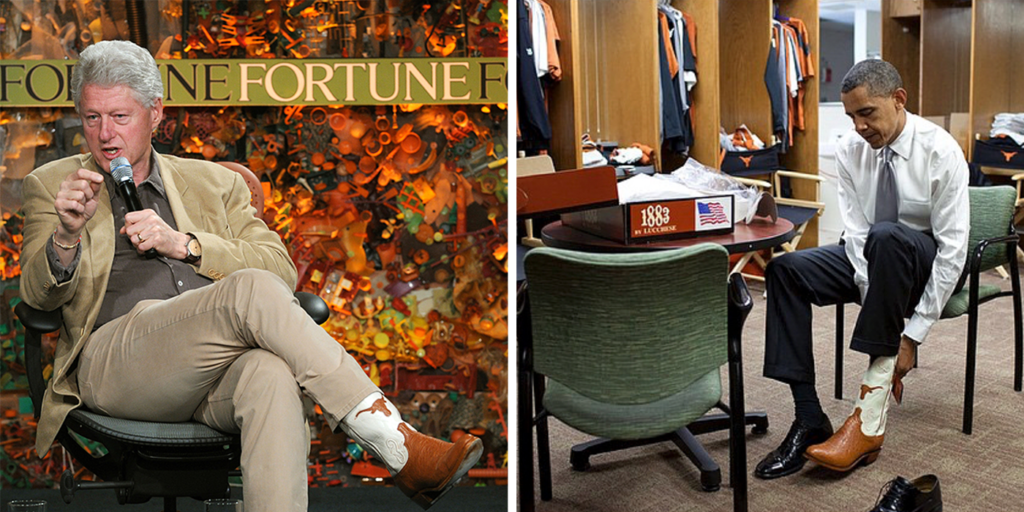 If Clinton or Obama come back to the Forty Acres, they already have the perfect pair of boots to show their Longhorn pride.
"Be extraordinary."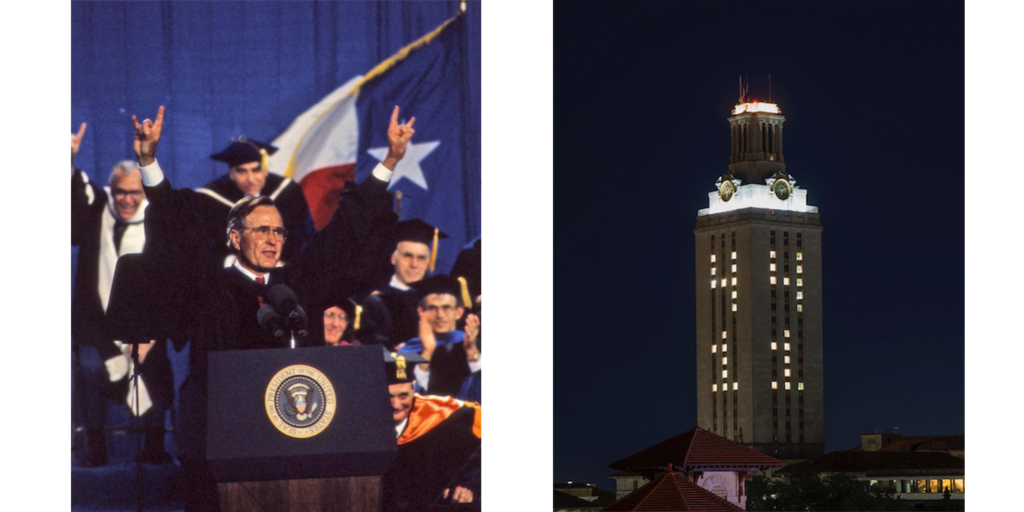 "Whatever you do, live a life of adventure and meaning so brilliant that, like a Roman candle, it lights up the world," President George H.W. Bush said during the 1990 Commencement address at UT.  "Dazzle us. Astonish us. Be extraordinary." Upon his passing in December 2018, the university community celebrated life and legacy of the 41st president by darkening the Tower and lighting "41" on its sides.
The Presidential Mace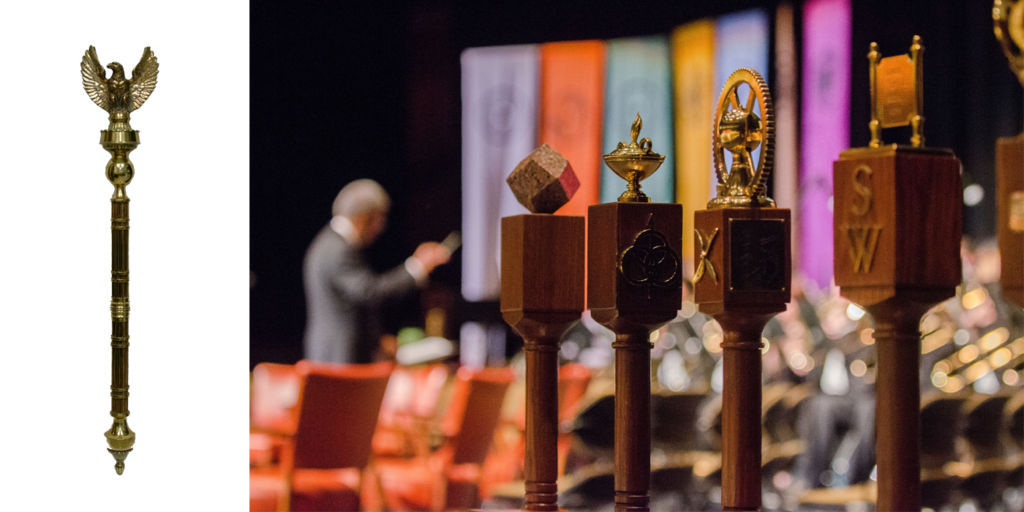 During ceremonial events like Honors Day and Commencement, academic leaders carry maces customized to represent different fields of study and notable milestones like the university's 75th anniversary.  UT's collection of more than 40 maces are on display in the Perry-Castañeda Library, where visitors can see the Presidential Mace. Topped with an eagle, it was used in 1964 when President Lyndon B. Johnson delivered the Commencement address during his first year in office. The mace is intended to be used again only when a sitting U.S. president is the commencement speaker.
The LBJ Presidential Library and LBJ School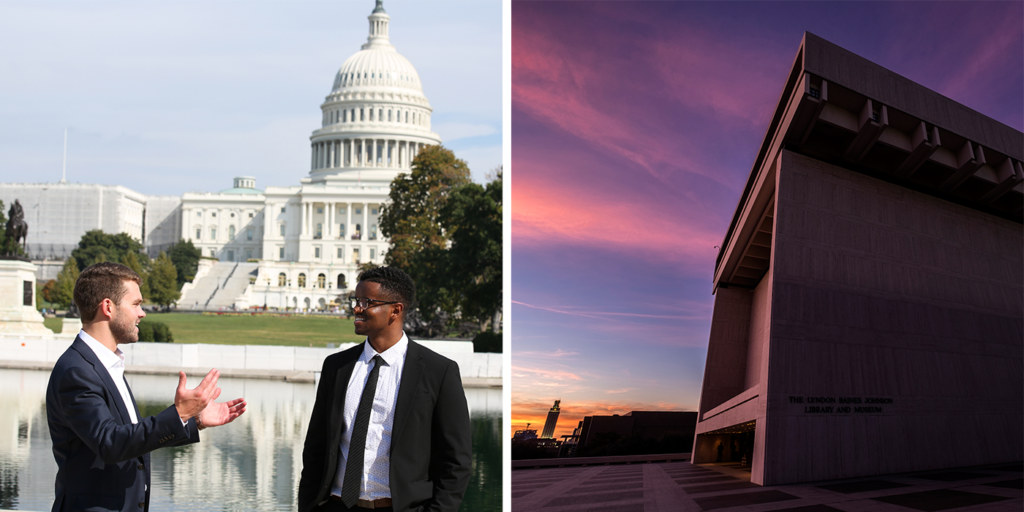 The university's campus is also home to both the LBJ Presidential Library and the Lyndon B. Johnson School of Public Affairs. The Library houses 45 million pages of historical documents, 650,000 photos and 5,000 hours of recordings from President Johnson's political career, including about 643 hours of his recorded telephone conversations. One of 14 Presidential Libraries administered by the National Archive and Records Administration, the LBJ Library welcomes approximately 100,000 visitors to campus each year.
Located next to the Library, the LBJ School is one of the nation's top public affairs schools and prepares students to change the world by contributing viable solution to society and informing public and social dialogue. Today, more than 4,300 graduates of the school are living the legacy of President Johnson's bold and fearless action.