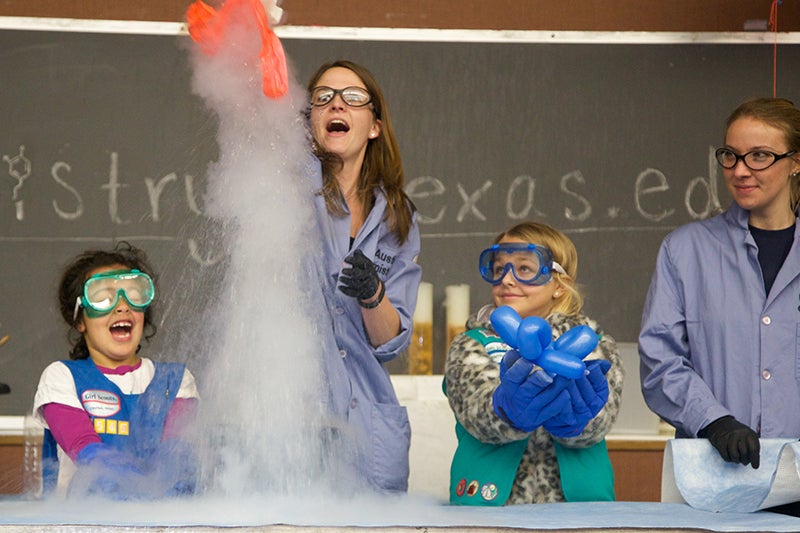 What: The Women in Engineering Program in the Cockrell School of Engineering at The University of Texas at Austin will host more than 12,000 children, parents and educators from cities across the state for its 18th annual Girl Day at UT Austin, a daylong event filled with activities that help spark creativity, inspire future careers and show how engineers and scientists can change the world.
When: Saturday, Feb. 23, 11:30 a.m. to 5 p.m.
Where: Cockrell School of Engineering Complex at UT Austin (map)
Media: The event is open to the news media. Free media parking is available in three garages: 27th Street Garage (109 W. 27th St.), Speedway Garage (105 E. 27th St.) and San Antonio Garage (2420 San Antonio St.)
Tricia Berry, directory of the Cockrell School's Women in Engineering Program, will be available for interviews.
Notable highlights to cover include: "Egg Drop Challenge" throughout the day at the entrance to the Engineering Education and Research Center (EER). "LEGO Structure Architectural Engineering Design" throughout the day on the plaza of Ernest Cockrell Jr. Hall (ECJ). "Fun with Chemistry" demonstration — shows at 1 and 2 p.m. in the ground floor atrium of the EER.
More information on activities, demonstrations and shows can be found at girlday.utexas.edu.
Girl Day By the Numbers:
8,000 — Kindergarten through eighth-grade students expected to register for Girl Day 2019
150 — Activities throughout the day
9,000 — Gumdrops to create geodesic gumdrop dome structures
1,500 — Toy animals to save by constructing parachutes
2,500 — Ounces of petroleum jelly to manufacture lip gloss
Background: With more than 1,400 volunteers from UT Austin, nonprofit organizations and local businesses, Girl Day has become the largest event of its kind in the U.S. Elementary and middle school students will engage in 150 activities and hands-on educational experiences, from designing a balloon-powered car to watching physics and chemistry in action. Girl Day at UT Austin includes Introduce a Girl to Engineering Day, an international event celebrated during Engineers Week each year, and the Girl Day STEM Festival.
Girl Day at UT Austin is presented by BAE Systems, BASF Corporation, Halliburton and Texas Instruments.