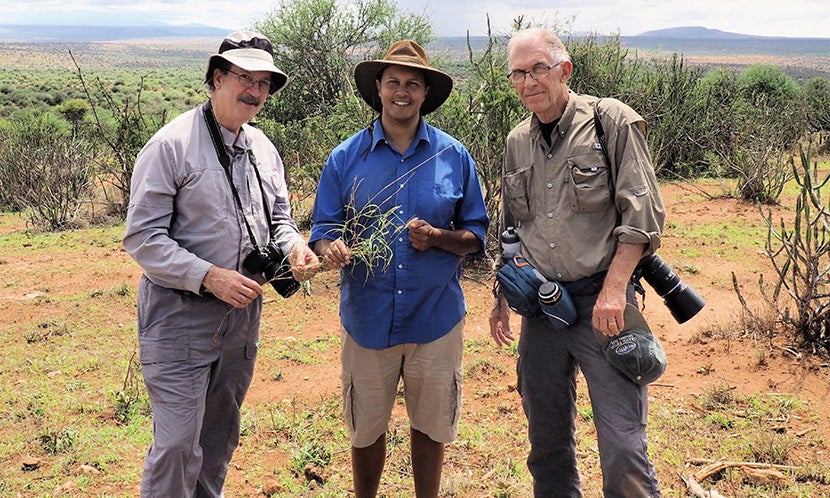 AUSTIN, Texas—Destructive and costly fire ants, crazy ants, moth larvae and invasive grasses can wreak havoc on Texas ecosystems, but biologists at The University of Texas at Austin are bringing the fight to them. With the help of a $6 million continuing grant from the Lee and Ramona Bass Foundation, researchers in the Texas Invasive Species Program will seek new, sustainable approaches to counter exotic pests that threaten Texas.
During the next six years, scientists based at the Brackenridge Field Laboratory (BFL) will identify ways to combat five invasive species that have settled in Texas without the natural predators, competitors and diseases that kept them in check in their native environments. The five species are red imported fire ants, tawny crazy ants and exotic cactus moths, all native to South America, and guinea grass and buffel grass from Africa.
"Invasive species have a devastating and costly impact on our state's natural resources," said Carter Smith, the Texas Parks and Wildlife Department's executive director, who is not involved in the research. "Not only do they degrade habitat and compete with our native fish and wildlife, but if left unchecked, they also have substantially negative economic consequences for our water supplies, infrastructure, outdoor recreation and property values. There is a critical need for additional research to help prevent and control invasive and exotic plants and animals from expanding further across the Texas landscape."
Part of the team's effort involves finding natural enemies from invasive species' native ranges — such as parasites or pathogens that specifically target these species — without harming native plants and animals.
"Programs like this require a long-term commitment because the solutions take time to develop, implement and monitor. We feel extremely fortunate to have this support," said Rob Plowes, a research scientist who is one of three principal investigators for the new grant. The others are Larry Gilbert, director of BFL and professor of integrative biology, and research scientist Ed LeBrun.
Newly emerging threats are from introduced guinea grass (Megathyrsus infestus) and buffel grass (Cenchrus ciliaris), nonnative grasses that outcompete Texas plants, disrupt wildlife and increase the risks of wildfires. First imported to South Texas ranches to feed cattle, guinea grass and buffel grass have spread into natural landscapes. Scientists plan to partner with ranchers to conduct research high and low: They'll use remote sensing and drones from above and explore the soil and microbes below to learn about the threat and evaluate management practices to curb the spread of these exotic species.
Gilbert and colleagues previously introduced some natural enemies of fire ants (Solenopsis invicta), a pest that affects agriculture, natural fauna and causes more than $6 billion in annual losses nationwide. The scientists will continue to examine the impact of these and other biocontrol measures for fire ants. They'll also explore effects of a fungus that they previously discovered can infect crazy ants (Nylanderia fulva) – a pest that nests in people's homes and displaces native insects and animals.
The larvae of exotic cactus moths (Cactoblastis cactorum) eat prickly pear cactus, plants at the foundation of ecosystems across the southwestern U.S. and Mexico. The moths were reported for the first time in Texas during the summer of 2018, so the researchers will look at tiny parasitoid wasps from Texas and Argentina that lay their eggs in cactus moth larvae as a way to potentially shut down their destructive abilities.
"We rely heavily on collaborators in Argentina and Kenya, where our problem species are unremarkable parts of those natural systems, to help develop solutions and provide critical assistance with logistics and permitting," Gilbert said.
Much of the research will take place at the Brackenridge Field Laboratory, a premier urban field research station for studies in biodiversity, ecosystem change and natural history. Part of the Department of Integrative Biology's Biodiversity Center, the lab and its researchers contribute to UT Austin's highly ranked ecology and evolutionary biology program.