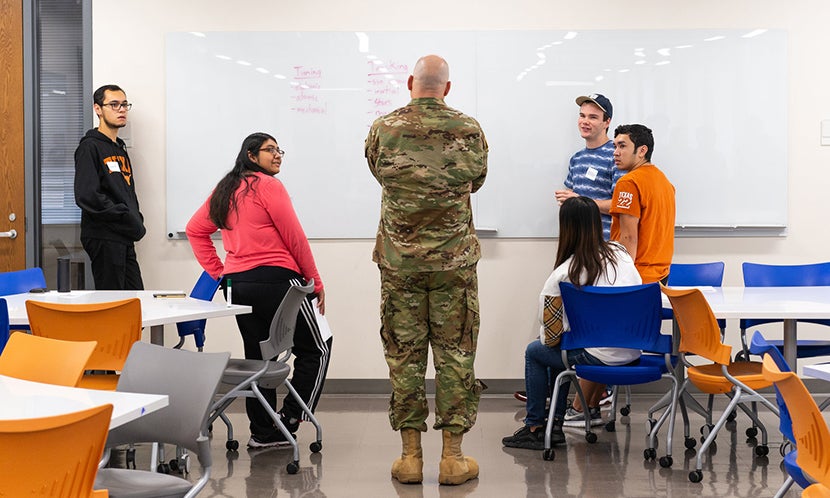 WHAT: Teams of science and engineering students from The University of Texas at Austin's new Inventors Program will showcase their innovations, including new wearable devices and interactive augmented-reality exhibits, as they work to solve real-world problems presented by Army Futures Command and other Central Texas entities.
WHEN: 1 to 4 p.m. Friday, April 12, 2019
WHERE: Santa Rita Suite (UNB 3.312), Texas Union, Guadalupe Street and 24th Street, Austin, Texas 78712
MEDIA: The event is free and open to the public. No tickets are required. Media should email christine.sinatra@austin.utexas.edu.
BACKGROUND: The Inventors Program partners with local public and private sector organizations – including the new Army Futures Command, which focuses on modernizing the Army – and identifies challenges that science and engineering students can help solve through innovations that may be brought to market or the public sector. Students in the program's "Hacking for Defense" class and other courses tackle a range of problems and will present their inventions, including innovations to:
Help soldiers see through walls for combat threat assessment;
Create field kits that identify ways to treat injuries based on a blood sample;
Develop inexpensive water quality sensors for urban storm drains;
Produce tools that can easily and instantly test for food contamination;
Launch an augmented-reality exhibit to teach lessons about ecosystems.
INTERVIEWS: Faculty members, student inventors, industry experts and members of the Army Futures Command Center, including Maj. Gen. James Young of the 75th Innovation Command, will be available for interviews at 2:30 p.m.   
Schedule of events:
1 to 2:30 p.m.: Pitch Session – Student teams pitch their innovations to a panel of local experts "Shark Tank"-style.
2:30 to 4 p.m.: Roundtable Session – Student teams demonstrate their innovations and answer questions from attendees.
4 to 4:30 p.m.: Break
4:30 to 5:15 p.m.: Guest Reception – Members of the media may attend, along with industry guests and alumni.
5:15 to 6 p.m.: Keynote and Awards Ceremony – Inventors projects awards will be given alongside awards from the day's Undergraduate Research Forum.