AUSTIN, Texas — David Booth, co-founder and executive chairman of Austin-based Dimensional Fund Advisors and a visionary philanthropist, has committed a $10 million gift to The University of Texas at Austin. His philanthropic investment will be used to advance Texas Science and the construction of the Giant Magellan Telescope (GMT). Once completed, the GMT will be the world's largest telescope and have the capability to provide unprecedented views of the universe.
UT Austin is one of only 12 partner universities and institutions developing the telescope, which is under construction at Las Campanas Observatory in Chile. With a resolution 10 times as great as that of the Hubble Space Telescope, the GMT will become one of the defining instruments of 21st century science. It will allow scientists to explore the origins of chemical elements, the formation of the first stars and galaxies, the characteristics of planets that orbit other stars, and the mysteries of dark matter and dark energy. The location in Chile was chosen because it is one of the highest and driest places on Earth.
During a recent visit to McDonald Observatory — the centerpiece of UT Austin's astronomy program — Booth met Taft Armandroff, Ph.D., director of McDonald Observatory and vice chair of the board of directors for the Giant Magellan Telescope Organization, and became interested in the power of Texas Science's astronomy program.
"Based on that visit to McDonald Observatory, I saw a rare opportunity to support a very exciting project that not only expands our view of the universe but also pushes the boundaries of scientific discovery," said Booth.
As a founding GMT partner, UT Austin will be one of a handful of American universities to provide faculty members and students access to a next-generation telescope for groundbreaking research — an attractive benefit for recruiting top faculty members and students.
"David Booth's generous support will ensure UT students and faculty can use the Giant Magellan Telescope to study some of astronomy's most pressing questions," said Armandroff. "The GMT will offer Texas astronomers unique opportunities such as studying the atmospheres of nearby exoplanets to better understand how common Earth-like planets are."
In recognition of Booth's philanthropic investment, the Director's House at the McDonald Observatory will be renamed the David G. Booth Director's House at the McDonald Observatory. The Booth Director's House, built in 1936, has long served a critical role in welcoming world-renown scholars and scientists to McDonald Observatory.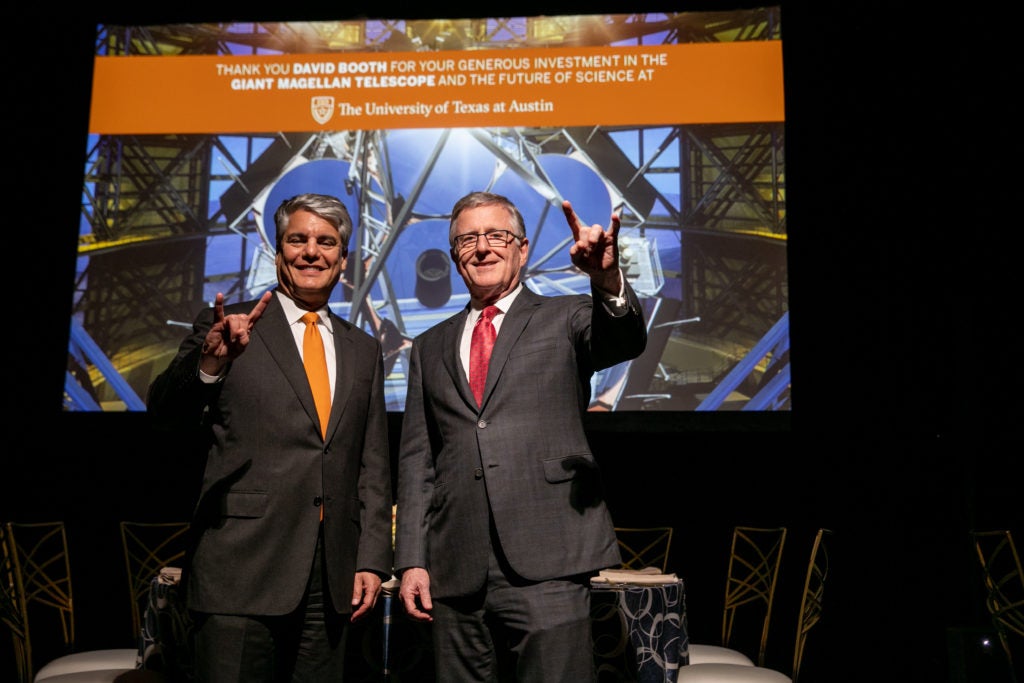 "This is an extraordinary gift from an incredible philanthropist who understands the significance of scientific discovery," said UT Austin President Gregory L. Fenves. "By supporting the Giant Magellan Telescope, David Booth is giving not just our community, but the entire world, the opportunity to uncover the deepest secrets of the universe. It doesn't get bigger — or more important — than that."
A year ago, Booth joined the Giving Pledge and committed to donate half of his wealth to charity. UT Austin has benefitted from his ongoing gifts to the Blanton Museum of Art, McCombs School of Business, Texas Athletics and Lady Bird Johnson Wildflower Center. Booth has achieved great success leading Dimensional Fund Advisors and is well known for applying academic theory to real-world investing.