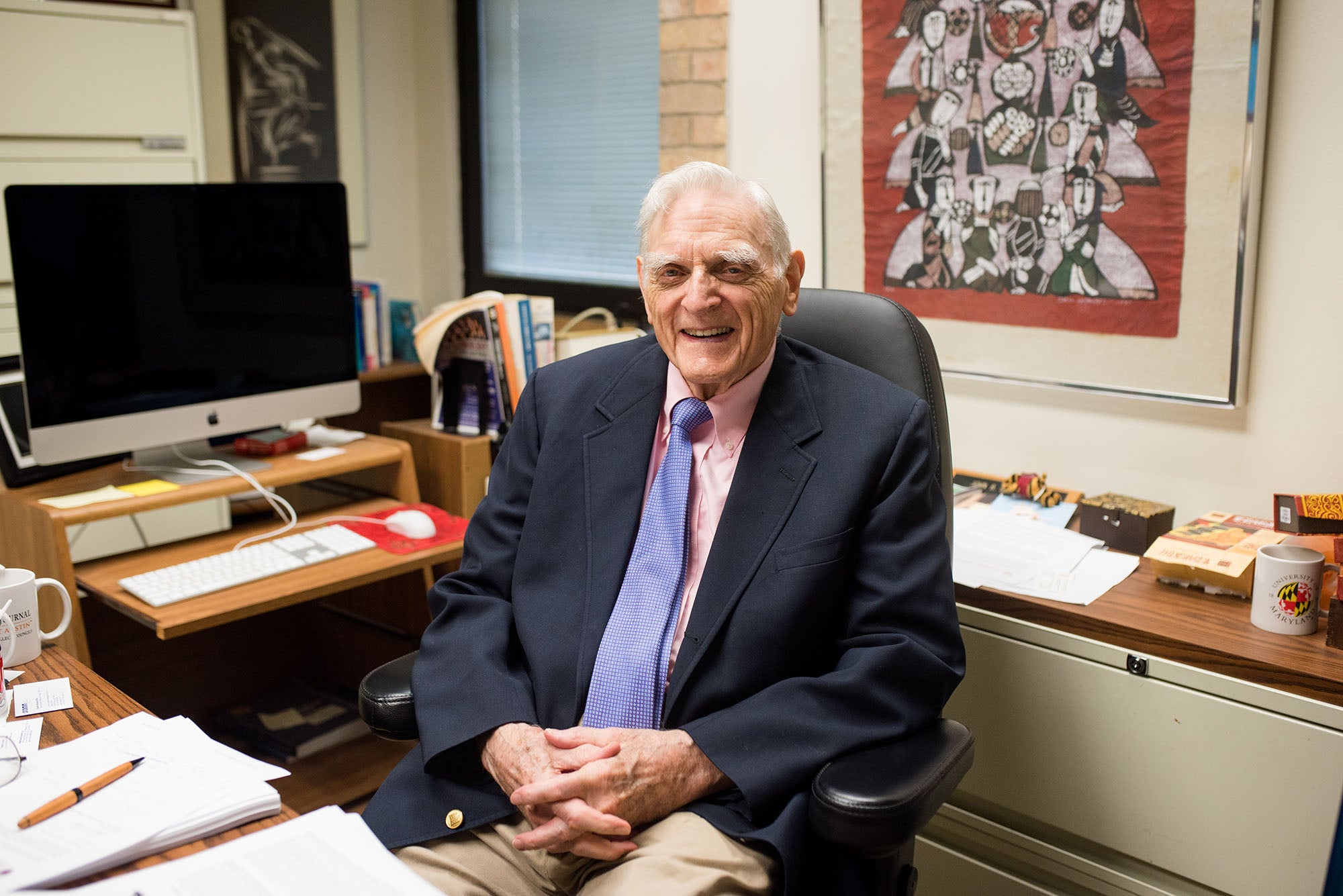 AUSTIN, Texas — John Goodenough, a University of Texas at Austin professor in the J. Mike Walker Department of Mechanical Engineering in the Cockrell School of Engineering, has won the U.K. Royal Society's Copley Medal, thought to be the world's oldest scientific prize. Already a fellow of the Royal Society, Goodenough has been honored for his exceptional contributions to materials science, including his discoveries that led to the invention of the rechargeable lithium battery used in devices such as laptops and smartphones worldwide.
The Royal Society first awarded the Copley Medal in 1731 — 170 years before the first Nobel Prize — and gives it annually for outstanding achievements in scientific research. As the 2019 recipient, Goodenough joins an elite group of past awardees including Benjamin Franklin, Charles Darwin, Louis Pasteur, Albert Einstein and Dorothy Hodgkin.
"Professor Goodenough has a rich legacy of contributions to materials science in both a fundamental capacity, with his defining work on the properties of magnetism, to a widely applicable one, with his ever-advancing work on batteries, including those powering the smartphone in your very pocket," said Venki Ramakrishnan, president of the Royal Society. "The Royal Society is delighted to recognize his achievements with the Copley Medal, our most prestigious prize."
Goodenough, who is known throughout the UT Austin and global scientific communities for his unique laugh and jovial nature, spent 10 years as head of the Inorganic Chemistry Laboratory at the University of Oxford before coming to UT Austin in 1986. As the current holder of the Virginia H. Cockrell Centennial Chair in Engineering at UT Austin, Goodenough continues to work to develop next-generation battery technology that will advance society. Innovations in battery technology, such as the lithium-ion-based model, helped liberate society from its reliance on cables.
"Words are not sufficient to express my appreciation for this award," said Goodenough. "My years at Oxford were transformative for me, and I thank especially those who had the imagination to invite a U.S. nonacademic physicist to come to England to be a professor and head of the Oxford Inorganic Chemistry Laboratory."
After serving in the U.S. Army during World War II, Goodenough received a Ph.D. from the University of Chicago before starting his research career in 1952 at the Massachusetts Institute of Technology's Lincoln Laboratory. At MIT, he was part of a team that developed random-access magnetic memory (RAM) — a technology still used today in digital computing. He then went on to Oxford, where he focused on the implementation of lithium as a potential cathode material for batteries — pioneering work that was to form the basis for the first commercial lithium-ion battery. In 1986, he accepted a position at UT Austin and has remained on the faculty in the Cockrell School of Engineering ever since.