AUSTIN, Texas — Given the choice of reelecting President Donald Trump or voting for someone else, Texas voters are equally divided, according to the latest University of Texas/Texas Tribune Poll. Among Democrats vying for the Democratic presidential nomination, former Vice President Joe Biden leads the crowded pack.
When asked their likelihood of reelecting Trump in 2020, 39% and 11% of Texas voters said they would definitely or probably vote for the incumbent, respectively, while 43% and 7% said they definitely or probably would not — a 50-50 split. In considering whom they would like to see Trump up against, Texas Democratic primary voters chose Biden (23%), followed by Beto O'Rourke (15%), Elizabeth Warren (14%) and Bernie Sanders (12%).
"The even split on reelecting President Trump underlines that Texas is becoming more competitive between the parties, though the numbers can't be taken to predict the outcome of an election that is still almost a year and half in the future," said James Henson, co-director of the poll and director of the Texas Politics Project. "Looking more broadly at the results, the fundamentals still favor Republicans, albeit by less than we've seen in recent years."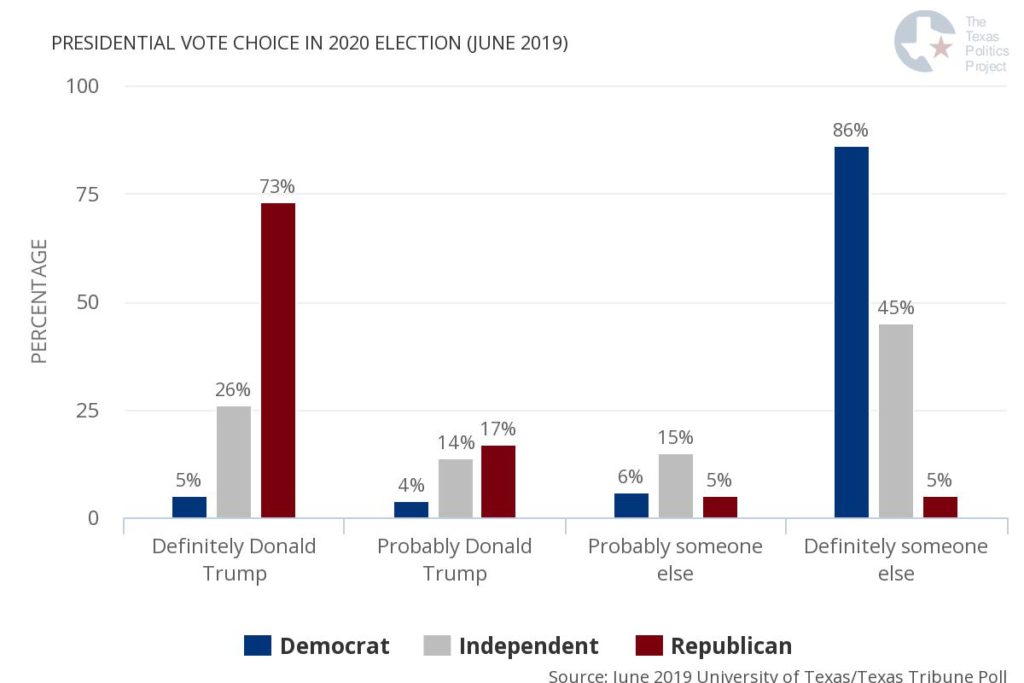 "There are two ways to read these data," said government professor Daron Shaw, co-director of the poll. "On the one hand, a split verdict in a traditionally red state like Texas is not good news for a Republican president. On the other hand, this question historically overstates support for the opposition by focusing solely on President Trump rather than a pairwise matchup."
The poll also assessed the favorability of the two Texans seeking the Democratic nomination, Beto O'Rourke and Julián Castro, in separate items in order to gauge their standing in their home state. O'Rourke, who was narrowly defeated by incumbent Ted Cruz in the election for one of Texas' U.S. Senate seats in 2018, was viewed favorably by 42% of those polled and unfavorably by 46%. Castro, the former mayor of San Antonio who served as Housing and Urban Development secretary, was viewed favorably by 26% and unfavorably by 33%, with 41% expressing no views of him.
"While Beto O'Rourke managed to be the second most frequent pick among Democrats behind Vice President Biden, Julián Castro has made no apparent progress in gaining Texas Democrats' attention," Henson said. "To the extent that the potential to carry Texas in the general election is part of the argument for both candidacies, these numbers don't do much to make that case."
The UT/Texas Tribune survey of 1,200 registered voters was conducted from May 31 to June 9 and has an overall margin of error of +/- 2.83 percentage points. Polling on Texas' Democratic primary included 483 voters with a margin of error of +/- 4.46 percentage points.
This is the latest in a series of polls conducted by UT Austin's Texas Politics Project and The Texas Tribune. Comprehensive poll results and information about methodology were released initially by The Texas Tribune. More information about the poll can be found at the Texas Politics Project website. Graphics, a summary document, crosstabs and a data file will be publicly available for research and teaching next week at the Texas Politics Project website.