The University of Texas at Austin has numerous outstanding rankings, so it should come as no surprise that among its many accolades is a ranking that recognizes the Longhorn spirit of service. UT Austin continues to be the No. 1 top-producing university of Peace Corps volunteers in Texas and was recognized this year as No. 11 in the country among large colleges and universities, reflecting the university's commitment to public service and effecting positive change in the community, state, the nation and world.
For most Longhorns, the university's motto is a call to action, and more than 1,840 alumni have served as Peace Corps volunteers since the organization was founded in 1961. Currently, 53 Longhorns are living and working in communities across the globe in education, health, community economic development, agriculture, environment and youth development.
"The Peace Corps provides unparalleled training and international experience as well as a way for me to see how development and international organizations work on the ground rather than in terms of the theory that we learn in a classroom," said Blaine Finstein, '19, a Plan II Honors and international relations and global studies major from Dallas, who leaves soon for his Peace Corps service in the Philippines. "It's a way for me to give back while doing so and use these next 27 months for something a little bit bigger than myself. Especially as an international relations major preparing for a career in human rights and development, I'm hoping to walk away from service with a deeper appreciation for my community, the Philippines and the developing world in general."
As Peace Corps puts it, the Peace Corps is a "service opportunity for motivated changemakers to immerse themselves in a community abroad, working side by side with local leaders to tackle the most pressing challenges of our generation." Volunteers commit to serve two years in their communities to further Peace Corps' three-part mission: to help the people of interested countries in meeting their need for trained men and women, promote a better understanding of Americans on the part of the peoples served and promote a better understanding of other peoples on the part of Americans. Since President John Kennedy established the Peace Corps in 1961, more than 235,000 Americans of all ages have served in 141 countries.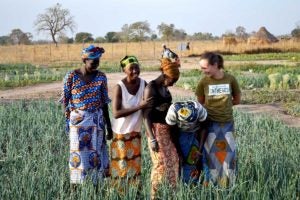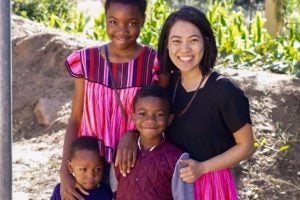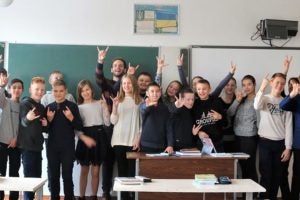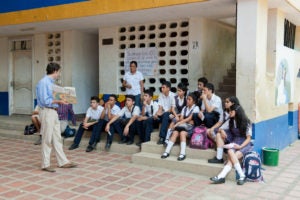 UT students have a number of opportunities to engage with the world throughout their time on campus, including virtual exchange programs, study abroad opportunities, international research collaborations, intercultural activities and internationally focused conferences, but Peace Corps provides volunteers a truly immersive experience in the communities in which they live. Their work and experience not only benefit the communities and countries where they are based, but also equip the volunteers with a unique cultural understanding, broadened perspective, hands-on ­­­experience and skills in adaptability, relationship-building and intercultural communication that position them for their future careers and life in a global community, at home and abroad.
"I think that no matter what I do from now on, I won't be satisfied with my career unless I'm helping others," said Molly Huser, '18, currently serving as a community economic development volunteer in Moldova. "I'm hoping to one day work for the U.S. State Department. Until then, I hope to get involved in nonprofit management or public service. One thing Moldova has taught me is to just be flexible and accept that life is life, and it changes."
I think that no matter what I do from now on, I won't be satisfied with my career unless I'm helping others."
For current students, there's a new way to engage in global service and the Peace Corps while on campus through a program called Peace Corps Prep. UT Austin is one of the few universities to offer the certificate program, which provides a way to recognize students for their coursework and extracurricular service. It focuses on four core competencies: sector-specific skills, foreign language, intercultural competence, and professional and leadership development. With the Peace Corps Prep program, current UT students interested in global service can better prepare themselves to stand out in the application process and be well prepared for service as a Peace Corps volunteer, as well as other professional pursuits or advanced degrees.
Education and psychology student Nazlee Khadjeheian is working to fit the Peace Corps Prep program into her degree plan. "I have been interested in the Peace Corps since I was in middle school, but it wasn't until I was in high school that I really did my research on what it took to become a volunteer," she said. "This certificate is a great way to really hone skills and passions, as well as provide students from all career sectors an opportunity to gain a global perspective around their specific degree."
Peace Corps Prep faculty director Michael Mosser said he is excited current UT students have an opportunity to engage with the world in a new way that complements their studies, career goals and passions.
"Peace Corps Prep is a fantastic way to combine so many student interests in one program: traditional international-focused academic classes, cutting-edge experiential learning, service and student leadership opportunities and more," he said. "It gives you the chance to 'try out' much of what you'd be doing in Peace Corps, while also making the most of your experiences here at UT."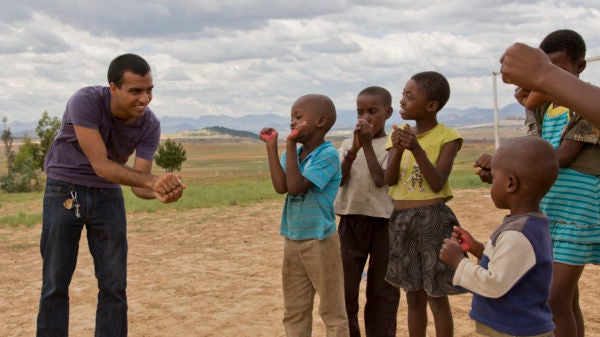 UT has always had a strong relationship with service organizations such as the Peace Corps, reflecting the university's commitment to its values of leadership, opportunity and responsibility—for the state and the world. A dedicated Peace Corps campus recruiter helps guide interested students through the application process.
"We have seen time and again that the colleges and universities that produce the most Peace Corps volunteers focus on cultivating global citizens in addition to promoting scholarship. The University of Texas at Austin is an exceptional partner, as their Peace Corps Prep program combines targeted coursework with hands-on experience, building the competencies needed to be strong Peace Corps volunteers or other intercultural fieldworkers," said Peace Corps Director Jody Olsen. "I am proud that so many graduates of this esteemed institution leverage their educations to make the world a better place. They bring critical skills to communities around the world and gain hands-on, life-changing experience along the way."
Olsen will visit the university this week and meet with President Gregory L. Fenves; Sonia Feigenbaum, senior vice provost for global engagement and chief international officer; deans; faculty members; and other leaders across campus to explore Peace Corps recruitment and its alignment with UT academic programs.