As the world looks back on one of the most momentous episodes in history, we see The University of Texas at Austin in the mix from the outset.
Many people will remember President Kennedy's 1962 speech about reaching the moon, and most will recall the line, "We choose to go to the moon in this decade and do the other things, not because they are easy, but because they are hard." But few may remember that the speech was delivered in the Rice University stadium, where the preceding lines took on special meaning:
"'But why,' some say, 'the moon? Why choose this as our goal?' And they may well ask, 'Why climb the highest mountain? Why — 35 years ago — fly the Atlantic? Why does Rice play Texas?!" Kennedy's speech was broken up with knowing laughter and applause, as Darrell Royal's Longhorns were then at the peak of their powers. We choose to do these things, the president said, because they are hard.
Kennedy was at Rice University because of its proximity to the NASA's Manned Spacecraft Center, opened in Clear Lake in 1961. UT has a strong connection to that too. Without Congressman Albert Thomas and Vice President Lyndon Johnson, the first word transmitted from the moon would not have been "Houston."
Lyndon Johnson's leadership in space policy predates Kennedy's presidency. As majority leader of the U.S. Senate, Johnson was instrumental in passing the National Aeronautics and Space Act of 1958, which in turn led to the creation of NASA. In 1961, President Kennedy made Vice President Johnson head of the National Aeronautics and Space Council, charged with exploring the feasibility of landing a man on the moon within the decade.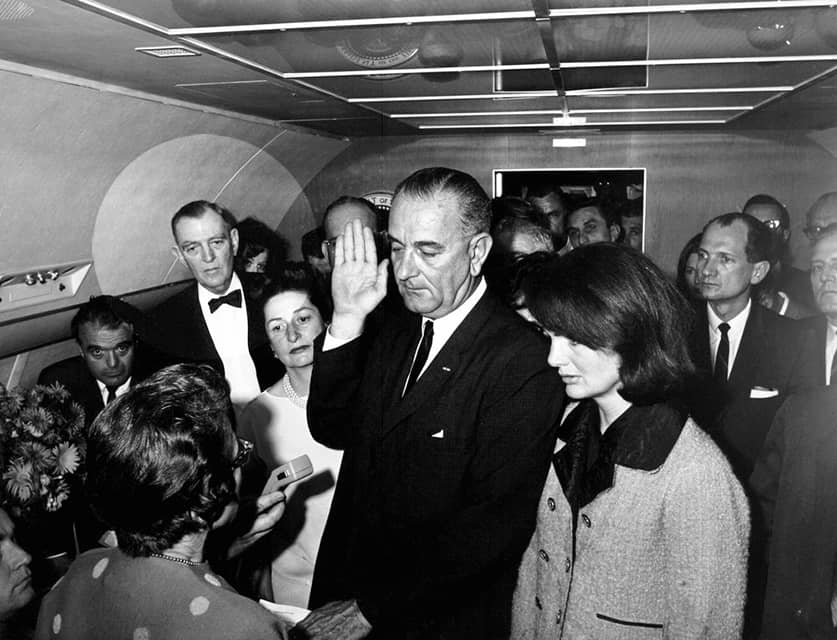 Rep. Albert Thomas was a 1926 graduate of the UT School of Law. On November 21, 1963, President Kennedy addressed an appreciation dinner for Thomas in Houston. "The United States next month will have a leadership in space which it wouldn't have without Albert Thomas. And so will this city," Kennedy said. The following day Thomas joined the president's entourage for its fateful trip to Dallas.
By 1964, the university was using cutting-edge radio telescope research to try to identify suitable landing sites, as a radio telescope could view subsurface features as well as surface. The work was done in a partnership between NASA and UT's Department of Electrical Engineering. The telescope was shipped from Austin to Palo Alto, Calif.
Witnessing History, Inspiring the Future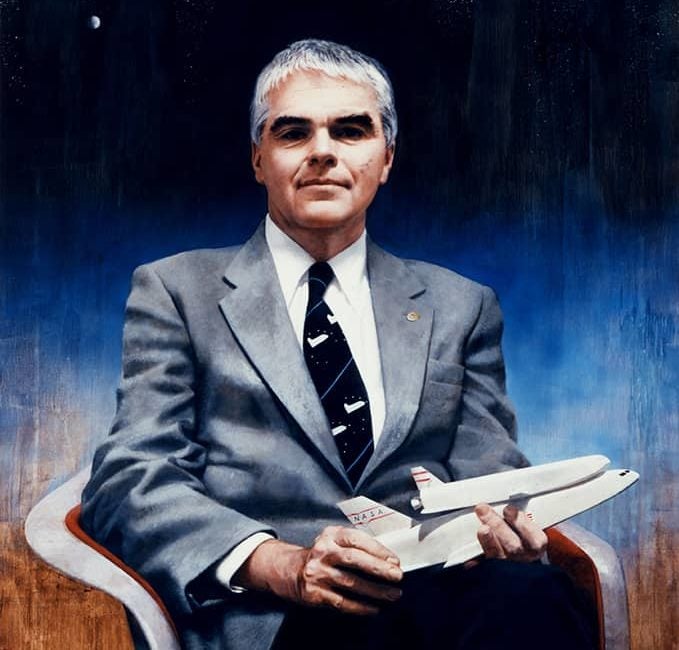 There, in the Bay Area, Hans Mark became director of NASA's Ames Research Center in February 1969. Mark later would become UT System chancellor and a member of UT's aerospace engineering program. "My wife and I had been invited to Houston for the [the moon landing]," Mark recalled in his 1987 book "The Space Station," "because, as a newly minted NASA center director, I rated such an invitation.…" He continues:
"I had the good fortune to be in the Mission Control Center at the manned spacecraft center on the day of the landing and it was clearly one of the high moments of my life . . . The climax, of course, was Armstrong's first step on the moon. . . in the early morning hours (Houston time) we sat in the viewing room behind the Mission Control Center watching the flickering television repeater to see Armstrong's historic step on the lunar surface. After the first step, I remember staying on for an hour or two to watch some of the other things that might occur. . . The few hours I spent at the MCC on that day were not to be equaled until a dozen years later when I watched the space shuttle Columbia's first takeoff from the same place."