The U.S. Department of Commerce's Economic Development Administration (EDA) has awarded a $5 million grant to The University of Texas at Austin to repair a large laboratory building on the UT Marine Science Institute campus in Port Aransas and help establish a new Center for Coastal Ocean Science.
"The EDA has provided support for the recovery of one of our state's scientific crown jewels — UT's Marine Science Institute in Port Aransas," said UT Austin President Gregory L. Fenves. "This grant will enable MSI to not only rebuild, but to reach new heights as a leader in oceanic research."
Watch a video about the Center for Coastal Ocean Science
Port Aransas was ravaged by Hurricane Harvey in August 2017, and two years later, recovery is still not complete. The UT Marine Science Institute sustained more than $45 million in damage. Because it is the city's largest employer, what affects the institute affects the community. With the new funding, the Center for Coastal Ocean Science will contribute to recovery in Port Aransas and the larger Coastal Bend region.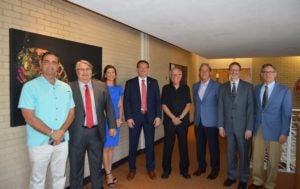 The Center for Coastal Ocean Science is Texas' first research facility dedicated to the understudied field of marine chemical ecology. It will engage scientists and students from universities, industry and government to explore the chemical language of the sea and the effects of natural and human-introduced chemicals on marine life and ecosystem health.
All ocean plants and creatures depend on chemical messaging for productivity and health. The study of marine chemical signals is important to assess, preserve and enrich a healthy coast. Understanding these chemical codes will lead to better evaluations and restorations when disruptions do occur, such as red tide blooms or oil spill events.
"The Center for Coastal Ocean Science will be a discovery enterprise," said Robert Dickey, director of the UT Marine Science Institute. "The products of discovery at this center will help inform decision-making to increase the productivity, resilience and the myriad socioeconomic services of our coastal waters. In short, we aim to serve and to raise awareness of the interdependency of a prosperous society and vibrant, productive marine ecosystems."
The project was made possible by regional planning efforts led by the Coastal Bend Council of Governments. The EDA funds the Coastal Bend Council of Governments to bring together the public and private sectors to create an economic development road map that strengthens the regional economy, supports private capital investment and creates jobs.
This project is funded under the Bipartisan Budget Act of 2018 (PL 115-123), in which Congress appropriated to EDA $600 million in additional Economic Adjustment Assistance (EAA) Program funds for disaster relief and recovery as a result of Hurricanes Harvey, Irma and Maria; wildfires; and other calendar year 2017 natural disasters under the Stafford Act.
The new funding for building repairs and the establishment of the new center were announced at a ceremony in Port Aransas on Aug. 1. Taking part in the announcement at the institute were Robert Dickey, director of the UT Marine Science Institute; Dennis Alvord, deputy assistant secretary for regional affairs, Economic Development Administration; U.S. Rep. Michael Cloud, District 27; state Rep. Todd Hunter, District 32; Nueces County Judge Barbara Canales; Commissioner Brent Chesney, Nueces County Precinct 4; Wendy Moore, mayor pro tempore, City of Port Aransas; and Dean Appling, associate dean for research and facilities in UT Austin's College of Natural Sciences.