Anthony Alofsin is a rare combination of erudition and approachability. As an architect, a historian and a longtime architecture professor at The University of Texas at Austin, he has accumulated a great deal of technical and theoretical knowledge. He has worked with scholars around the world helping to define the ongoing formation of our architectural understanding and has also mentored budding architects who are forming their own visions of what architecture can be.
In May, Alofsin published "Wright and New York: The Making of America's Architect." This book, he says, is the product of 10 years of archival research and analysis and is intended for a general audience interested in the history of modern architecture. It "turns the conventional picture of Frank Lloyd Wright on its head," Alofsin says, and shines a light on the development of perhaps the most iconic architect in American history, whose style positioned structures as natural human spaces within the larger environment.
"Wright and New York" is a continuation of Alofsin's examination of Wright's life and influence. In 2012 he published "Frank Lloyd Wright: Art Collector," another book based on extensive archival work. He is also the editor of "Frank Lloyd Wright: Europe and Beyond" and has written scholarly articles about the architect.
This latest work explores the influence of New York on Wright, who came to the city as his career was slumping. Wright was in New York during the boom years of the 1920s when the world was deciding "what modern architecture is going to be," Alofsin says.  Art deco buildings were prominent in the city. Meanwhile, Europe exerted influence over the architecture of burgeoning metro centers. But Wright's organic style was also taking shape. To find out what style prevailed, "you have to read the book," Alofsin says.
Alofsin says the architect was publicly critical of the Big Apple but that digging into Wright's life during his time there reveals a man whose career was revived by a place that "gave him a voice … and (the ability) to reach a very broad audience" when his trajectory had been uncertain.
Although it was never built in New York, Wright's apartment tower plan was a key element of his professional revitalization. Alofsin says Wright saw this tower "as an alternative to the way people were building skyscrapers." Eventually, during the 1950s, the tower was constructed in Bartlesville, Oklahoma, as the corporate headquarters of the H.C. Price company. It remains as an architectural touchstone with Wright's name prominently attached.
The Wright archives yielded some unexpected insights into other aspects of the architect's life. Many letters between Wright and his mother are preserved, and Alofsin says the relationship is striking. "It was amazing to see the intensity and honesty between them," he says. They didn't hold back, and it is clear that Wright's mother "reinforced the sense of his destiny."
Alofsin's career has taken him through archives before. For his 2006 book, "When Buildings Speak: Architecture as Language in the Habsburg Empire and its Aftermath, 1867-1933," Alofsin studied Central European architecture while based in Vienna and collaborated with, among others, scholars from the former Soviet bloc now free to work with Western scholars. He describes his historian's role and his place among architectural scholars as "fortunate" and "satisfying."
His role at the university also is productive. Alofsin is a founder of the School of Architecture's doctoral degree program "with a great focus on the history of architecture" and has nurtured the careers of architects for several decades. Although spring 2020 will be the last semester Alofsin teaches classes — he's teaching Gotham in Architecture and a course on Wright that looks at his design process — he'll remain at UT to provide mentorship to architecture students and to aid other faculty members in their research. He will also continue building an archive that will serve as a resource for scholars for generations to come.
Alofsin says the nature of his research has forced him to retain a "psychological flexibility" that allows him to search for one thing and find something else altogether. That same flexibility will allow Alofsin to continue making contributions even as he moves to a new phase of his career as an architectural scholar.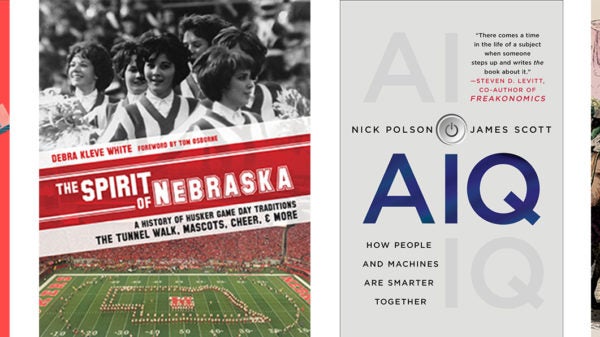 OTHER WORKS
Notable publications by staff and faculty members
The Spirit of Nebraska
By Debra Kleve White
This book explores the college game day experience at the University of Nebraska from the perspective of a former Yell Squad member. White is a senior human resource coordinator for the College of Education's Institute for Public School Initiatives.
Little
By Edward Carey
Paris on the brink of revolution sets the scene in this fictionalized account of the girl who would become Madame Tussaud, famed for creating wax figures. Carey is an associate professor in the Department of English.
The Practicing Stoic
By Ward Farnsworth
The wisdom of the ancient Stoics is brought together in a way that aims to be accessible to everyone, not just philosophers. Farnsworth is the dean of the School of Law and holds the John Jeffers Research Chair in Law.
AIQ: How People and Machines are Smarter Together
By James Scott and Nick Polson
Learn about the impact of artificial intelligence and how technology can aid decision-making. Co-author Scott is a professor in the Department of Information, Risk, and Operations Management and the Department of Statistics and Data Sciences.
-By Sabrina LeBoeuf