There are many mountains between Los Angeles' Grammy Museum and Austin, but no mountain was high enough to keep the spirit of Motown from getting to the LBJ Presidential Library.
The library celebrates the 60th anniversary of Motown Records with the traveling exhibit "Motown: The Sound of Young America."
"The 1960s is our era, and that's not only about President Johnson's administration. That's about the music that was happening, the culture that was happening, the social things that were happening as well," museum exhibits specialist Nikki Diller says. "We want to tell the story about American life during Johnson's presidency, and Motown is part of that."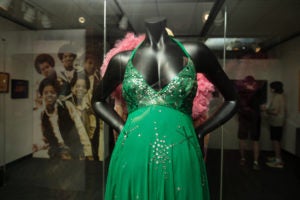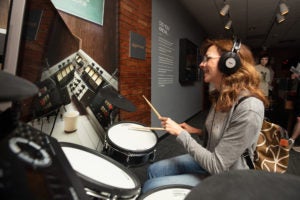 "Motown" traces the history of Motown Records and its founder, Berry Gordy Jr. Gordy started his company, originally named Tamla Records, in Detroit in 1959. Early acts included the Miracles, led by Smokey Robinson, and the Marvelettes, who gave the label its first No. 1 hit with "Please Mr. Postman."
The LBJ Library reached out to the Grammy Museum in the fall of 2017 to curate the exhibit. To link it to the Live Music Capital of the World, the LBJ Foundation hired local artist Chris Rogers to create a mural in the spirit of Motown's birthplace. Rogers completed the piece, "A Dare to Dream," in nine days.
Classic music memorabilia such as record sleeves and instruments are on display, but Diller says the costumes steal the show.
"For folks who were growing up during this time, I think that they remember those costumes, and that's a fun little trip down memory lane," she says.
The costumes showcase more than feathers, sequins and iconic patterns. They also reveal what the artists went through during their performance careers.
"I do think that maybe the maternity gown (worn by Mary Wilson of the Supremes) is my favorite (piece) because that is sort of an unexpected thing. It's really incredible to think of the artists as being parents and having to juggle things," Diller says. "They were working moms."
The exhibit also has several interactive pieces to get people into the music. You can try to play a backbeat for the song "My Girl," written by Robinson and Ronnie White, learn to dance like the Temptations and sing karaoke with the Supremes. There's even a jukebox where visitors can play their favorite songs.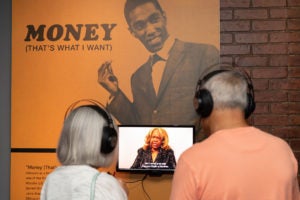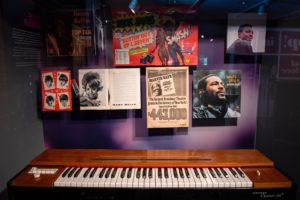 At its end, the exhibit covers the legacy of Motown Records, with videos of singer-songwriter John Legend discussing his musical influences and former President Barack Obama hosting a tribute for the record label.
Had Gordy never discovered the Jackson 5, Stevie Wonder or Boyz II Men, the world might not have known the King of Pop, the hit song "Superstition" or the chart-topping R&B group. But Motown did more than help create some of music's most famous names, according to Diller: It integrated popular music.
"I think that there is generally an idea that Motown wasn't involved in the civil rights struggle, and the artists weren't really involved, but I don't think that's true," Diller says. "Through this exhibit, visitors will get to see a more nuanced look at Motown."