AUSTIN, Texas — The Welch Foundation, one of the nation's largest private funding organizations for basic chemical research, is giving $2.5 million to establish the Norbert Dittrich-Welch Chair in Chemical Engineering in the McKetta Department of Chemical Engineering at The University of Texas at Austin's Cockrell School of Engineering. The chair is named in honor of Norbert Dittrich, who is retiring as the foundation's president after serving for 26 years in this role.
"The Welch Foundation's generosity has helped bring outstanding faculty to UT and advanced fundamental research in chemistry, and Norbert has been vital to fostering this great relationship," said UT Austin President Gregory L. Fenves. "It's fitting that the Norbert Dittrich-Welch Chair will honor his legacy in the Cockrell School. I look forward to continuing our collaboration with The Welch Foundation for many years to come."
The gift will enable the McKetta Department to invest in a prominent researcher who generates bold new ideas and develops innovative solutions to some of society's most complex problems. Already recognized as a national leader in chemical engineering research, the department will use the new chair to further strengthen its research capabilities and continue shaping the future of engineering innovation.
Dittrich joined The Welch Foundation in 1977 and became its president in 1993. Among his many accomplishments, he has been recognized by the American Association for the Advancement of Science for his philanthropic service, through which he has enhanced chemical research that continues to improve the quality of life around the world. During his 42 years with the organization, The Welch Foundation has contributed more than $800 million to the advancement of chemistry.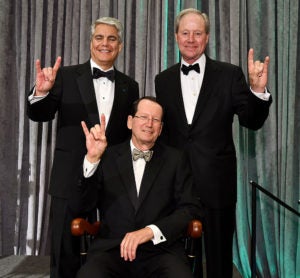 "Throughout my career at The Welch Foundation, I have enjoyed witnessing firsthand the foundation's impact on researchers, students and faculty. These Welch-funded research grants and endowed chairs are so important and continue to drive the foundation's mission, advancing chemistry to improve the world," Dittrich said. "It is an honor to be recognized in such a significant way."
The new chair represents the latest contribution in The Welch Foundation's long history of support for chemical research at UT and throughout Texas. Since 1954, the organization has contributed nearly $930 million to the advancement of chemistry through research grants, departmental grants, endowed chairs and other chemistry-related programs statewide.
In addition to its philanthropic efforts, the foundation also presents the Welch Award in Chemistry and the Norman Hackerman Award in Chemical Research. Recent UT recipients of these annual awards include mechanical engineering professor John Goodenough, who received the 2017 Welch Award for innovative contributions to materials science and technology; chemical engineering professor Delia Milliron, who received the 2017 Norman Hackerman Award for her contributions to the chemistry of colloidal nanocrystals and novel nanomaterials; and former chemical engineering professor Christopher Ellison, who received the 2016 Norman Hackerman Award for his creative application of chemistry to the design and development of new materials and processes of great value to society.
"We must remain competitive in recruiting and retaining top faculty and providing them with the resources they need to change the world," said Thomas Truskett, chair of the McKetta Department of Chemical Engineering. "The Norbert Dittrich-Welch Chair represents an extraordinary opportunity for us to support a highly regarded researcher who advances innovation and propels our department to even greater heights."