AUSTIN, Texas — Texas voters narrowly support the House of Representatives' vote to green-light an impeachment inquiry into President Donald Trump, according to the latest University of Texas/ Texas Tribune Poll.
The poll, which was conducted Oct. 18-27, asked 1,200 Texas registered voters whether "Congress is justified in conducting impeachment investigations into actions Trump has taken while president." In response, 46% of Texas voters said the investigation is justified, and 42% said that it is not. On Thursday, the House voted 232-196 in favor of a resolution that will set rules for an inquiry into Trump's alleged attempt to influence the Ukrainian government to investigate business dealings with Hunter Biden, son of Democratic presidential hopeful Joe Biden.
Overall, Texas voters are split on whether they think Trump has taken actions during his presidency that would justify his removal from office — 43% believe that he has, while 44 percent believe he has not. In considering Trump's response to the impeachment investigations, 39% approve and 45% do not.
Other than two Democratic congressmen who cast votes against the impeachment resolution, the vote illustrated a stark partisan divide, which was also evident in the survey of Texans.
"Texans continue to be sharply divided along partisan lines when it comes to considering the impeachment of the president, and even more sharply so when it comes to actually removing him from the presidency for actions while in office," said James Henson, co-director of the poll and executive director of the Texas Politics Project at UT Austin. "Democrats are slightly more unified in their views than Republicans, and independents remain more divided on both questions than are partisans."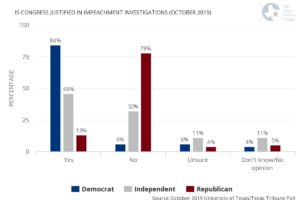 When considering whether they approve of how members of Congress are handling the investigations, 49% of Texas voters disapprove of Republican efforts, 25% approve. For Democratic efforts, 45% of Texas voters disapprove of the efforts of congressional Democrats, while 40% approve.
Texas voters were asked more specifically about key players in the impeachment inquiry and their job performance more generally. Some of their opinions are as follows:
For Trump, approval is down 1 percentage point from October 2018, with 47% approval and 48% disapproval.
Texans' job approval of the U.S. Congress is down 6 percentage points from October 2018, with 21% approval and 58% disapproval.
For congressional leadership, 35% approve and 50% disapprove of House Speaker Nancy Pelosi's job performance; 26% approve and 41% disapprove of the job Senate Majority Leader Mitch McConnell is doing.
"Reflecting the difficulty that congressional Republicans find themselves in, GOP voters are ambivalent of how Republicans in Congress are handling the investigation, but supportive of the president's response thus far," said Joshua Blank, research director of the Texas Politics Project. "Democrats have no such conflict. They overwhelmingly support Democratic efforts in the House and view congressional Republicans and the president's efforts negatively."
Texas voters were also asked to consider the job performance of Texas' leadership. Highlights include:
Greg Abbott has maintained consistent support, with 52% approval and 28% disapproval.
Gov. Dan Patrick's job approval decreased by 5 percentage points since October 2018, with 39% approval and 32% disapproval.
Speaker of the Texas House of Representatives Dennis Bonnen received 20% approval and 25% disapproval.
"The continued job approval ratings of Gov. Abbott, and to a lesser extent Lt. Gov. Patrick, highlight the insulation that statewide Republicans have created to the turbulence of national politics," Blank said.
When asked how much they knew about the controversial meeting between Bonnen and the head of a political action committee in June of this year, half of Texas voters said they know nothing at all, 18% said they know a little, and 31% indicated that they had heard "some" or "a lot."
"While the difficulties that have led the speaker to decide not to run for reelection have captivated those who follow politics closely, the matter hasn't captured widespread attention from Texans," Henson said. "Though, it's still possible that the matter will resurface in both primary and general election campaigns in 2020."
The University of Texas/Texas Tribune survey of 1,200 registered voters was conducted from Oct. 18 to Oct. 27 and has an overall margin of error of +/- 2.83 percentage points. Data was collected over the internet by YouGov based on a questionnaire written by the directors of the poll at UT Austin.
This is the latest in a series of polls conducted by UT Austin's Texas Politics Project and The Texas Tribune. Comprehensive poll results and information about methodology were released initially by The Texas Tribune. More information about the poll can be found at the Texas Politics Project website. Graphics, a summary document, crosstabs and a data file will be publicly available for research and teaching next week at the Texas Politics Project website.