When University of Texas alumnus and Emmy Award-winning production designer Michael Bricker (M. Arch '08) started designing the world of the Netflix original series "Russian Doll," he started with the bathroom.
It is here that we are first introduced to the show's protagonist – Nadia Vulvokov, a 36-year-old game designer played by "Orange is the New Black" star Natasha Lyonne; and it is here that we are reintroduced to Nadia again and again as she is caught in a cycle of dying and reliving the same 24-hour period in a continuous loop all season long.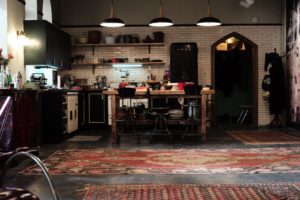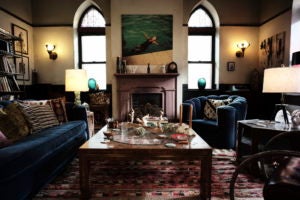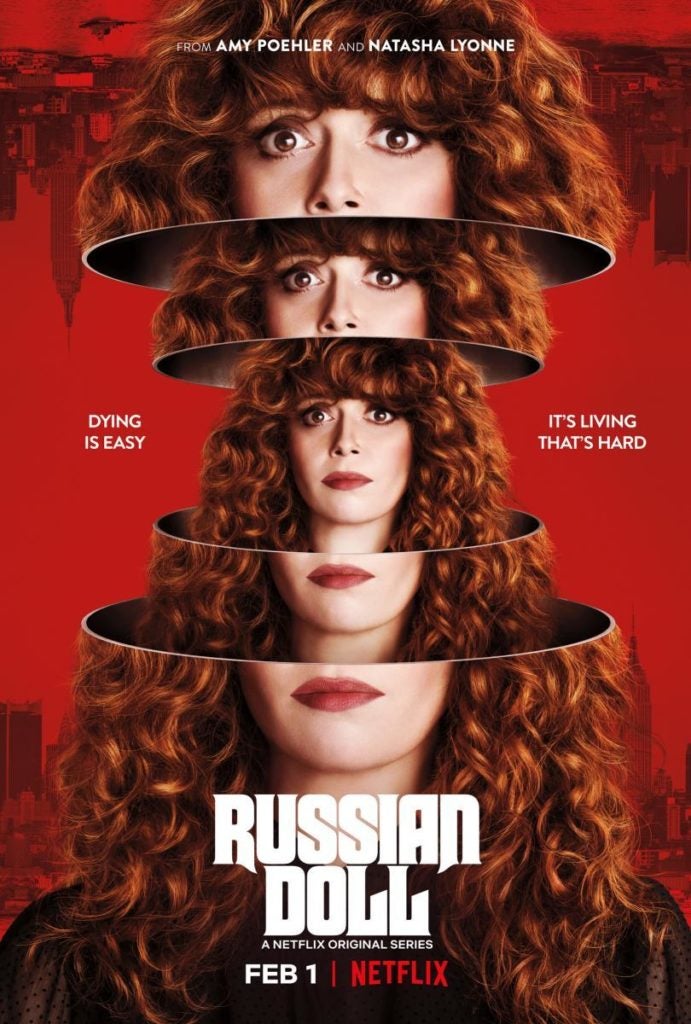 This moody, "Alice in Wonderland"-inspired bathroom serves as Nadia's "reset" point. The bathroom is a gateway to a vibrant and textured New York City loft apartment at the center of "Russian Doll's" reality-bending world – where we return time and time again during the course of Nadia's journey. As we explore this world alongside her, trying to figure out why she's stuck in her own strange version of "Groundhog Day," it is apparent that the show's visual landscape, designed by Bricker, is key to our understanding of it.
"We had such little time to prepare that show, so I felt like it was important that the art department, cinematography and costumes had some kind of common language," Bricker said. "I thought: O.K., if the loft is the center of this world, and Nadia is on this journey to find the correct pathway out, then the audience should somehow sense when she's moving in the right direction or not. So, I took this heavy visual of an actual Russian doll and chopped it in half, and we plotted the show's internal locations on the concentric rings. The further we move away from the loft at the center, the more desaturated the world becomes."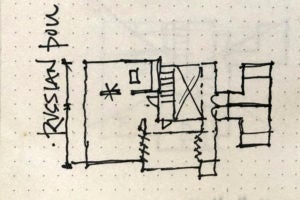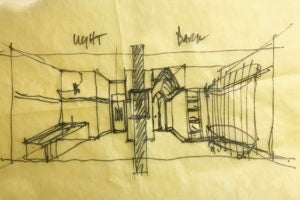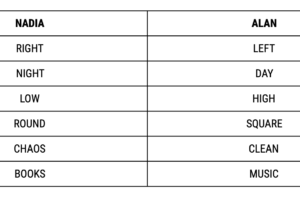 When Nadia has newly reset and is back in the loft apartment, she's in a vibrant, colorful, artist-inspired space that Bricker describes as "almost ugly," but when she's at the edge of the map, everything is more muted and sedate. Another strategy Bricker developed for "Russian Doll" involves the visual juxtaposition of the two main characters, Nadia and Alan. Alan is a stranger to Nadia at first, but he is also stuck in a time loop. His time loop and Nadia's intersect again and again, becoming central to the story. As the two come closer together, the discerning eye can begin to notice their contrasts. She's a circle; he's a square. She's right; he's left. She's warm; he's cool. She's messy; he's clean. These visual rules manifest themselves throughout the show and start to crossfade as each connects more with the other.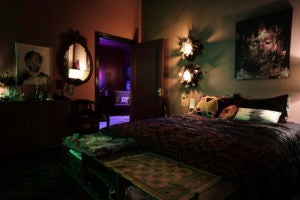 As a production designer, Bricker is tasked with creating the look and the visual concept behind what's seen on screen.  This includes set design, location selection, set decoration and props – essentially everything that surrounds the characters. For a show such as "Russian Doll," in which the visual landscape holds real weight within the story, Bricker's strategy helped establish design as an anchoring force for the show, filtering through to the costume design, cinematography and even character blocking.
For Bricker, who graduated from the School of Architecture with a master's degree in 2008, architecture and production design have more in common than one might think: "I think there is a very clear similarity between watching a movie for the first time and someone visiting a building for the first time. The way you experience a building is cinematic. You are a camera moving through space. Whether you're designing for the screen or a physical space, you're thinking about a lot of the same things: layers of space, the sense of scale, what the colors are, what the light is doing, etc."
Bricker came to UT's School of Architecture with an undergraduate degree from Wabash College and some previous theater design experience. He was initially drawn to architecture because he was interested in designing at scale: "I wanted to design big and interesting things. I had always been both an artist and a designer, and I was interested in making and assembly, so I was excited about the skillset that studying architecture would give me."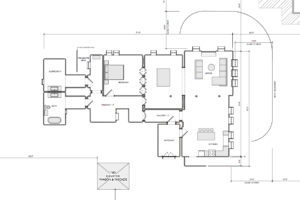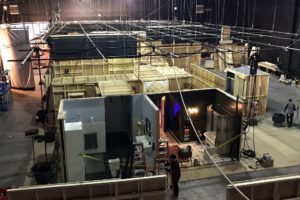 While in Austin, Bricker developed his architectural skillset at the School of Architecture, developing his craft and learning the fundamentals of design. During his first semester, he took Distinguished Senior Lecturer John Blood's Architectural Drawing class, as well as Blood's course on production design in the Department of Radio-Television-Film. Because Bricker was "curious," Blood suggested he look into the UT Film Institute, which paired University of Texas students with professional filmmakers on the actual production of feature-length independent films starting in 2003. For the summer after his first year at UT, Bricker had two internship opportunities – one at an architecture firm back home in Indiana, and one as a set designer for "The Cassidy Kids," a half-million-dollar feature shot at Austin Studios in 2005 through the Film Institute – and the rest was history.
"Occasionally you have those moments in life where if you had chosen left rather than right, your whole life would be different," said Bricker. "I was maybe different than a lot of my classmates while I was in school, though. Many of them wanted to study architecture because they wanted to be licensed architects. I wanted to study architecture because I wanted to design big and interesting things."
Many of them wanted to study architecture because they wanted to be licensed architects. I wanted to study architecture because I wanted to design big and interesting things."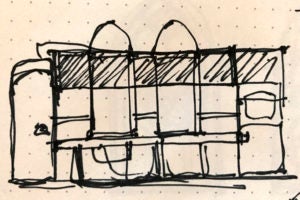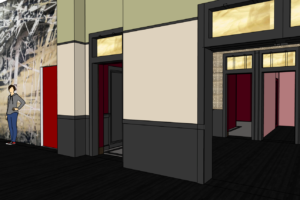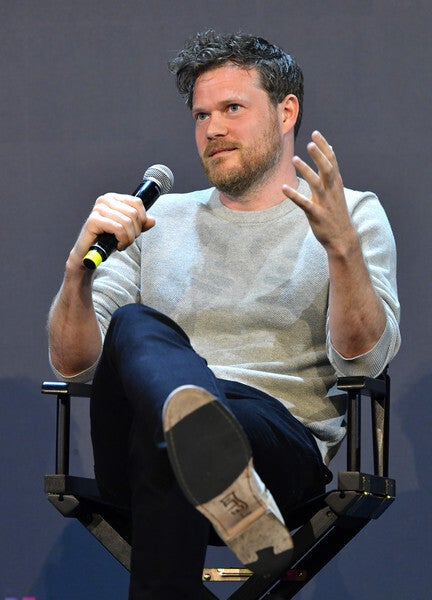 And while Bricker's career trajectory might not be as direct as many architecture students, he still uses the things he learned in architecture school daily: "It's constant. I have to know architectural and design history. I have to know how to draw and create renderings. I have to know how sets can be built, how props can be built. There are so many things you can do with an architecture degree, particularly from a school like UT – and film is definitely one of those things. I am so grateful to have studied architecture, and it gave me such a depth of knowledge that makes me uniquely qualified to do this work."
"Russian Doll" Season 1 is streaming on Netflix. The series has been renewed for a second season, but the release date is still unknown. Bricker's recent work can also be seen on USA Network's "Dare Me," which premiered Dec. 29.