Kate Winkler Dawson, associate professor of practice at the University of Texas School of Journalism, listens to an audio snippet called "witchy fiddle," an eerie strumming that takes the listener's imagination down a cold, damp alley lighted by flickering gas lamps — or into foggy woods where an old, abandoned cabin sits, the front door slightly ajar. She says it's one of her favorites from a list of 50 sound effects and audio samples produced for her upcoming true crime podcast "Tenfold More Wicked."
Dawson is drawn to the eerie and crime-ridden in her writing career as well. Her debut into the popular literary genre of true crime, "Death in the Air: The True Story of a Serial Killer, the Great London Smog, and the Strangling of a City," was published in 2017 and is a braided narrative about London's biggest environmental disaster in 1952, political corruption and the rise of a serial killer named John Reginald Christie.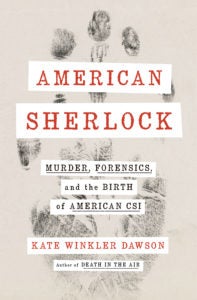 She wrote that first book while researching and sifting through boxes of evidence and thousands of letters pertaining to the subject of her second book, "American Sherlock: Murder, Forensics, and the Birth of American CSI," which hits shelves Feb. 11.
"Writing a book is really difficult," Dawson says. "I have to put myself on a pretty strict schedule. I tell myself, OK, I'm going to write 500 words a day, even if the words are garbage."
Dawson is a seasoned true crime fan. She doesn't like gore, she says, and almost nothing surprises her. An out-of-print encyclopedia, which she won't name because she doesn't want anyone else to use it, helps her find her subjects. This book lists America's most infamous criminals and murderers, from the first who came over on the Mayflower to the criminals of the early 1970s. For Dawson, this encyclopedia of crime is nearly perfect because she says she is most attracted to history, politics and culture before the '60s.
A famous train robbery that was completely botched caught her attention. The story ends with a murder and criminals who walk away with no money. But Dawson wasn't attracted to the not-so-clever gangsters who tried to pull off the heist; instead, a character called American Sherlock caught her attention. Edward Oscar Heinrich was a forensic investigator whose work made headlines during the early 20th century.
"In my career it's (about) one building on top of another," Dawson says. "I don't want to do another serial killer stuck in the fog book, but I love true crime. I was thinking, OK, what are the aspects I would really like to learn about? And I thought, well, I always loved forensics."
Old newspaper articles revealed that Heinrich was a lead investigator and evidence expert called in to help solve several heinous crimes, and his work, though sometimes flawed, helped establish modern forensic science. Yet 100 boxes about his work had been filed away at a University of California, Berkeley, library without as much as a Wikipedia page written about him.
"He pulled dozens of forensic clues off of one pair of overalls (from the robbery) just using his microscope, which for him was common sense," Dawson says.
Dawson's love of true crime has been a lifelong fascination, she says. Her father was a law professor at UT Austin for 37 years, and her mother was a clinical psychologist. Both were interested in the criminal justice system.
"I like spookiness. I like being scared. Atmosphere. Gas lamps. All of that defines true crime to me," Dawson says. "I would love to say it's my intention to shine a light on society's ills, which I do, but my first instinct is, I just want to tell creepy stories."
Dawson says that her support system is vital to making her career ambitions and dreams of adventure a reality. As an author, audio and video documentarian, and professor, her philosophy, she says, is to work smarter, not harder.
"You know, balance is hard, and I'm lucky for two things," Dawson says. "The first is I'm lucky that I'm married to someone who can support me as much as Jen, my wife, does. She'll buy me turkey jerky online. She'll buy me the phone thing for my car when it breaks the little arm on my windshield. She's at home picking the kids up right now — she has a full-time job, too. She'll do all the family stuff that has to be done so I don't go crazy. So I can sleep an extra hour, and it allows me to travel so the kids don't freak out."
In addition to the support of her family, Dawson says the university has added value to her life and career.
"I'm for sure lucky to have this job at UT. It's such a good, stable income. I have a good admin that supports me," Dawson says. "I have the resources here — we have the best libraries — we have the best experts! I'm using two or three faculty members here for my podcast because they are the absolute best I can find."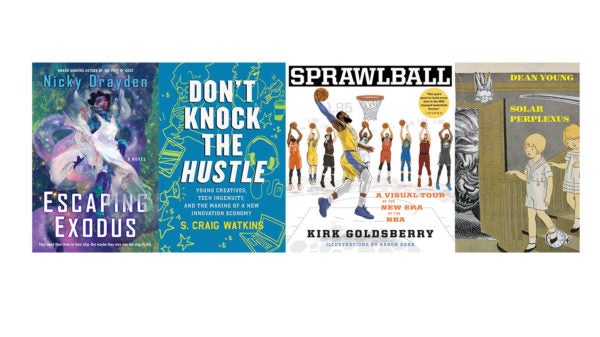 OTHER WORKS
Notable publications by staff and faculty members
"Escaping Exodus"
By Nicky Drayden
The future of humanity depends on one young woman in this sci-fi novel that is set in outer space. Drayden is the pen name of Nicole Duson, a database analyst in the Steve Hicks School of Social Work.
"Sprawlball"
By Kirk Goldsberry
With visual maps of players and infographics, this book takes the latest research on basketball and shows how much the game has changed. Goldsberry is a lecturer for the Department of Management.
"Don't Knock the Hustle"
By S. Craig Watkins
This book reveals how a rising generation of creatives, such as hip-hop artist Prince Harvey and screenwriter Issa Rae, is redefining innovation. Watkins is the founding director of the Institute for Media Innovation.
"Solar Perplexus"
By Dean Young
Young, a professor in the Department of English who holds the William S. Livingston Endowed Chair in Writing, mixes humor with the surreal in this latest work of poetry.