AUSTIN, Texas — Health care and immigration are topics at the top of Texans' minds when considering the most important issues facing the country ahead of the 2020 presidential election, though party lines divide them on potential policy solutions, according the latest University of Texas/Texas Tribune Poll.
The poll asked 1,200 registered Texas voters what the most important problem facing the country is today: 16% said political corruption/leadership, followed by heath care (10%), immigration (9%), border security (6%) and the environment (6%). When asked about issues facing Texas specifically, voters put more emphasis on immigration (16%) and border security (15%), with health care coming in third (11%).
"Stark partisan differences persist," said James Henson, co-director of the poll and executive director of the Texas Politics Project at UT Austin. "The top two problems among Democrats are political corruption and leadership, and health care, which we see reflected in their support for removing the president through the impeachment process and the prominence of a heated health care debate in the Democratic presidential primary process. For Republicans, nothing has displaced immigration and border security as their top concerns at both the national and the state levels."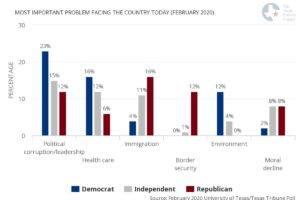 With health care as a top concern for many Texans, the poll asked voters to consider whether the current health insurance system should be swapped for one run by the government — 46% said they preferred the current system, and 41% said they would prefer a universal program financed by taxpayers. Of those who prefer universal coverage, 67% said they would back the system even if it eliminated private health insurance, compared with 18% who said they would oppose it.
"Texans are almost evenly split in their preference for a universal health care system versus the one we currently have," said Joshua Blank, the research director of the Texas Politics Project. "Of course, there are familiar partisan differences, with 70% of Democrats in favor of a universal system and 76% of Republicans in favor of the current one. For Democratic presidential candidates, the challenge is that even among Democratic voters who support a universal system, nearly 1 in 5 would oppose it if that system eliminated private health insurance."
Similarly, Texans also are divided on party lines when it comes to immigration. The poll asked Texans to consider whether they agreed with the statement, "Undocumented immigrants currently living in the U.S. should be deported immediately." Overall, 47% agreed and 46% disagreed.
"According to Texas voters, immigration and border security have been at the top of the list of issues facing the state since we began polling in 2008," said Daron Shaw, co-director of the poll and Distinguished Teaching Professor and Frank C. Erwin Jr. Chair of State Government at UT Austin. "But the specifics of how to deal with undocumented immigrants who are already here perplexes voters almost as much as policymakers."
Texas voters are divided in their views on whether the country — and Texas, in particular — are on the right track: 40% believe the U.S. is headed in the right direction, and 49% do not; 48% believe Texas is headed in the right direction, and 37% do not. Both measures increased slightly since the October poll.
The poll also asked Texans to review the jobs done by the government and its leaders. Some insights, include:
On President Donald Trump: 45% approve and 48% disapprove.
On Congress: 18% approve and 61% disapprove.
On Texas Gov. Greg Abbott: 48% approve and 34% disapprove.
On U.S. Sen. Ted Cruz: 42% approve and 44% disapprove.
On U.S. Sen. John Cornyn: 36% approve and 39% disapprove.
"It's not surprising to see partisan politics going into an election year," Henson said. "But the breadth and intensity of partisan division on any issue that matters to voters and toward almost all public political figures foreshadows a very divisive and hard-fought election between now and November."
The University of Texas/Texas Tribune survey has an overall margin of error of +/- 2.83 percentage points. Data was collected over the internet by YouGov based on a questionnaire written by the directors of the poll at UT Austin.
This is the latest in a series of polls conducted by UT Austin's Texas Politics Project and The Texas Tribune. Comprehensive poll results and information about methodology were released initially by The Texas Tribune. More information about the latest poll and an archive of past results dating to 2008 can be found at the Texas Politics Project website. Graphics, a summary document, crosstabs and a data file will be publicly available for research and teaching next week at the Texas Politics Project website.