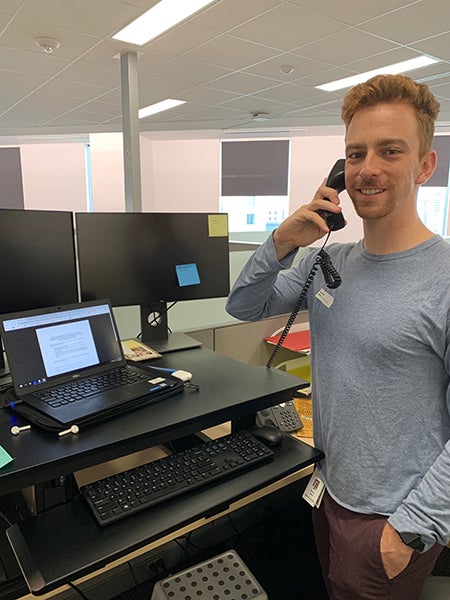 Medical student Brennan Lanier spent more than 20 hours last week fielding calls from people in the Austin area concerned about the coronavirus. He was phone triaging for CommUnityCare, a network of local health centers, discussing symptoms, answering questions and routing callers to nurses if further COVID-19 screening was appropriate.
As the realities of the COVID-19 pandemic find their way to the Austin community, Dell Medical School at The University of Texas at Austin has created a new elective course: The COVID-19 Pandemic: Global Health on the Front Lines. The course has students such as Lanier observe and contribute to the local pandemic response. "It's been a huge collective effort," Lanier said. "I think that most med students are rising to the occasion."
"It's been a huge collective effort. I think that most med students are rising to the occasion."
Lanier is one of three fourth-year Dell Med students, along with residents (doctors in training under the supervision of more experienced physicians) and Dell Med faculty members who had planned to spend the coming months at a partner medical school and hospital in Kenya. On March 6, about a week before their travel date, the residents learned from their employers at Ascension Seton that they would not be allowed to travel. After Texas Global ordered all abroad programs canceled, Dr. Tim Mercer, the director of Global Health and one of the Dell Medical School faculty members leading the would-be trip, wanted to find an alternative learning experience for his senior medical students who were now without a course.
"It's been really important to us that we balance, for our students, their education with their ability to meaningfully contribute to the response," Mercer said. "I thought, well, why don't we have them learn about the COVID-19 pandemic in real time?" In a process that usually takes months, Mercer and his colleagues designed the elective and made contacts in a few days. "We just have to be flexible and work out the kinks in real time," he said.
The students are studying the specifics of COVID-19 and past pandemics, looking at the global and local response, and doing remote placements at local healthcare-related sites. In addition to the original students from the Kenya trip, 24 other Dell Med students enrolled in the two-to four-week elective. Students are not having direct exposure to potential patients and are instead helping various community efforts through directing the flow of information to frontline providers, helping to manage donation websites, and speaking directly to concerned community members.
"For me, the one big takeaway was that for many med students, we are talking about COVID-19 daily, but there's not necessarily equal health literacy across our community," Lanier said. "I worked calls where I had to explain social distancing and sanitary practices/hand-washing to people for the first time."
The COVID-19 elective has space for student reflection and engaging with the pandemic on the human level, says Global Health Program Coordinator Sarayu Adeni. "We wanted to answer how to best take advantage of this real-life opportunity to study global health when it comes to your doorstep," Adeni said.
"Most of us in the health community are mindful that this is going to be a marathon," Mercer said. "It's hard in the moment because, while it's a marathon every day, you feel like you have to sprint to catch up with this pandemic and save lives and prevent the community spread. We have to think ahead of time about preventing burnout and taking care of one another and our families."
Most of us in the health community are mindful that this is going to be a marathon."
Particularly for those in medicine, the coronavirus has the potential to have a serious impact on mental health. As people everywhere struggle to adapt to a new normal, disappointment is natural. Fourth-year medical students such as Lanier who have spent years working toward big celebratory events — graduation and Match Day, when students find out where they will complete their residency programs — are sorting through complex emotions.
"Med school graduation certainly pales in comparison in terms of importance to everything that's going on. The quicker we can get into it, the more we can help, the better," Lanier said. "On the flip side, I want to make sure that we take the time and effort, collectively as a med school community, to celebrate our fourth years because everybody has worked so hard. And these moments, graduations and celebrations, are some of what makes life worth living."
The course ends with a capstone project that brings together reflections on these uncertain times. Adeni said that the project can take the form of research papers and policy recommendations or more creative forms of expression such as poetry or painting.
"Humanity is so diverse in the way we think and the way we process big experiences like this," Adeni said. "It makes us all more human, and it reminds us that the doctors are not just these faceless people. They're out there with us trying to figure this out too."
Ultimately, all parties involved with the elective have the goal of stemming the tide of the global pandemic. Mercer said the health care workers at the community health sites have appreciated the extra help.
"There's clearly a need," he said. "We're all in a tough position. They've been grateful to have intelligent, passionate and energetic students helping."