AUSTIN, Texas — In a project to improve the quality of life in small communities across Texas, students from The University of Texas at Austin worked with community leaders in 10 smaller cities, from Harlingen to Tyler, to develop recommendations on an economic development problem.
Forty-seven students recently competed online in the finals of the first annual George Kozmetsky Memorial Student Challenge, a team competition requiring students to investigate small or remote Texas cities and come up with creative ideas to increase quality of life in those communities.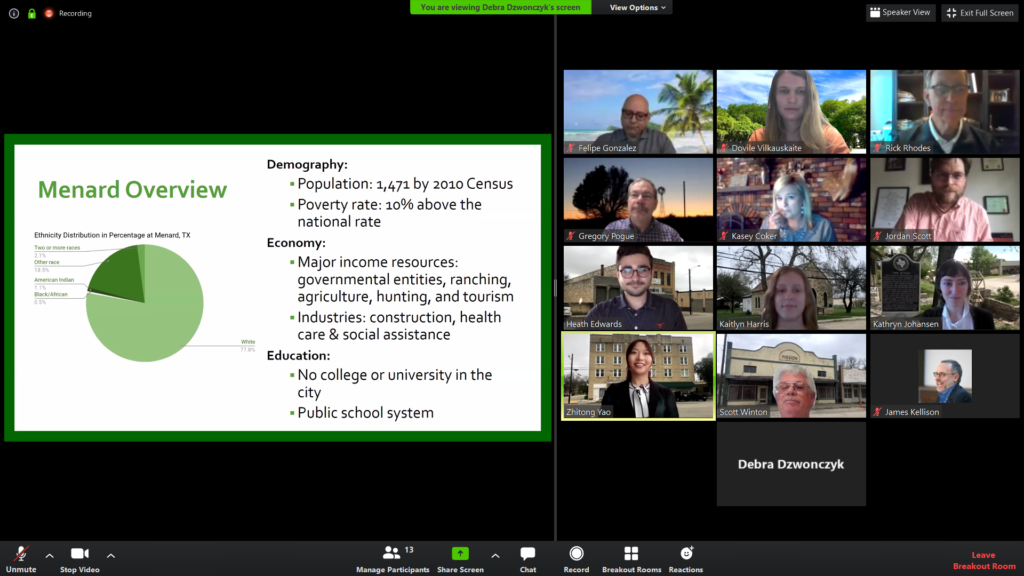 Finalist teams represented cities as small as Menard (pop. < 1,500) and as large as Midland (pop. > 100,000).  The other cities investigated by finalists were La Grange, Tyler, Longview, Harlingen, Edinburg, Slaton, and Glen Rose.
The winning team, representing Harlingen, consisted of students from UT Austin's LBJ School of Public Affairs and the Cockrell School of Engineering. The team recommended capitalizing on the emerging health care industry and strength of the University of Texas Rio Grande Valley as an anchor institution to develop a medical innovation village. Their solution is meant to address community healthcare issues, foster entrepreneurship, and create an accessible recreational environment.  The village is envisioned as part of the medical district neighborhood, a strategic location that could feed into the existing medical industry and local supply chain. The team suggested using land that is already owned by the city and pre-zoned for use.
The second place team looked at economic growth potential in Menard's downtown. The team focused on enhancing existing mixed-use developments such as apartments above commercial areas. Rebuilding the area would boost local construction and retail jobs, increase sales tax revenues, and lead to improved quality of life for residents with more walking and biking spaces and better housing stock. The Menard team traveled to the town and conducted a workshop with residents and town leaders to add information to survey data they collected from residents.
Many of the student teams prepared detailed plans for support to neighborhoods that are either suffering economically or exhibiting the potential to draw business and visitors to the community.  Examples include a community center in a vacant high-rise hotel in Tyler, incentives for new businesses in an already attractive La Grange town square, and creative solutions for food dessert zones in low-income areas.
"This competition is a great demonstration of the role that our students can play in developing solutions to the very real challenges faced by small communities around the country," said Art Markman, executive director of the IC² Institute, which put on the competition. "We plan to adapt this model in the coming months to help address the economic consequences of the COVID-19 outbreak."
Winners of the George Kozmetsky Memorial Student Challenge Prize include:
First prize winners: Jonathan Du, Matthew Piotrowicz, Iann Karamali, Joshua Klein, and Thomas Adkins (Harlingen team).
Second prize winners: Heath Edwards, Kaitlyn Harris, Kathryn Johansen, Scott Winton, and Jocelyn Yao (Menard team).
Third prize winners: Amy Simpson, Sashank Macharla, Alexandra Byrnes, and Nicole Domingo (La Grange team) and Evan Pan, Shashwat Pandey, Aniket Matharasi, Chris Morphis, and Kisara Dang (Tyler team)
Student teams who placed first, second, or third in the competition shared $15,000 in cash prizes, including $8,000 for the first place team. Watch the Harlingen and Mendard team shout-out videos: