It is spring in Texas. The weather is beautiful, the flowers are blooming, and birds are chirping.  It is almost nice enough to make you forget about the coronavirus. We can all use a break from the stress of the pandemic for a moment. Connecting with nature is a great way to relax and focus on something nourishing.
"I think probably most of us who've been cooped up in our houses are really itching to get out. Enjoying nature and gardening are very safe ways to do just that," says Andrea DeLong-Amaya, the director of horticulture at The University of Texas at Austin Lady Bird Johnson Wildflower Center. "One of the silver linings I hope will come out of this whole crisis is that people might become more connected with nature."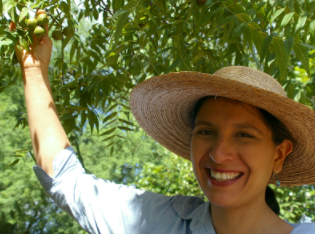 DeLong-Amaya oversees the design and management of 9 acres of native gardens, 284 acres of natural areas and a native plant nursery at the Wildflower Center. Unfortunately, the Wildflower Center is closed to the public now, but she says there are many ways to enjoy the outdoors near your home.
"It's really important to pause for a moment to walk around, especially if you are working from home on your computer most of the day. Just being outdoors for a little while gives you time to be quiet and observe what's happening around you. It is a very useful way to center yourself," she says.
DeLong-Amaya has more than 30 years of expert experience working with native Texas plants and gardening. We asked her to share some tips for how to safely connect with nature while staying close to home.
Weed Out Frustration
If you are looking to spend more time outside in your yard, weeding is a great way to prep for new projects. Some people might not see weeding as fun, but it is honestly one of my favorite activities! Weeding can be great exercise, and it is meditative to pull out unwanted plants and trim back old growth. Now is a good time to spring clean your outdoor house. In Texas, we have recently had a lot of rain, so plants' lush growth is ready to be shaped or pruned. Trim back the old to make way for the new.
Start Something New
Spring is a great time to plant things that will bloom during the summer and possibly into the fall. Scarlet sage is a really nice native plant with bright red, white or pink flowers that you can start from seed, which can be ordered online. It does well in shade or partial shade. It is great for attracting hummingbirds and large butterflies. Another good option is partridge pea, which will give you beautiful yellow flowers. Both of these plants do well in pots, too. They are nice for people with apartment balconies or container gardens.
[[Read more about caring for new plants]]
Keep a Container Garden
Container gardens can dress up balconies and are nice accents in existing gardens. Unlike in-ground beds, they are also mobile. You can change your mind about a plant's position as often as you'd like without disturbing its delicate root system. They are a great way to play around with new plants and make the most of small spaces.
[[Read more container gardening tips]]
Keep a Nature Journal
Journaling can be a great way to center yourself. Take a sketchbook with you into your yard or on a walk. Draw sketches and write down notes about plants you are seeing. You can check back on the same plants as time goes on and record how they have changed depending on the weather or season. Nature journaling will help you become more familiar with the life cycle of plants. The Wildflower Center website has a free online database to help you identify the plants catching your eye, which will help you grow your plant identification skills.
Collect and Store Seeds
As the spring progresses, people can go out and collect their own seeds. Keep an eye out for plants that are blooming; this makes them much easier to spot. Once things go to seed, they are harder to find. Make a note of where to find the plants you might want to gather seeds for, and keep checking back on the seed development. When the seeds are fully ripe, they are full size and usually dry and dark in color. Then you can harvest them, plant them, or save for later.
[[Read more about how to collect and store seeds]]
Just Enjoy the View
It's OK to sit back and enjoy just being outside. Read a book or watch animal antics. Birds are building nests, butterflies are out, and lizards are exploring. It is important to take that moment for yourself. Walk around quietly and observe what's happening around you. Use the sights and sounds to center yourself.