AUSTIN, Texas — If the 2020 election were held today, 49% of Texans say they would vote to reelect President Donald Trump, and 44% would vote for former Vice President Joe Biden, with 7% undecided, according to the latest University of Texas/Texas Tribune poll.
"What's remarkable if not surprising is the extent to which people's minds look to be made up given these two extremely well-known candidates," said Joshua Blank, research director of the Texas Politics Project at UT Austin. "Since Biden's capturing of the nomination, there's no evidence that Democrats are shying away from providing him their support, while Republicans, who have remained firmly behind the president, now have a flesh-and-blood candidate to mobilize against."
Originally released on April 24 and 25 in The Texas Tribune, most of the poll focused on Texans' attitudes toward the impact of the COVID-19 pandemic and the government response to it.
Nearly a third of voters say that the coronavirus is the most important problem facing the country, followed by political corruption and leadership at 12%. At the state level, the coronavirus again tops the list of problems, with immigration and the economy tied for second at 8% apiece.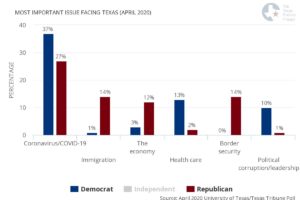 Overall, Texas voters were more approving of the state's response to the pandemic than the federal government's: 57% approved of the overall state response compared with 49% who approved of the overall federal response. Local governments saw the highest approval rating of the three, at 64%. Similarly, when asked to consider responses by state and national leaders, 56% approved of Gov. Greg Abbott's response and 48% approved of Trump's. Texans were least approving of the responses by news media (34%) and insurance companies (27%).
"Large majorities of Texans also approve of specific policies enacted at the state level, including the closing of nonessential businesses and stay-at-home orders," said James Henson, director of the Texas Politics Project and co-director of the poll. "Support only dips below the 50% mark in areas where there are strong preexisting attitudes among partisans, like abortion restrictions and the early release of nonviolent prisoners"
Economic concerns weigh heavily on voters' minds: 35% of Texans polled indicated they were economically worse off than they were one year ago. But concerns were deeper for the state and national economies, with 54% and 64% of Texans (respectively) saying they were worse off than one year ago.
"We're really only at the beginning of this economic crisis," Blank said. "But all indications are that Texans perceive a major economic downturn at the state and (especially) the federal level, with a little over a third of Texans already seeing their own economic fortunes in decline."
The poll also asked Texans to review the jobs done by the government and its leaders, all of whom experienced a slight boost in approval since the February 2020 poll. Some specific job approval ratings include:
President Donald Trump: 49% approve and 45% disapprove.
Congress: 23% approve and 56% disapprove.
Texas Gov. Greg Abbott: 56% approve and 32% disapprove.
U.S. Sen. Ted Cruz: 45% approve and 39% disapprove.
U.S. Sen. John Cornyn: 38% approve and 36% disapprove.
Lt. Gov. Dan Patrick: 40% approve and 36% disapprove
"In political science, we call increased support for public officials during times of crisis a 'rally effect,'" said Daron Shaw, co-director of the poll and the Frank C. Erwin, Jr. Chair in State Government at UT Austin. "But these surges in support can be temporary and are highly dependent on real-world events."
The University of Texas/Texas Tribune Poll surveyed 1,200 registered voters in Texas and has an overall margin of error of +/- 2.83 percentage points. Data was collected over the internet by YouGov based on a questionnaire written by the directors of the poll at UT Austin.
This is the latest in a series of polls conducted by UT Austin's Texas Politics Project and The Texas Tribune. Comprehensive poll results and information about methodology were released initially by The Texas Tribune. More information about the latest poll and an archive of past results dating to 2008 can be found at the Texas Politics Project website. Several hundred graphics available for download for teaching and presentations, a summary document, crosstabs and a data file are now publicly available for research and teaching at the Texas Politics Project website.