From concern and anxiety to even nostalgia for the mundane past, the coronavirus is challenging us daily, pushing us to respond in different but equally valid ways.
However, even among all this uncertainty and tension, Longhorns remain determined. Students are stepping up to help out in the crisis any way they can, and one group has spent the past several weeks working various shifts supporting Austin's pandemic response.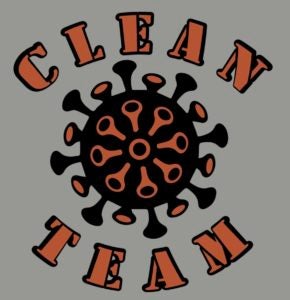 This group is called the COVID Longhorn Epidemiological Assistance Network (CLEAN) and was formed in March by Addison Allen, a UT junior majoring in public health.
Allen said she saw what was happening all around her as more and more people fell sick and couldn't bear to just stand by and watch passively. She wanted to prove that her generation too was capable of compassion and public-spirited action.
Ultimately, "I just wanted to give UT students opportunities to help where needed and to do everything we can to reduce the spread," she said.
Allen wasn't sure how to get started, but she knew she needed dedicated people who were passionate about helping others. She reached out to her professors to help solicit interested volunteers from the UT community and received an overwhelmingly positive response.
"We had undergrads from public health, premed students, physics majors, even graduate students … a broad range really," she said. "It was amazing to see."
CLEAN currently has nearly 100 volunteers, and of the various tasks they have been assigned to work on, contact tracing has been by far the most prominent.
Contact tracing is an investigative technique used to identify infected individuals and then find others they may have exposed in order to isolate those at risk and prevent spread. It's a method with a long history of success against viruses as diverse as SARS and HIV and has been a key weapon in the worldwide fight against COVID-19. Now, as regulations are slowly lifted, Texas and other U.S. states are looking to increase contact tracing efforts in the next phase of controlling the pandemic.
Step up and make the change. Now's the best time to act.
Working as part of UT Health Austin's contact tracing initiative, CLEAN student volunteers have been assisting people in the Austin area who have recently tested positive for COVID-19 in identifying contacts who might be at risk. Tracking community spread in this way helps UT Health Austin determine who to reach out to for further screening and testing.
"In contact tracing alone, we did 148 hours last week and 228 hours this week. And that's not including other opportunities that exist," said Allen.
CLEAN has also sent student volunteers to the Central Texas Food Bank, helping to ensure food doesn't run out and getting workers to organize and monitor warehouse items and sanitizer production, what Allen has dubbed "essential supply distribution." Volunteers also work to deliver supplies directly to anyone in need.
In the past, CLEAN also helped the Austin Convention Center assemble face shields for health care workers.
Dell Medical School at The University of Texas at Austin created the COVID-19 ATX Exchange to develop solutions and fill community needs related to the pandemic, vetting needs submitted by local organizations and matching them to others' creative solutions. CLEAN uses this platform now to assign volunteers to help with various tasks oftentimes involving collaboration with experts from UT Health Austin, the university's Cockrell School of Engineering, the Design Institute for Health (a collaboration of the College of Fine Arts and Dell Med), the City of Austin, Austin Public Health, and more.
Most recently, nonprofit health care organization Ascension Texas, which operates Dell Seton Medical Center at The University of Texas, has reached out to Allen to get CLEAN volunteers to find participants for their coronavirus clinical research. In particular, they are looking for plasma donors because those who have recovered from COVID-19 have antibodies in their plasma that can attack the virus. With the help of CLEAN, they hope to solicit qualified participants to better evaluate plasma therapy as a possible treatment for critical patients.
To join CLEAN, Allen said anyone can fill out this form here and when asked what advice she would give to those who have an idea or want to assist others during the pandemic, Allen said: "Step up and make the change. Now's the best time to act. Even three weeks ago, this wasn't really something that I thought of doing, but it's very easy to get involved and make a difference."