AUSTIN, Texas — People's social lives aren't what they used to be. But exactly how they've changed and what it might mean for mental health is what psycho-linguistic researchers at The University of Texas at Austin are trying to figure out in the Pandemic Project.
The researchers recently conducted a series of surveys and analyses on thousands of Reddit comments to understand the ways people are thinking and talking about the current pandemic. Like many crises, the pandemic has heightened anxieties and motivated people to connect with their families, but the situation's prolonged unpredictability could have grave implications for mental health, researchers said.
"After upheavals like 9/11 or hurricanes, we gravitate towards others to cope. But with pandemics, other humans are a threat, and so we are forced to keep a distance from them," said Ashwini Ashokkumar, a UT Austin graduate student in psychology. "At the same time, being cooped up with the same people for an extended period could feel like being inside a pressure cooker, causing strain on our closest relationships. And anyone seeking a change will have to risk infection."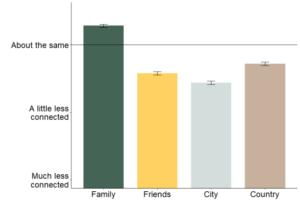 Online conversations surrounding the virus increased in late February, when the stock market dropped due to pressures in China and an outbreak emerged in Washington state. These early conversations tended to be future-oriented and anxiety-ridden. As U.S. communities rolled out stay-at-home orders in mid-March, people continued to express high levels of anxiety but began connecting with their families while withdrawing from their communities.
One survey found that most people were nervous about family members becoming infected, followed closely by the fear that they themselves might unknowingly infect others. Although overall anxiety levels have declined as people have settled into their new normal, they remain higher than pre-COVID-19 samples. And people are becoming sadder as the isolation continues. The researchers also noted that anger and hostility may be on the rise and could intensify.
"People are more likely to become depressed and turn to substance abuse if they are alone and don't have a close group of friends or family close by," said UT Austin psychology professor Jamie Pennebaker, adding that 15% of those surveyed were living alone or in unstable living situations. "Mental health is also partially dependent on a sense of security, predictability and meaning. More troublesome is dealing with a crumbling economy that will shake our country for months and more likely years. On top of this, we have no idea how COVID will unfold in the months ahead."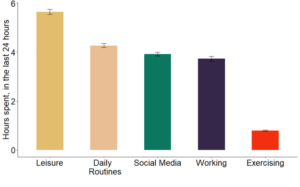 Survey results showed the average day during early quarantine efforts in late March was filled with 5.6 hours of leisurely time, 4.2 hours of household routines, 3.9 hours on social media, 3.7 hours working, and 45 minutes exercising. Some learned to cope with new routines and activities, but nearly a third reported experiencing some depression and were often glued to their screens for news or distractions.
Most recently, the researchers began surveying people about how their lives will probably change during the next 1-2 years compared with how they were before the pandemic: 36% are less likely to go out to restaurants, bars and movies; 29% are less likely to travel to distant locations; and 15% are less likely to attend religious services. When it comes to behaviors they consider taking on, more than half of respondents expect to focus on maintaining a work-life balance, 49% expect to save money, 38% hope to make healthy lifestyle changes, and 30% said they will make more time for family.
"If these changes are realized, they will have major implications for the economy, education, and the nature of community," Pennebaker said.