Now more than ever, the narratives of Black and African authors, poets, playwrights and creatives offer us ways forward.
The John L. Warfield Center for African and African American Studies at The University of Texas at Austin wanted to make sure that we are all still present for one another. That is why the center initiated #WarfieldBookmarked, a community-curated list of essential readings about the Black experience.
The Warfield Center is based in the Gordon-White Building on the north side of UT campus. Home to both the Black Studies and Latino Studies departments, the building serves as a hub for Black and brown people on campus to share ideas and dive into an array of community events that move the conversation beyond the classroom. With COVID-19, however, opportunities for those needed conversations and events no longer existed.
Alongside Catch-Up Café (a series of conversations held on Instagram Live that will inspire, inform and unite), #WarfieldBookmarked has allowed our community to recapture what was lost. We can fill the vacancies of in-person connection with beautiful works that inspire, prompt meaningful reflection and bring joy.
Here are a few of our favorites curated from #WarfieldBookmarked. You can find the full list here.
In many ways, every book on this list touches all parts of Black life.
Love, Intimacy and Loss
Incoming Warfield Center Director Jennifer Wilks highlighted "Mama Day" by Gloria Naylor on #WarfieldBookmarked, saying: "Mama Day makes me smile and exhale deeply every time I read it. The book has a bit of everything — young Black love in New York City, a beautiful portrait of Gullah Gechee culture, wise and wisecracking elders, intrigue and poison — but at the end of the day, love, unconditional, boundless, fearless love, wins.⁠"
"Mama Day" by Gloria Naylor
"For Colored Girls Who Have Considered Suicide When the Rainbow is Enuf" by Ntozake Shange
"Homegoing" by Yaa Gyasi
"Wayward Lives, Beautiful Experiments" by Saidiya Hartman
"Wow, No Thank You" by Samantha Irby
"Things That I Do in the Dark" by June Jordan
"Black Girls Rock!" edited by Beverly Bond
"Kindred" by Octavia E. Butler
"Beloved" by Toni Morrison
"Big Freedia: God Save the Queen Diva" by Nicole Balin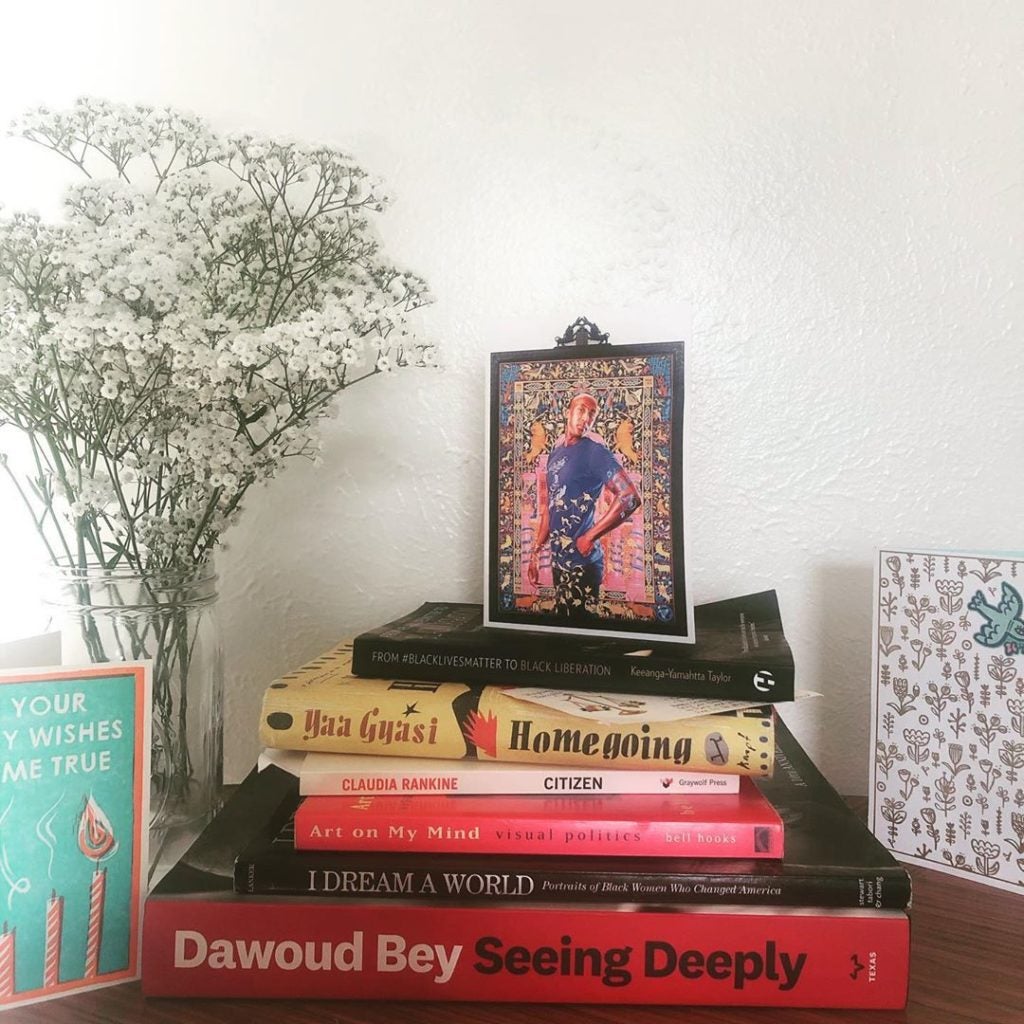 Power, Systems, and Consciousness
Through #WarfieldBookmarked, we were even able to connect with Njeri Warfield, daughter of the center's namesake, John L. Warfield. Through her, we learned about Warfield's favorite titles such as "The Souls of Black Folk" by W.E.B. Du Bois and "The Wretched of the Earth" by Frantz Fanon.
"The Souls of Black Folk" by W.E.B. Du Bois
The Wretched of the Earth" by Frantz Fanon
"Remaking Black Power" by Ashley Farmer (assistant professor of African and African Diaspora Studies and History)
"In the Cause of Freedom" by Minkah Makalani (associate professor and director of the Warfield Center)
"Dark Matters" by Simone Browne (associate professor of African and African Diaspora Studies)
 "The New Jim Crow" by Michelle Alexander
 "Are Prisons Obsolete?" by Angela Y. Davis
"So You Want to Talk About Race" by Ijeoma Oluo
"Beyond Respectability" by Brittney C. Cooper
 "Sister Citizen" by Melissa V. Harris-Perry

History, Legacy and Spirituality
"The Fire Next Time" by James Baldwin
" Zami: A New Spelling of My Name" by Audre Lorde
"Martin & Malcolm & America" by James H. Cone
"Revisiting the Elegy in the Black Lives Matter Era" by Tiffany Austin, Sequoia Maner (assistant professor of English at Spelman College and former UT Ph.D. English candidate), Emily Ruth Rutter, darlene anita scott
"And Still I Rise" by Maya Angelou
"My Soul Is Rested" by Howell Raines
"I Can't Date Jesus" by Michael Arceneaux
"Dear Girl" by drea brown (Ph.D. in African and African Diaspora Studies and a doctoral certificate in Women Gender and Sexuality Studies from The University of Texas at Austin)
"Her Blue Body Everything We Know" by Alice Walker
"Between the World and Me" by Ta-Nehisi Coates

Art, Creation and Imagination
 "Art on My Mind" by bell hooks
"Michael Ray Charles: A Retrospective" by Cherise Smith (chair and associate professor, African and African American Diaspora Studies)
"Making All Black Lives Matter" by Barbara Ransby
"Hunger: A Memoir of (My) Body" by Roxane Gay
"Reclaiming Our Space" by Feminista Jones
"Brown Girl Dreaming" by Jacqueline Woodson
"[Insert] Boy" by Danez Smith
"In the Wake" by Christina Sharpe
"Seeing Deeply" by Dawoud Bey (Austin: University of Texas Press, 2018)
"Listening to Images" by Tina Campt
When purchasing books, whenever possible the Warfield Center encourages readers to buy from independent, Black-owned bookstores. Here is a short list:
●      Black Pearl Books Austin, Texas
●      Enda's Booktique Duncanville, Texas
●      Mahogany Books Washington, D.C.
●      Malik Books Los Angeles
●      EyeSeeMe University City, Missouri