Henry Rossiter was planning the trip of the lifetime when the COVID-19 pandemic began sweeping across the United States, forcing people into isolation.
It was one of the many things in his life upended by the virus.
A UT computational engineering senior, Rossiter, 21, had planned to spend the summer mountain biking, completing an engineering internship and celebrating his last year in college. It didn't turn out that way.
Instead, the undergraduate who has a computer science background, has logged long hours working to build a mobile application that will help students and faculty safely return to campus this fall.
The app, called Protect Texas Together, will allow people to track their symptoms, record COVID-19 test results, get connected to medical resources and — potentially, in the future — even assist in contact tracing.
It will be available in the Apple App and Google Play stores starting in mid-August.
Rossiter says the change in plans was worthwhile. "We have been pressed to develop this app in less than a month, which is fairly unusual in the app development world," he says of the team, which includes computer scientists, medical experts and engineers. "It's been turbulent to say the least. But I hope we can minimize the spread of COVID on campus this fall."
Ensuring a safe return
As of this week, the United States has seen more than 4.6 million confirmed cases of COVID-19, roughly 450,000 of those in Texas. While the rate of new cases appears to have peaked in Texas in mid-July, the national rate continues to climb.
On Aug. 26, students will return to the UT campus to put some semblance of their lives back together. The university is one of many across the country and the world that will rely on technology to help that process.
A number of companies have put out mobile applications to help with things such as symptom tracking and contact tracing, which is the process of figuring out who is at risk for developing COVID-19 based on the people they have interacted with — something normally done through interviewing.
Rather than adopt another company's technology, UT decided to develop something in-house so the application would fit its specific needs, says Cameron Craddock, associate professor of diagnostic medicine at Dell Medical School and project lead. It will allow the school of 51,000 students and an additional 25,000 faculty and staff members to navigate issues such as privacy more assuredly than it would be able to using someone else's technology.
"The problem we are facing at UT is immense," Craddock says. "And we've just seen an outstanding outpouring of UT talent to help address this problem pretty quickly."
The app, which will be available in Spanish and English, will have a symptom diary, where users can keep track of things such as fevers and coughs. If they are later diagnosed with an illness, they will have that information on hand to discuss with medical professionals.
The app uses an algorithm to determine, based on one's symptoms, whether it is safe to come to campus, then issues a digital day pass to that person if they are cleared.
It will also allow students, faculty and staff to get connected to health resources, find a testing location and track county and state COVID-19 statistics.
Additionally, the app will include a feature to help individuals record which rooms, including research labs and controlled access facilities, they have entered. This will help facilities and health teams identify spaces that potentially need to be decontaminated or isolated if someone working there tests positive for COVID-19. It will also assist with contact tracing to know who is in rooms at the same time.
"It's really about helping members of the UT community do things that we know are important for staying healthy. In this case, that means having everybody check their symptoms on a regular basis and keep themselves at home if they have any symptoms," says software engineering professor Christine Julien, who is part of the development team.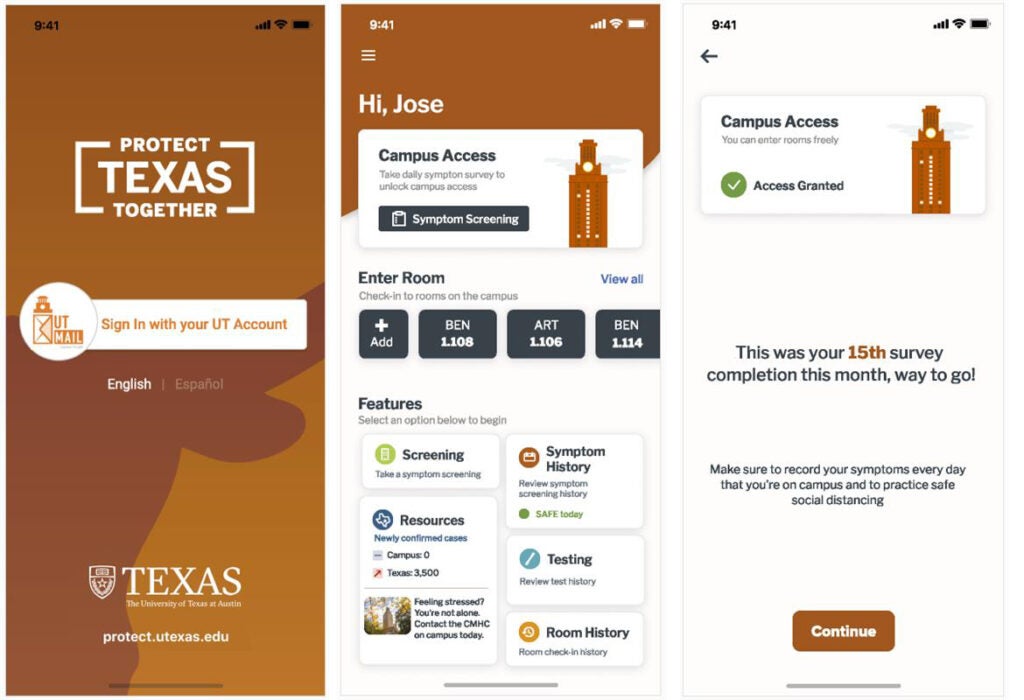 Rossiter has been working to make the interface as user-friendly as possible. He is one of four undergraduates on the team and is leading front-end development. Three graduate students are also working on the app.
The project isn't a part of Rossiter's computational engineering academic plan, but he's taken it up on the side because he sees the benefits of the technology for society.
"I was eager to apply the computer programming skills I learned in school to solve real-world problems," he says. "I enjoy seeing the impact that the technology I engineered has made."
The future of the app
Though the first iteration of the app will not include contact tracing, later versions likely will have that functionality. The development team is working on a plan that allows users to consent to having their location information stored within the app. Then, if people test positive for COVID-19, they will be able to pull up that data and see where they have been, so they can easily and confidentially share that information with medical professionals.
"Ensuring privacy is the most important thing," Julien says. "It would also be nice to get more data and information, but we would never do that if it meant we had to sacrifice individual users' privacy in any way."
UT community members were able to move so quickly in building an app because they were already designing the technology infrastructure as part of the UT grand challenge Whole Communities–Whole Health.
The multiyear project has researchers working closely with local partners to understand more about the physical, environmental and emotional health of families living in Central Texas, particularly those who are part of historically marginalized communities. And technology is a huge component of the study.
The research team plans to retool the mobile application in the coming months for the grand challenge so it can study the effects of the COVID-19 pandemic on local communities. The app could send surveys directly to people's phones, as well as show other health and behavioral information that participants want to know about.
"The last time the U.S. has undergone a pandemic that involved social distancing to this scale was 100 years ago, so we have very limited information about the effects that had on people," Craddock says. "The notion is to try to collect as much information as we can about what people's experiences are so that 10 years from now, we can use that information to understand the impact that social isolation and the pandemic had on society."
Low-income and marginalized communities have been hit especially hard by the virus, largely because of underlying systemic conditions that contribute to poor health and health care inequities. At the same time, unemployment, stress and alcohol use have increased globally. New graduates are entering one of the worst job markets since the 2008 recession. Rossiter will likely be among them.
"It's a turbulent situation at a turbulent point in my life," he says. "Honestly, I don't really know what I am doing a week from now, so three months from now it's impossible to say."
"I just want to see the software I develop have a positive impact on society."