AUSTIN, Texas – One of The University of Texas at Austin's signature initiatives, OnRamps, is partnering with the Texas Education Agency (TEA) to include five free modules from OnRamps Distance Learning Catalog in TEA's Strong Start resources.
The OnRamps catalog is a comprehensive series of online professional development modules that equips Texas middle and high school teachers with the skills and pedagogical knowledge needed to teach in distance or hybrid-learning environments.
The catalog is made up of 20 modules categorized by the themes of belonging, learner-centered design, assessment and technology. Five of the 20 modules are available for free through the TEA website. The remaining 15, and access to forthcoming content, can be obtained through a campus or an individual license.
"This is a timely and powerful offering that our university is pleased to make in service of our great state," said interim President Jay Hartzell. "By providing resources to assist Texas middle and high school teachers with distance learning, we not only help them and their students navigate the pandemic, we also help those students continue to receive a high-quality education. This will ensure that they don't miss a beat and continue to thrive now and in the future."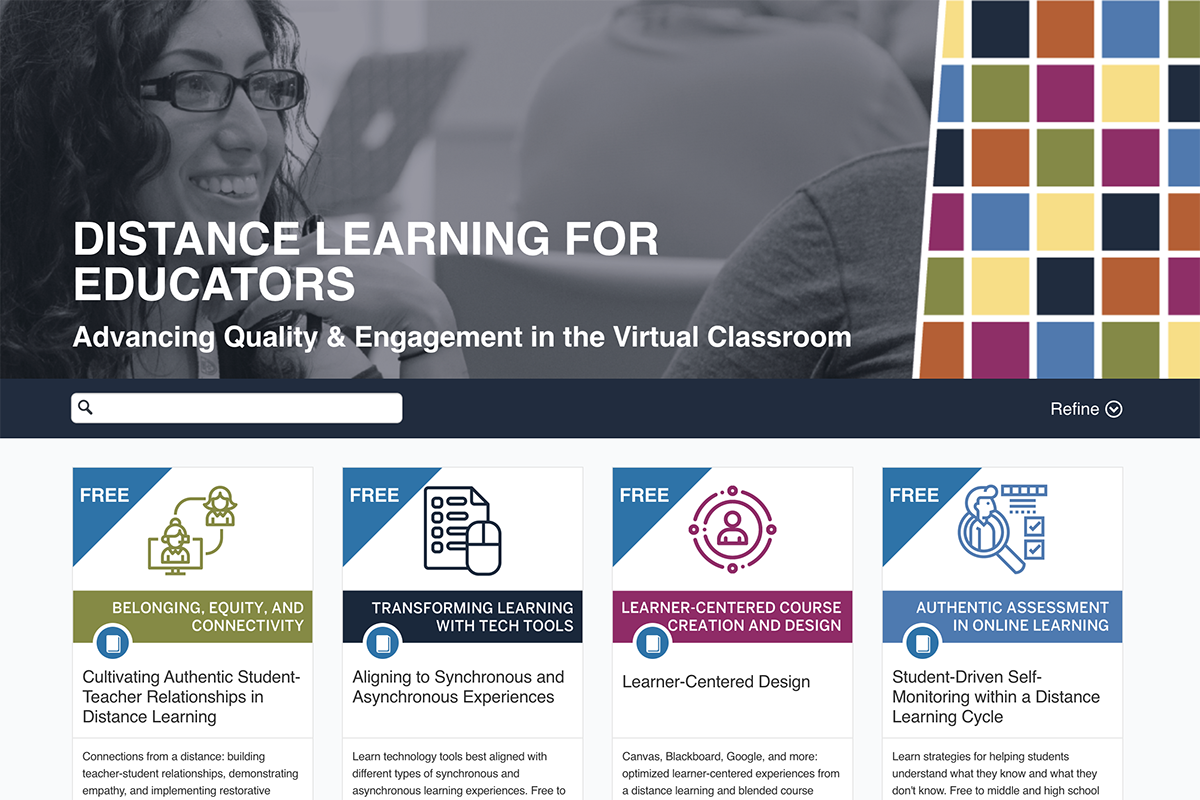 The following modules will be offered to the state's more than 180,000 eligible middle and high school teachers:
Cultivating Authentic Student-Teacher Relationships in Distance Learning
Aligning to Synchronous and Asynchronous Experiences
Learner-Centered Design
Facilitating Feedback at a Distance to Improve Students' Awareness of Learning Progress
Student-Driven Self-Monitoring Within a Distance Learning Cycle
"OnRamps is closely aligned with TEA's mission to improve outcomes for all public school students across Texas," said Texas Education Commissioner Mike Morath. "The modules offered in the Distance Learning Catalog reflect the evolving needs of teachers and districts and will allow teachers to explore concise, curated content at their own pace. At a time when the success of remote learning is critical to student success, this partnership is a win for public education in Texas."
Through participation in the modules, educators will receive feedback on their learning based on competencies related to distance learning. All modules are self-paced and feature downloadable materials for educators to use in their classrooms. Teachers who complete these modules will meet requirements for both synchronous and asynchronous modalities and will be awarded one hour of continuing professional education (CPE) credit per module.
"Our extensive history and success in distance education and professional learning and development allowed us to recognize a need and desire for tested and evidence-based remote instructional methods that we could provide Texas teachers to continue their critical work with students, regardless of modality," said Jennifer Porter, managing director of OnRamps. "We recognize the significant challenges teaching in the current environment has presented teachers and are eager to support educators and districts during these uncertain times."
OnRamps Managing Director Jennifer Porter, Ph.D., will be leading a live webinar about the Distance Learning Catalog from 3 to 4 p.m. Tuesday via Microsoft Teams.