AUSTIN, Texas — The University of Texas at Austin set all-time highs for four-year and six-year graduation rates while enrolling one of its largest freshman classes, underscoring the benefits of long-term efforts in student success and recruiting.
The four-year graduation rate surpassed the university's longstanding goal of 70%, vaulting to 72.2%, according to data collected on the 12th class day this semester.
Gains were especially notable in the graduation rates for Black, Hispanic, first-generation and Pell Grant-eligible students.
Two more indicators of student success also increased. The six-year graduation rate rose to 87.6%, up 1.9% from last fall. And the university's first-year undergraduate retention rate climbed to a record high of 96.7%, up 1.0% from last fall.
"This success reflects the hard work of our outstanding students, who come to Austin from a diverse range of backgrounds but are united in their ability to thrive and excel once they get here," said interim President Jay Hartzell. "Behind them stand thousands of faculty and staff who share in their accomplishment."
Graduation rates at UT have shown consistent improvement since 2011, when the university set a goal of increasing the four-year graduation rate from 52% to 70%. Beginning in 2012-2013, the university implemented campus-wide student success programs and analyzed student data to provide proactive support for students to help them define and stick with a path toward graduation. The programs offer peer mentoring, academic support and scholarship access to help more incoming students succeed in college.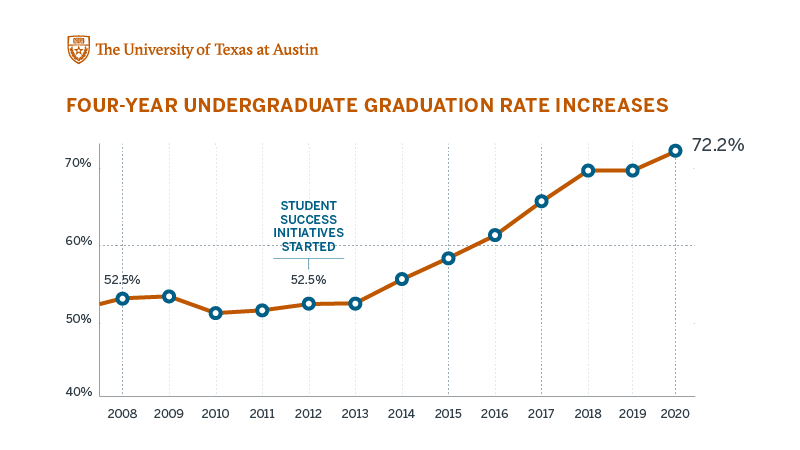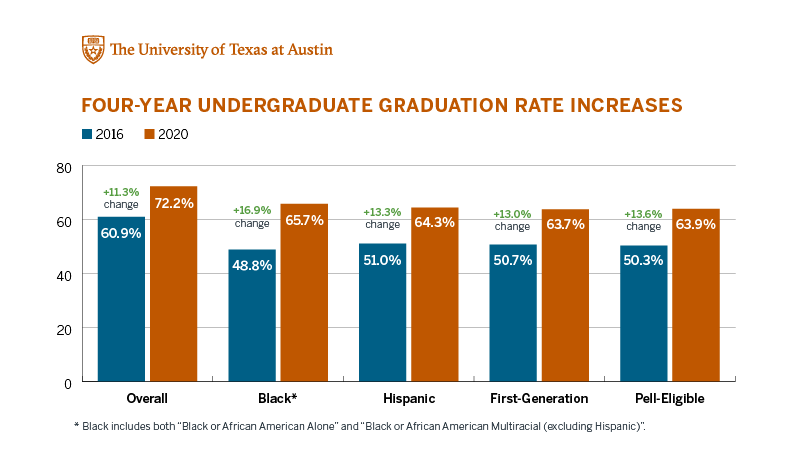 Undergraduate enrollment decreased slightly from 40,163 in 2019 to 40,048 this year, a drop of 0.3%, led by a decline in the number of international students.
At the same time, the university enrolled one of its largest freshman classes, with 8,459 new students, well above the average class size during the past decade of 7,900 students.
The university set a new high for the number of Black undergraduates (2,193) and their enrollment percentage (5.5%). In another first, the university reached 26.1% undergraduate Hispanic enrollment, passing the 25% enrollment threshold that qualifies a university for consideration as a Hispanic Serving Institution.
These trends were even more pronounced in the entering undergraduate Class of 2024, which has the highest representation of any entering UT class to date of Black (6.1%), Hispanic (28.6%) and first-generation (25.5%) students.
"I'm especially gratified to see that Black and Hispanic students are choosing to come to UT in higher numbers than ever before," said Hartzell. "These are encouraging signs — but there is clearly more work to do."
Overall international enrollment dropped from 5,089 to 4,173, part of a national trend related to COVID-19 and travel restrictions.
Despite having 916 fewer international students, overall university enrollment dropped by only 609 students, to 50,481, a decline of 1.2% from 2019.
Notable fall enrollment figures (all comparisons are year over year, from fall 2019 to fall 2020):
The size of the entering freshman class increased from 8,170 to 8,459, up 3.5%.
The overall percentage of Black students (both undergraduate and graduate) rose from 4.9% to 5.3%, and the percentage of Black undergraduates rose from 5.1% to 5.5%, both record highs.
The overall percentage of Hispanic students rose from 21.7% to 23.4%, and the percentage of Hispanic undergraduates rose from 24.4% to 26.1%, also record highs.
The percentage of white undergraduates dropped from 38.8% to 37.3%.
The percentage of Asian undergraduates rose from 22.6% to 23.2%.
The percentage of undergraduate students who are Texas residents rose from 90.0% to 91.5%.
A record 57,241 new undergraduate students applied for admission to UT for the fall of 2020.
The number of first-generation college students increased from 21.8% to 22.8% of undergraduates.
The first-year undergraduate retention rate increased to 96.7%, up 1.0% from last fall.
Note: Black includes both Black or African American Alone and Black or African American Multiracial (excluding Hispanic).