According to the Water Research Foundation, the average person mindlessly flushes the toilet about five times a day, sending wastewater down pipes into city sewers and on to treatment plants.
It's easy to forget there's a whole system running beneath our feet all the time.
But that dirty, smelly water could hold something very valuable: the key to tracking COVID-19 hot spots in a city before diagnostic testing is able to identify outbreaks.
The novel coronavirus is a fecally shed virus, which means its signature shows up in our waste. Because of this, University of Texas researchers are hoping they can track its spread by studying human feces.
Mary Jo Kirisits, an associate professor in UT's Department of Civil, Architectural and Environmental Engineering, is leading a team that's monitoring COVID-19 in Austin's wastewater to identify upticks in cases before people show up with symptoms at clinics. The team includes professor Kerry Kinney, researcher JP Maestre and graduate students Emma Palmer and David Jarma, also from the Cockrell School of Engineering, as well as research scientist Suzanne Pierce, analyst Lissa Pearson and engineering scientist Anna Dabrowski from the Texas Advanced Computing Center (TACC).
"It's smelly but valuable work," Kinney joked.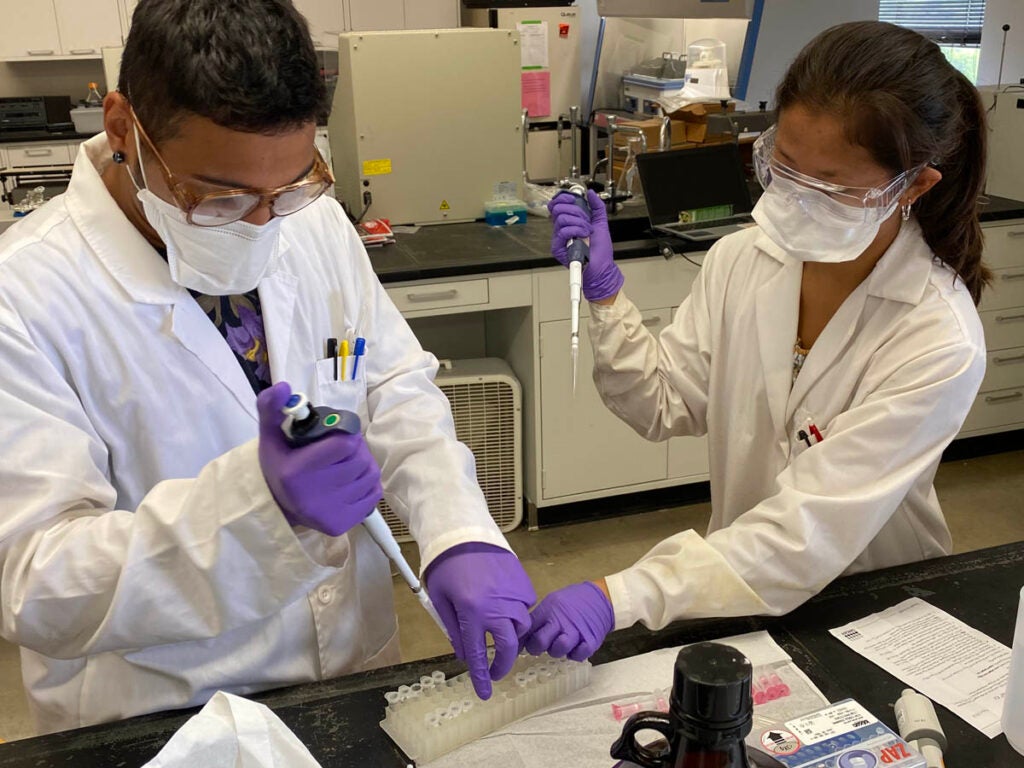 The project is known as Canary, named for the small birds that served as an early warning system to coal miners in the early 1900s. The birds were taken into tunnels to detect carbon monoxide and other toxic gases before they could hurt humans.
In June, the team began collecting samples from Austin's two largest wastewater treatment plants to determine the concentration of the virus.
According to their findings, there was a substantial drop in the RNA signature for the virus in the wastewater from June to August, from 100,000 copies per liter to approximately 1,000 copies per liter — which supports what officials later confirmed through patient testing.
Kirisits says, as of now, she is not aware of any known cases of COVID-19 transmission related to feces, so there doesn't appear to be a danger of catching the virus in a public restroom from flushing.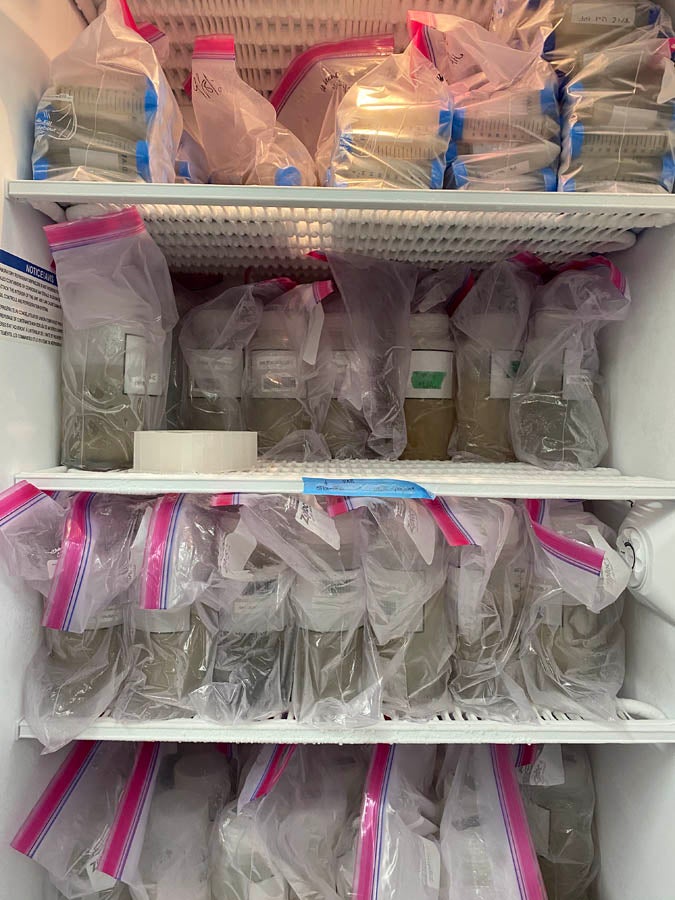 "It's not that SARS-CoV-2 is necessarily detectable in feces before it is detectable in nasal swabs," she says. "But rather, it's easier to sample fecal material from a large population, like everyone who flushes their toilets, from a wastewater treatment plant compared to the smaller number of people who present for clinical testing on a given day."
Now, the team is hoping to get a closer look at the spread of the disease in certain areas and is expanding its project to UT to track on-campus hot spots.
Teams from utility Austin Water recently took samples from five manholes on campus and west of campus using buckets and dippers, while adhering to strict biosafety protocols. The samples were ferried to UT's Environmental and Water Resources Engineering program laboratories, where they are being pasteurized and processed to determine concentrations of SARS-CoV-2.
Once the samples are processed, researchers at TACC will work with the city using its maps to determine what buildings empty into which pipes to help trace the source of the virus. Data from the wastewater sampling will feed into an early alert system that uses advanced computing tools to help with rapid evaluation of risks and to determine a response.
"This is not without precedent. We have done this before for polio, and it's still done in certain parts of the world to monitor for outbreaks," Kirisits says. "It's not a replacement for individual testing of people, but it's a way that you can capture a large population and then, from that data, say, 'We really need to focus on this area and get these people tested because their signal is high in wastewater.'"
The research is still in its early stages, so Austin teams haven't identified any hot spots yet. But the process has been successful in other places across the country, such as the University of Arizona, which was able to stop a COVID-19 outbreak and demonstrate how the Canary model works.
"The community has been very free about sharing information and best practices," Kirisits says of researchers at other universities. "It's really been a friendly academic situation."
Many of the team members were already connected through the university's Bridging Barriers grand challenge program, which brings together researchers from across disciplines to solve major societal problems. They often rely on data and information running in the background of our lives, such as — in this instance — wastewater. The researchers were all focused on other projects when the pandemic began to worsen in the United States, and they knew immediately they wanted to shift gears to use their individual expertise to help.
"Everyone working on this is volunteering," Kinney says. "They are working really hard on it, and it's because they see the value of the work."
Soon, researchers will install what is called an autosampler at manholes near certain high-density locations on and off campus. They will be collecting wastewater continuously, rather than simply looking at the concentration of the virus in the city overall.
Researchers will use this data to determine the virus positivity rate in those locations and identify unknown hot spots, thereby helping to focus resources. The hope is to target specific neighborhoods where the potential for transmission is higher or education about social distancing is not as robust.
If hot spots are detected, the plan is for researchers to work with Austin Public Health to coordinate additional testing and resources those neighborhoods may need.
"[COVID-19 has] disrupted everyone's lives, and it's incredibly serious for the city of Austin and, frankly, the state of Texas and beyond," Kinney says. "Whatever we can do to help, this is what environmental engineering is about."