AUSTIN, Texas — A historic collaboration between the U.S. Army, the State of Texas and The University of Texas at Austin has taken a major step forward with the unveiling of the newly finished robotics laboratory in the renovated Anna Hiss Gymnasium, which will play a key role in the university's partnership with the Army Futures Command and the state.
A four-legged robot led the way as Gov. Greg Abbott, Army Secretary Ryan McCarthy and UT Austin President Jay Hartzell took a tour of the newly finished laboratory Friday. The facility will allow faculty researchers and students to work alongside Army personnel in developing state-of-the-art technology that will propel the modernization of the military.
"This is a day that epitomizes transformation," Abbott said at the ceremony. "When I was attending The University of Texas in the late 1970s, believe it or not, the Anna Hiss gym was a place that I and others would come to for recreational basketball… Imagine the transformation from this being a recreational gym to being the platform where robotics are going to be created that will transform the future of the entire world."
The facility is one part of a larger partnership between UT Austin and the Army Futures Command that began during the spring of last year. The Futures Command, headquartered in Austin, designated UT as the hub for two of its five research programs: Robotics and Assured Positioning, and Navigation and Timing, which develops advanced location tools to help soldiers navigate contested environments.
The Army's priorities for research include improving navigation systems in long-range artillery, mobile communication networks and developing the next generation of vertical lift aircraft such as helicopters and drones.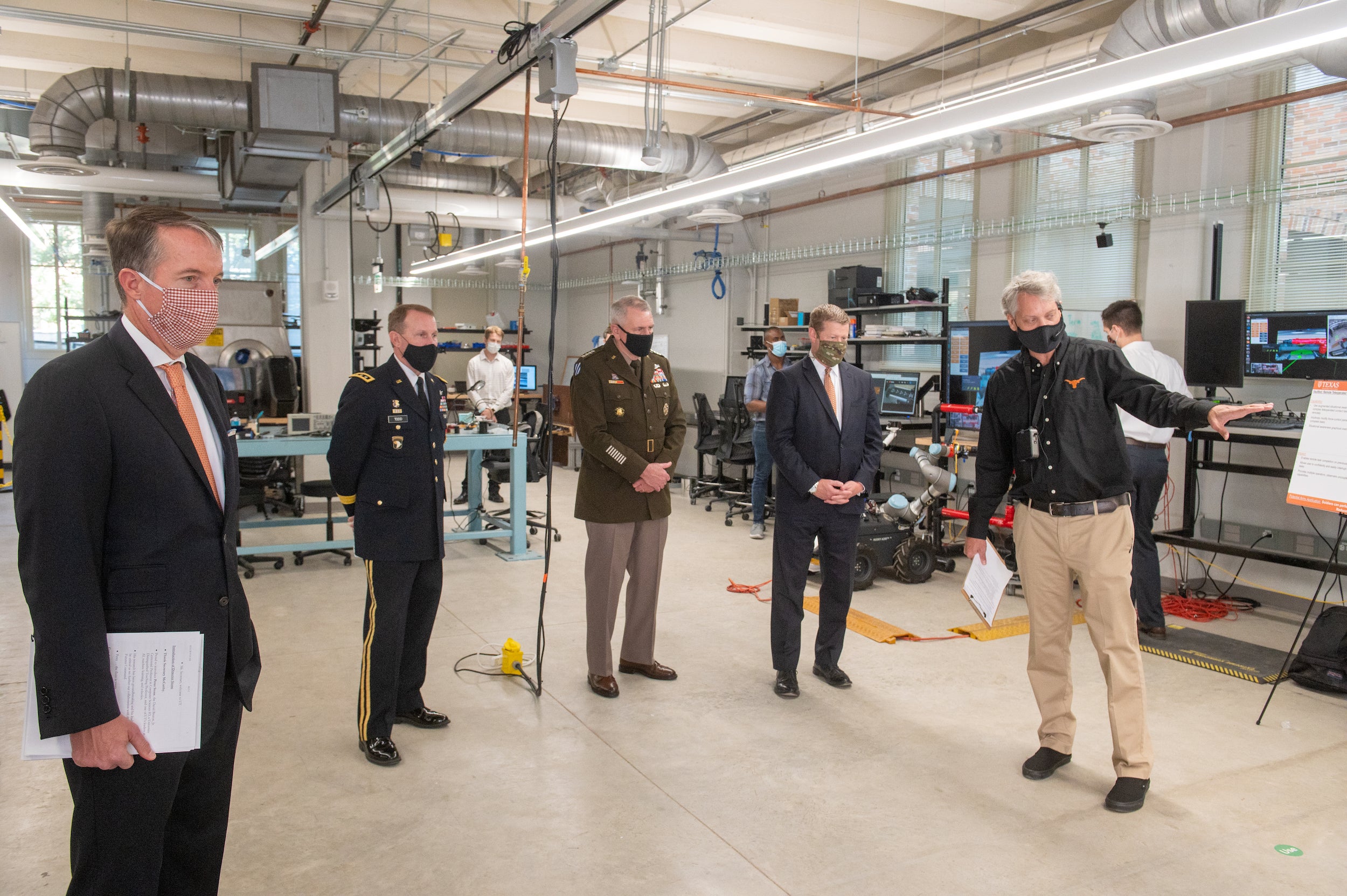 "[The Army and The University of Texas] have a shared vision: to make UT one of the best robotic research facilities in the world with soldier-centered design at its core," McCarthy said. "The work that is being done here ultimately will save soldiers' lives and help us achieve victory in combat."
In addition to building out the robotics facility, the university has committed to strengthening faculty and research capabilities in areas of mutual interest with the Army. The ongoing partnership will allow UT faculty members and students to bring research skills to bear on key technical problems the Army faces, and students will have the opportunity to work closely with Army personnel in ways that enhance their ability to go on to careers in industry, academic research and the military.
"UT Austin is a world-class partner and destination for the military, veterans and their families," President Jay Hartzell said. "The safety and the freedom of the U.S. is in our hands together, and we'll work closely with the Army Futures Command to ensure a safe future for the people of our great nation."