When Jay Hartzell was in high school and his parents asked what he wanted to be, he said, "a professional student, because I enjoy that and I'm pretty good at it. If it could pay, that would be a pretty good deal." Being a professor was about as close to "professional student" as one can get, he says. "Now I've screwed it up and have this job where I wear a tie."
The quip is signature Hartzell — low key and approachable, likeable and clever. (Asked where he was born, he replies, "Yeah — this now feels like you're trying to cypher out my passwords.") His arrival in the Office of the President at age 51 signals the passing of the torch from the baby boomers to Generation X: Whereas his predecessor cited the Who as his band of choice, Hartzell opts for a blend of '90s alternative fare ("If it were an XM channel, it would be Lithium, so Green Day and Weezer") and Texas singer-songwriters like Lyle Lovett, Robert Earl Keen and Bob Schneider.
In charge but kind, practical yet visionary, self-deprecating and funny — Hartzell's sunny disposition plays well during these troubling, disorienting times for The University of Texas at Austin. Even his resting face projects calm and friendliness.
Born in Topeka to a sportswriter father and a pianist mother, Jay moved to Tulsa when was 2. "I'm the part of the family that has no real artistic skills. Dad was a writer, mom was a pianist, my brother's a painter, and my sister's a pianist. I'm from some other strain of genes. I'm not sure what happened."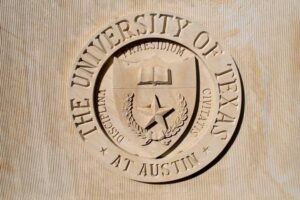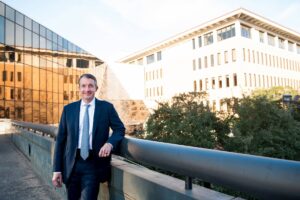 Going to work with his dad meant going to baseball games and other sporting events. Jay played baseball, basketball and tennis. Though he claims not to have been good enough to compete much beyond high school, he's kept up tennis and tried to add golf, though the higher he's climbed in administration, the less he gets to play of anything. Tennis, however, serves a special purpose: "As my jobs have gotten more complicated, the stress release given by hitting a little yellow ball has become more and more valuable."
He applied to only one college, Trinity University, and initially chose engineering, "because I was OK at math, and they told people who were OK at math they should be engineers." But cold feet about engineering as a career, and an introductory economics class that he loved, caused him to switch to economics, then add finance as a second major, which he calls "just economics with numbers."
Graduating with a B.S. in business administration and economics, he then came to UT for a Ph.D. in finance in 1998. From there, he and his wife, Kara, were off to New York, where he taught at NYU. "It was a great gig," he remembers. "It's a wonderful place to teach finance because it's in the middle of it all." But, he adds, "It's a hard place to live. I was commuting in from New Jersey. We had two little kids. My wife frankly was pretty miserable. She would ask me over dinner, 'Where else can we end up?'" Hartzell never even dreamed of returning to Texas because one doesn't tend to get tenure-track teaching offers from the university where one earned a Ph.D. "When Texas called, I hung up the phone and she had already packed."
When Texas called, I hung up the phone and [my wife] had packed."
Hartzell returned to UT and the McCombs School of Business in 2001, where he began a steady rise through the administrative ranks: executive director of the McCombs School's Real Estate Finance and Investment Center, chair of the Finance Department, senior associate dean for academic affairs, and, five years ago, dean. All the while, he pursued research on real estate finance, corporate finance and corporate governance. "Human capital and the supply of religion" is one intriguing title plucked from his long list of published articles. Another is "Market Reaction to Public Information: The Atypical Case of the Boston Celtics."
One feature of his years as dean that was good preparation for the future was helping create partnerships with colleges and schools across campus including the Dell Medical School, fine arts, liberal arts, natural sciences and communication.
Another harbinger of things to come was his establishment of the position of associate dean of diversity and inclusion and the McCombs Diversity and Inclusion Committee.