AUSTIN, Texas — Inventions such as 9-year-old Stephen Wamukota's pedal-powered handwashing device and 12-year-old Mizan Rupan-Tompkins' ever-useful "Safe Touch Pro" show that young humans are creative enough to develop solutions to the world's most pressing problems. But a new study suggests these young inventors are well-ahead of the curve when it comes to the cognitive skills and social learning experiences required for innovation.
In a paper published in Trends of Cognitive Sciences, researchers from The University of Texas at Austin address a question that has puzzled scientists for more than a decade: How is it that humans have such sophisticated technology, and yet it takes most of childhood to learn to solve simple tool innovation challenges? The study puts forth a cognitive account of the development of tool innovation, a skill made possible by humans' unique ability to take the innovations of others and modify or combine them in creative ways to develop new technologies.
"Humans stand alone in their technological complexity, which is the product of our ability to learn from, modify and improve others' innovations," said lead author Bruce Rawlings, a postdoctoral researcher at UT Austin. "Our unique ability for tool innovation is the reason we have such technology as spacecraft, biomedicine and the internet. It's allowed us to develop online platforms for home schooling and to developing vaccines at an unprecedented rate. Yet, we still do not understand why this is such an effortful and late-developing skill."
In their paper, Rawlings and Cristine Legare, professor of psychology at UT Austin, argue that the cognitive foundations of tool innovation — executive functions (working memory, attentional control, inhibition, and cognitive flexibility), planning, creativity, causal reasoning, problem solving and social learning — develop gradually throughout childhood and early adolescents and work in concert during tool innovation. They break the tool innovation process down into three steps.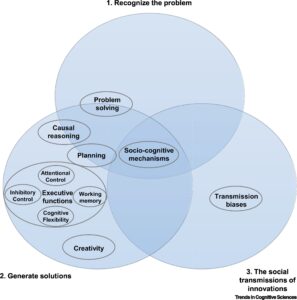 First, children must understand that there is a problem to solve and that the available tools can be used to do so. These cognitive abilities develop quite early, the authors explained. Even preschool children can make predictions and explanations based on causal reasoning, which allows them to understand that tools can be used to solve the problem.
The second, most strenuous cognitive step is putting forth potential solutions to a problem by repurposing existing materials into tools. This requires much more sophisticated cognitive skills, such as planning, creativity and executive functions, many of which do not mature until late childhood or early adolescence and require additional experiences gained through observing and interacting with others.
"It's our preoccupation with others and what they know that can explain humans' tremendous appetite for discovery," Legare said. "Innovation requires building upon the insights of previous generations and modifying them to meet current demands and solve critical problems."
The third and final step of successful tool innovation is the uptake of an innovation by others. This indicates its true value, the authors said, and allows innovations to spread throughout populations. In this way, tool innovation has allowed humans to develop sophisticated technology and effectively respond to crises such as the COVID-19 pandemic.
The current social isolation measures could have complex consequences for the development of innovation, researchers said.
"On one hand, we know how important social connectedness is to innovation and that schooling has a positive effect on many of the cognitive processes that support innovation. Thus, school disruptions and social isolation could be detrimental," Legare said. "On the other hand, we are currently required to come up with all sorts of novel and creative ways of learning and doing things — and in that sense it may harness innovation and creativity through being forced to come up with different ideas and experiences."
These are the latest findings in an ongoing research project, funded by The National Science Foundation and The Templeton World Charity Foundation, that unpacks the cognitive infrastructure that underlies cultural learning, cultural complexity and innovation to identify what makes humans unique cognitively, culturally and socially. Watch this video to learn more.