In an intimate space, students, faculty, the Austin community and art lovers from near and far can take a break from their computer screens to view not only the largest and most comprehensive collection of art in Central Texas, but also the vivid, dimensional details of a rising star's handmade textiles.
Native Texan Diedrick Brackens' "darling divined" has arrived at the Blanton Museum of Art at The University of Texas at Austin. An inspiring experience, Brackens' vibrant textiles weave elements including color, narrative, folklore and nature. His work, which addresses Black and queer identity, is inspired by West African weaving, quilting from the American South, European tapestry-making, biblical stories and African American literature and poetry. Together, these elements transform history to imagine new futures. The exhibition debuted at the New Museum in New York last year. Brackens has recently been featured in Vogue, The New York Times Style Magazine and Texas Monthly.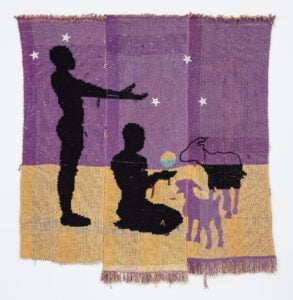 The Blanton is proud of its efforts to bring Brackens' gifts directly to Austin, where the UT community and beyond can admire his work up close. Brackens' installation, on view through May 16, 2021, is part of the museum's Contemporary Project series, which brings cutting-edge contemporary art to campus. Others who have exhibited in the space are Texas artist Vincent Valdez, sound artist Susan Philipsz and contemporary art icon Ed Ruscha, whose papers are housed at the Harry Ransom Center.
While the Blanton decided well before the pandemic to feature Brackens' work, it had to carefully plan logistics for everyone's safety. The individual works were shipped from museums and private collectors across the country to Austin. Due to the pandemic, the Blanton extended the exhibition's run an extra six months to May. The result is a show that even during the time of COVID-19, with timed tickets and social distancing, has had a steady flow of visitors.
Veronica Roberts, the Blanton's curator of modern and contemporary art, noted the "soothing and comforting" nature of textiles. "There's a sense of touch and human connection," Roberts said. She was drawn to Brackens' material and sense of color, in addition to his deep ties to Texas history and his exploration of masculinity.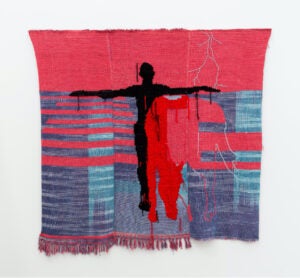 "We are so excited to bring this exhibition to the Blanton, to UT and to Texas, which is his first major museum show in his home state," she said. "Given that Diedrick is a young artist early in his career, I felt his work would be meaningful to so many Texans and artists studying at UT."
The Blanton is a valuable resource for UT students and scholars in a range of fields including studio art, Black studies and art history. According to the Blanton, around 25,000 UT students visit the museum per year, with around 10,000 participating in custom-designed gallery experiences that support their classroom learning or personal growth. As the pandemic continues, students are using new online learning formats with topics such as Creativity as Resistance, Changing Our Thinking, and Artists and Social Justice.
As part of the Blanton's Curated Conversations series, the museum held an artist talk with Brackens and Roberts on November 17 via Zoom. At a time when many feel more isolated than before, this was a chance for faculty, students and the general public to engage directly with and learn from a successful artist. As close-up images were shared onscreen, Roberts and the attendees — many of them students making their own works of art — asked Brackens about his life and work.
Born in Mexia, Texas, Brackens' medium of choice is cotton, which he chooses (while also dyeing his own yarns) due to its practicality, absorption of color and historical association with slavery. Brackens' grandmother worked in cotton fields.
"I cling to cotton because it's ubiquitous and then because it is tied up in the history of this country, Texas and my family," Brackens said. "I think often about the unknowable terrors and violence endured, all backdropped by King Cotton, and I know it is my life's work to try and make something beautiful out of this material. I hope it is some small healing tribute to my ancestors when I choose to sit at my loom and weave my stories."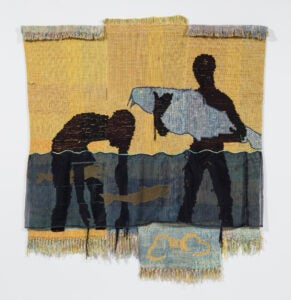 His work "bitter attendance, drown jubilee" references three Black teenagers who died — a few years before Brackens was born — while in police custody in Mexia on June 19, 1981, during a Juneteenth celebration commemorating the freeing of enslaved people.
Brackens said of "bitter attendance, drown jubilee," which incorporates woven cotton, acrylic yarn and silk organza, "I created the weaving as a way to tell the story and re-imagine its violent ending. To honor the lives lost, the boys are returned to the world transformed as catfish."
At the Curated Conversations artist talk with Brackens, a participant asked how he makes the decision to create something considering scale. Brackens said that when incorporating figures, he generally uses a 6- to 8-foot scale, which is also the size of familiar objects such as a queen-size bed or a rug.
"I want to touch everything. I can't imagine not doing all the weaving. … I can't imagine them being made in some other country," he said. "My dedication is to the process rather than it is to a glut of work."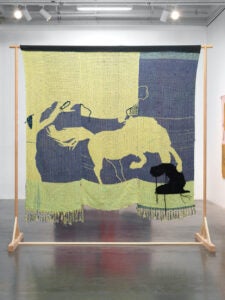 UT senior Heejung An, who is studying textiles and apparel, had the opportunity to attend the exhibition. She said she particularly appreciated Brackens' use of color as a way to create narrative.
"It's always nice to see young artists working with textiles and materiality," An said, adding that it's "refreshing" to see Brackens' work conveying his own personal, individual narrative. "I understand him trying to achieve this fluidity in his artworks, especially him being a Black and queer person."
Brackens, who lives in Los Angeles, received a bachelor of fine arts from the University of North Texas and a master of fine arts from the California College of the Arts. His work is part of the permanent collections at museums including the Whitney Museum of American Art in New York; the Hammer Museum in Los Angeles; the Crystal Bridges Museum of American Art in Bentonville, Arkansas; and the Museum of Fine Arts in Houston.
For members of the UT community who want to see the exhibition, admission is always free to the Blanton with UT ID. Advance timed tickets are required and available via reservation through the Blanton website.