AUSTIN, Texas — As Joe Biden visits Texas for the first time since defeating Donald Trump in the 2020 election, a new University of Texas/Texas Tribune poll finds Texas voters closely divided in their assessments of his young presidency: 45% of Texas voters approve of the job he's doing as president so far, while 44% disapprove.
The even split in sentiment reflects sharp partisan differences: 89% of Democrats approve of Biden's performance (64% strongly), and 80% of Republicans disapprove (72% strongly). The poll surveyed 1,200 self-declared registered voters over the internet Feb. 12-18 and had an overall margin of error of +/- 2.83 percentage points.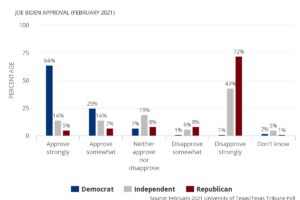 "The president's marks are right around 50-50 and that is pretty good, given that Texas remains a conservative state," said Daron Shaw, co-director of the poll and a professor of government at UT Austin. "There is a hint of a 'honeymoon' period here for Mr. Biden, and perhaps his visit can permanently convert some of the 'skeptical but open' voters."
Compared with his predecessor, President Biden received slightly higher marks for his handling of the coronavirus pandemic, which has been a major focus of his administration. About half of Texans – 49% – approved of Biden's handling of the pandemic, 36% disapproved, with the remainder opting for neither (14%) or saying that they didn't have an opinion.
The poll also explored Texans' beliefs in the accuracy of the elections in the wake of former President Trump's widespread claims that he won the election. Asked whether they thought the official election results in the U.S. were accurate, 52% said they were either very (36%) or somewhat (16%) accurate, while 43% said they were very (30%) or somewhat (13%) inaccurate.
With the Texas Legislature expected to consider a wide range of bills related to the conduct of elections, Texans were much more likely to view official election results in their own state as accurate: 78% thought Texas election results were either very (43%) or somewhat (35%) accurate, and 16% considered them either somewhat (11%) or very (5%) inaccurate.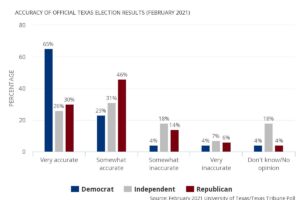 "There remain sharp differences between Democrats and Republicans in the views of national elections, with Republicans much more likely to question their accuracy," said James Henson, co-director of the poll and director of UT Austin's Texas Politics Project. "But overall skepticism about Texas elections is much lower, because far fewer Republicans question the accuracy of Texas elections. Only 6% of Republicans say official election results in Texas are 'very inaccurate,' whereas more than half say that about national election results, which is a striking contrast in views of elections held in the same country."
Biden's visit to Texas in the wake of deadly winter storms comes ahead of Trump's first post-presidency speech on Sunday at a national meeting of the conservative political group CPAC. According to the latest poll, Texans' views on Trump have remained largely unchanged since the October UT/Texas Tribune Poll, conducted shortly before Trump won Texas' electoral votes.
After losing the election and being impeached by the House and acquitted in the Senate, Trump is viewed favorably by 46% of Texas voters and unfavorably by 46%. Among Texas voters, 48% do not believe Trump took actions while president that justify preventing him from holding future elected office, with an almost equal share, 45%, who believe he has.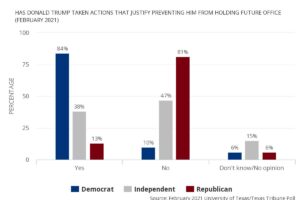 "Overall, Trump leaves his presidency in a slightly stronger position among Texas voters than when he entered it," said Joshua Blank, research director of the Texas Politics Project. "His election loss and subsequent attacks on democracy have done nothing to dampen his support among Republican voters, but likewise, Democrats' negative views of the former president were locked in long before the Capitol riots."
In the poll, Texans also rated the job performance of Texas elected officials. Some highlights include:
Gov. Greg Abbott: 46% approve / 39% disapprove
Lt. Gov. Dan Patrick: 37% approve / 36% disapprove
Speaker of the House Dade Phelan: 22% approve / 18% disapprove
U.S. Sen. Ted Cruz: 45% approve / 43% disapprove
U.S. Sen. John Cornyn: 32% approve / 42% disapprove
The Texas Tribune will release further results from the poll Monday, Tuesday and Wednesday of next week, including Texans' attitudes about the COVID-19 pandemic, issues before the Texas Legislature, views of the national and state economy, and more.
The February 2021 University of Texas/Texas Tribune Poll kicks off the 12th year of joint polling conducted by a team of researchers from the Department of Government and the College of Liberal Arts at UT Austin in conjunction with The Texas Tribune, the nonprofit news organization. The first group of results was published Friday in The Texas Tribune. Extensive graphics, crosstabs, data sets, and analyses will be featured next week at the Texas Politics Project website.